Facing boycott, Laura Ingraham apologizes for tweet about David Hogg's college rejections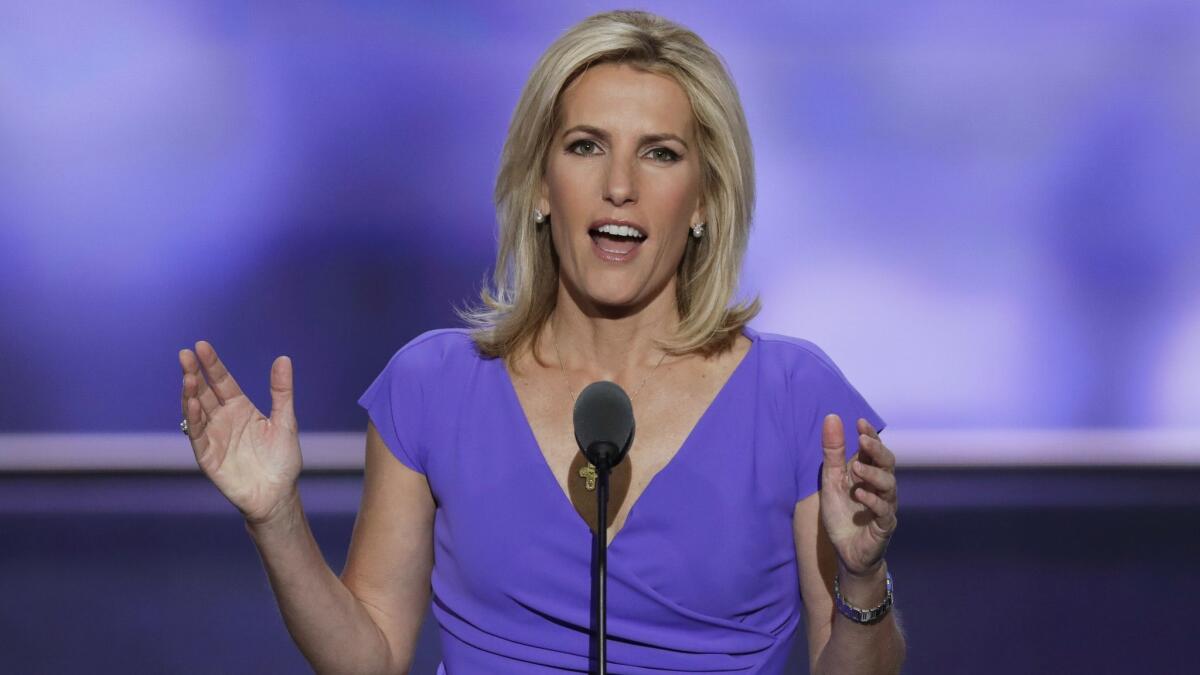 Washington Post
Fox News host Laura Ingraham has apologized a day after taunting Parkland shooting survivor David Hogg over his college rejections.
On Wednesday morning, the "Ingraham Angle" host had tweeted a story from a conservative news site that described Hogg as a "Gun Rights Provocateur" who had not gained acceptance to four University of California schools.
"David Hogg Rejected By Four Colleges To Which He Applied and whines about it," Ingraham tweeted. "(Dinged by UCLA with a 4.1 GPA. . .totally predictable given acceptance rates.)"
Ingraham appeared to take back her comments Thursday afternoon, hours after Hogg sent a tweet calling for advertisers to boycott her show. Hogg's widely shared tweet resulted in at least three brands promising to sever their relationships with Ingraham.
"On reflection, in the spirit of Holy Week, I apologize for any upset or hurt my tweet caused him or any of the brave victims of Parkland," Ingraham tweeted. She also tried to curtail the damage by noting Hogg had appeared on her show after the shooting.
Hogg later retweeted the father of one of the Parkland shooting victims, who was responding to Ingraham's apology. Hogg added in his retweet that he would only accept her apology "if you denounce the way your network has treated my friends and I in this fight."
Ingraham had faced immediate backlash over her original tweet from those shocked that she would attack a 17-year-old student who had survived the Feb. 14 mass shooting at Marjory Stoneman Douglas High School in Parkland, Fla. Among the outraged were people who reminded Ingraham, simply, that she was a mother, along with Hogg's 14-year-old sister, who accused the Fox News host of stooping to a "real low" to boost her ratings.
The shooting in Florida — already one of several to take place at a school in 2018 — left 17 students and staff members dead, and galvanized a new generation of activists, including many teenagers from Parkland.
Hogg has been one of the most vocal, speaking at the March for Our Lives rally against gun violence in Washington on Saturday. Since the shooting, the teen has frequently appeared on television and rallied his growing number of Twitter followers to become civically engaged if they are frustrated with the status quo.
On Wednesday, however, Hogg remained silent — at first.
Hours later, though, he posted a tweet directed at Ingraham. Who were her biggest advertisers? He wondered rhetorically.
Shortly afterward, he tweeted to his nearly 600,000 followers a list of 12 companies that were reportedly the top advertisers on "The Ingraham Angle."
Pick a number at random, Hogg suggested, and contact the company next to it.
Before long, the tweet was flooded with replies from Hogg's supporters, some of whom pasted images of their messages to the companies in question, as well as those who accused Hogg of "bullying" Ingraham.
At this writing, Nutrish, TripAdvisor and Wayfair had responded to Hogg's boycott call.
"We are in the process of removing our ads from Laura Ingraham's program," Nutrish tweeted Thursday morning.
TripAdvisor pointed to one of its company values — "We are better together" — in its decision to stop advertising with Ingraham's show.
"We do not ... condone the inappropriate comments made by this broadcaster," TripAdvisor said in a statement. "In our view, these statements focused on a high school student, cross the line of decency."
Online home goods retailer Wayfair told the Hill that Ingraham's personal criticism of Hogg was "not consistent with our values."
It was unclear if any of the brands would change their minds following Ingraham's apology Thursday afternoon.
Since the 2016 election, calls to boycott retailers have become frequent: The #GrabYourWallet campaign began as a way to protest President Trump and identified companies that carried merchandise bearing the Trump name. Those calls have been met with some equally passionate responses by Trump's supporters on the right, who say they are determined to stand behind the president and his family with their buying power.
On Thursday, #GrabYourWallet co-founder Shannon Coulter said she hadn't spoken to Hogg directly but had seen his boycott call go viral the night before. To her, the campaign wasn't a matter of politics so much as it was a response to "really egregious violations of basic human decency," Coulter said, referring to Ingraham's tweet about Hogg's college rejections.
"Corporate America has a really positive role to play in preventing that kind of targeted harassment," Coulter told the Washington Post. "It's not just that one tweet. It's that [Ingraham's] signaling to her large audience that it's OK to do that. Particularly when minors are concerned I think there's a line that corporations can draw that apparently Laura Ingraham's parents didn't draw."
Hogg was not immediately available for comment Thursday morning. Despite the backlash, Ingraham's original tweet about Hogg's college rejections has remained online.
In an interview with TMZ on Tuesday, Hogg spoke about receiving rejection letters from California colleges and in doing so sparked derision from conservatives — including Ingraham.
Hogg, who has a 4.2 GPA and a SAT score of 1270, was accepted to Florida Atlantic University, Cal Poly and Cal State San Marcos, TMZ reported.
During the TMZ interview he expressed disappointment about the rejections but said it has been difficult to focus on college lately.
"We're changing the world," he said.
Since her tweet was posted, Ingraham has received backlash on social media. Ingraham was previously criticized for telling pro basketball star LeBron James to "shut up and dribble."
Many have viewed her recent actions — the latest in a slew of right-wing attacks against the Parkland survivors — as particularly appalling, given that she is a parent.
Journalist David Corn described Ingraham's tweet as "deplorable."
Others were shocked that she was "picking on" a student who survived a school shooting.
While Ingraham has been the most recent target of criticism, she is not the only adult who has faced backlash for attacking the high school students.
Just days ago, Rep. Steve King (R-Iowa) and his campaign team came under fire for posting a meme on Facebook about Emma González, another Parkland student and activist. The meme was criticized as attacking González's Cuban heritage.
The Parkland survivors have been fiercely targeted since they first spoke out after the shooting, and the attacks have only continued.
On Twitter, civil rights attorney Lisa Bloom said Ingraham's tweet may be a sign that Hogg has "really gotten under Fox News' skin."
---
UPDATES:
2:15 p.m.: This post was updated with Hogg's tweeted response to Ingraham's apology.
This post was originally published at 12:05 p.m.
Inside the business of entertainment
The Wide Shot brings you news, analysis and insights on everything from streaming wars to production — and what it all means for the future.
You may occasionally receive promotional content from the Los Angeles Times.