Jerry Bruckheimer looks at Paramount reboot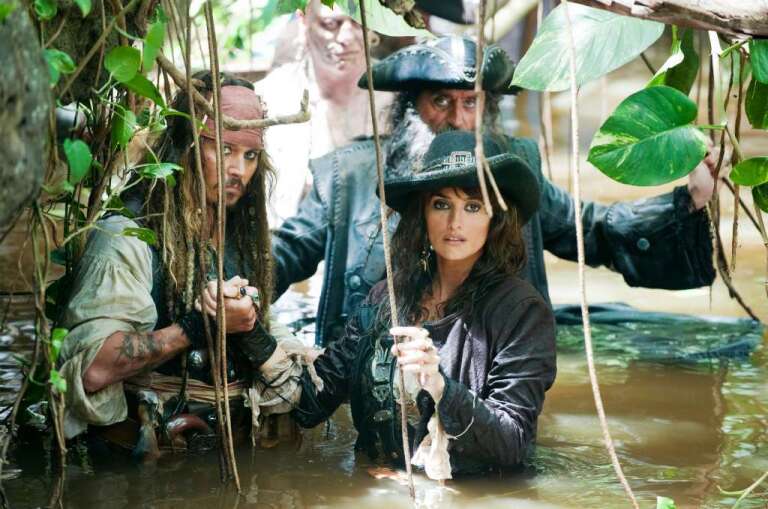 The venerable franchise returned in 3D without Orlando Bloom and Keira Knightley, but it did bring on Penelope Cruz, right, as Jack Sparrow's love interest. It made more than $1 billion worldwide on a budget of $300 million. Opened: May 2011. Domestic gross: $241 million.
(Peter Mountain / Associated Press / Disney)
The second installment in the "Pirates" saga sailed away with an international box office gross of more than $1 billion, though it got less favorable reviews than its predecessor. It was the year's highest grossing movie. Opened: July 2006. Domestic gross: $423 million.
(Peter Mountain / Associated Press / Disney)
Jerry Bruckheimer, one of Hollywood's most powerful producers, is returning home.
The veteran filmmaker, who had an enormously successful run on the Paramount Pictures lot with "Flashdance," "Beverly Hills Cop," "Top Gun" and other movies in the 1980s and early 1990s, is headed back to the studio.
Bruckheimer, 70, signed a three-year, first-look deal with the Viacom Inc.-owned studio. It begins in April, after his 23-year partnership with Walt Disney Co. ends. Financial terms of the arrangement were not disclosed.
The deal is a coup for Paramount, which since 2012 has seen its lucrative partnerships with DreamWorks Animation and Marvel Studios end. Its market share has shrunk as a result of releasing fewer movies.
PHOTOS: Jerry Bruckheimer's No.1 films for Disney
Bruckheimer will provide a boost to the studio, churning out the sort of splashy action pictures that have defined his four-decade-plus career, though Paramount's slate isn't expected to grow on an annual basis as a result of the deal.
"This is a step in the right direction in the wake of those [DreamWorks Animation and Marvel] losses," said Paul Dergarabedian, senior media analyst at entertainment industry data firm Rentrak. "It's a perfect time for Paramount to get back in that groove."
The producer's first films under the new agreement will hearken back to his Paramount glory days, and they won't lack for star power: Bruckheimer plans to make a "Beverly Hills Cop" movie that would star Eddie Murphy, and "Top Gun 2," which would be top-lined by Tom Cruise.
Rebooting those iconic franchises could be a boon for Paramount, which has its share of tent-pole film series in the "Transformers" and "Star Trek" pictures, but has trailed competitors such as Warner Bros. and Universal Pictures at the box office the last two years.
Bruckheimer told The Times that he considered making a deal with another movie studio, but in the end felt most comfortable reuniting with Paramount.
"We talked to everybody, and we felt that when you look at the strength of their marketing and distribution, it's at the top of the heap," Bruckheimer said.
The producer said he was particularly impressed with how Paramount handled the marketing and release of last summer's "World War Z," an expensive Brad Pitt-starring thriller that was the subject of much media scrutiny over its budget and production issues. The movie took in $540 million worldwide.
ON LOCATION: Where the cameras roll
Bruckheimer experienced his share of criticism this year after his most recent Disney picture, "The Lone Ranger," bombed at the box office, grossing $261 million worldwide. The movie cost an estimated $225 million to produce and tens of millions of dollars more to market.
"I saw with 'World War Z,' I saw how the media beat up on them — like we got beat up on 'Lone Ranger' — and I saw how they handled it and it was a successful movie," he said.
Bruckheimer spoke fondly of his association with Disney, a run that generated 27 pictures and more than $9 billion in global box-office receipts, Rentrak said.
PHOTOS: Billion-dollar movie club
He said that the poor performance of "The Lone Ranger" did not "have much to do with leaving" Disney, a stance he has taken publicly since late September, when it was announced that his deal with Walt Disney Studios would not be renewed.
"We aren't immune to pictures that don't quite live up to their expectations," Bruckheimer said, but added that his departure from Disney is "more about wanting to spread my wings and do more than PG and soft PG-13 movies."
However, Bruckheimer isn't interested in solely making expensive action features in the vein of the "Top Gun" and "Beverly Hills Cop" pictures.
PHOTOS: Cable versus broadcast ratings
Last year, Bruckheimer set up the Los Angeles-based earthquake thriller "Shake" at Paramount. The moderately budgeted film, about an FBI agent whose efforts to bring a serial killer to justice are imperiled by a major temblor, had been in development at Disney at one point, but Bruckheimer said that "it is something they wouldn't make because it is a harder-edge movie."
Brad Grey, chairman and chief executive of Paramount, said the studio's diverse tastes would suit Bruckheimer, who he said has expressed interest in "making very interesting, lower budget fare" in addition to producing "what you'd define as our biggest budget blockbusters."
"Jerry needed, at this moment in his career, a studio that plans to back him 100%," Grey said.
He said that getting into business with Bruckheimer was not a move designed to increase the size of the studio's slate in the aftermath of the DreamWorks Animation and Marvel distribution deals ending.
PHOTOS: 2012 highest-paid media executives
This year, Paramount will release 10 movies, and plans to put out 12 next year. Warner Bros., the biggest movie studio, will put out 18 films this year and 17 next year. According to Box Office Mojo, as of Dec. 1, Paramount was No. 7 in terms of box-office market share this year. Last year it also finished seventh, though it was No. 1 in 2011.
"If you look at the economics, market share clearly is a barometer that people look at, but the barometer that Viacom looks at — and our shareholders look at — is our margins," Grey said. "We have a business plan that works for us creatively, as well as for our shareholders."
Paramount is profitable and was a standout in Viacom's most recent quarterly earnings. For the fiscal quarter ended Sept. 30, the studio posted adjusted operating income of $291 million, up 49% from a year earlier. Revenue was up 11% to $1.2 billion.
PHOTOS: Celebrity production companies
Bruckheimer first worked with Paramount in 1980, when the studio released his "American Gigolo." He began making movies at Paramount with partner Don Simpson in 1983; their first picture there was "Flashdance." Simpson died in 1996.
In both "Top Gun" and "Beverly Hills Cop," Bruckheimer will face the sort of oversized expectations that come with restarting a storied franchise. "Top Gun," released in 1986, put Cruise on the A-list after it grossed more than $350 million worldwide. And the "Beverly Hills Cop" film series — three were released from 1984 to 1994 — remains Murphy's signature movie franchise.
"They are good titles, but it depends on the scripts and the artists involved with them," entertainment business analyst Harold Vogel said. "You have a little bit of suspicion about them, because everybody is older, and it is a new audience they have to attract."
"Top Gun 2" presents a unique challenge for Bruckheimer and the studio because Tony Scott, who directed "Top Gun" and was slated to make the sequel, died in August 2012.
"We are hopeful that we can make this picture in a way that respects the memory of Tony," Grey said.
Times staff writer Ryan Faughnder contributed to this report.
---
For reporting and exclusive analysis from bureau chief John Myers, get our California Politics newsletter.
You may occasionally receive promotional content from the Los Angeles Times.