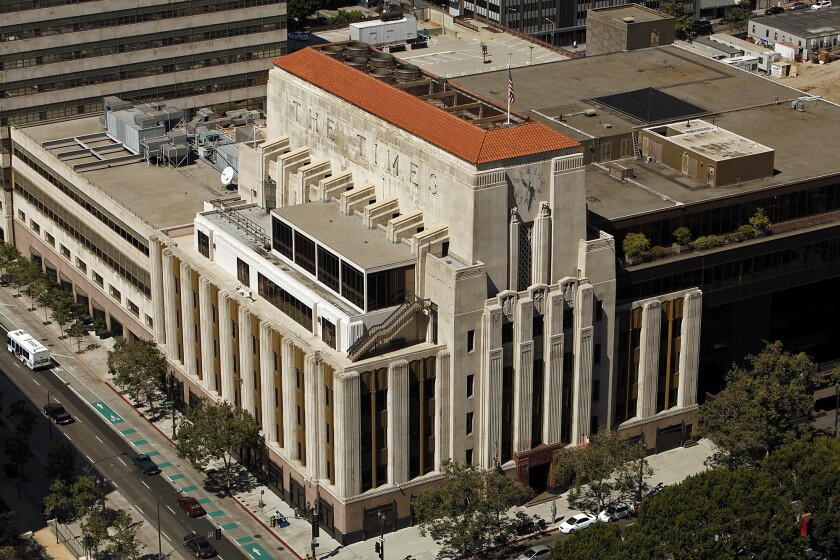 Tribune Media, which last year put the historic Times Mirror Square up for sale, may be looking to divest a lot more than its real estate holdings.
The Chicago-based television and entertainment company announced Monday that it has hired Moelis & Co. and Guggenheim Securities as financial advisors to explore a possible "sale or separation of select lines of business" in a bid to enhance shareholder value.
Peter Liguori, Tribune Media's president and CEO, said he would not rule out selling any of the company's assets, which include 42 TV stations, national cable channel WGN America and Gracenote, its entertainment metadata business.
NEWSLETTER: Get the day's top headlines from Times Editor Davan Maharaj >>
"We're going on a process … to explore every strategic financial option with just one simple, clear goal — unlock the value of our stock," Liguori said on an earnings conference call Monday. Tribune Media reported a fourth-quarter loss of $381 million, or $4.07 a share. The company earned $315 million during the same quarter a year ago.
The loss was due in large part to a $385-million goodwill impairment charge, most of which was related to writing down the value of its cable business. WGN America is converting from a legacy superstation to a full-fledged cable network, with expensive original and syndicated programming decreasing "the short-term profitability of the network," Liguori said.
Revenue for the fourth quarter was down 1% to $548 million, while full-year revenue was up 3% to $2 billion. Tribune Media reported a net loss of $320 million for 2015.
Tribune Media spun off its publishing division — including the Los Angeles Times, Chicago Tribune and other daily newspapers — in August 2014 to focus on its higher-margin television business, whose holdings include KTLA-TV Channel 5 in Los Angeles and other major-market stations. Tribune Media's stock price has essentially been cut in half since it began trading in December 2014.
Tribune Media announced in October that it was exploring a sale of its landmark 36-story Tribune Tower in Chicago, Times Mirror Square in Los Angeles and several other sites.
Channick writes for the Chicago Tribune.
ALSO
Late selling leaves stocks down for third straight month
34.3 million viewers for the Oscars are the smallest audience since 2008
Rubicon Project earnings and Snapchat ad moves are among the week's L.A. tech highlights
---