Cracker Jack ditches toy prizes for QR codes, mobile games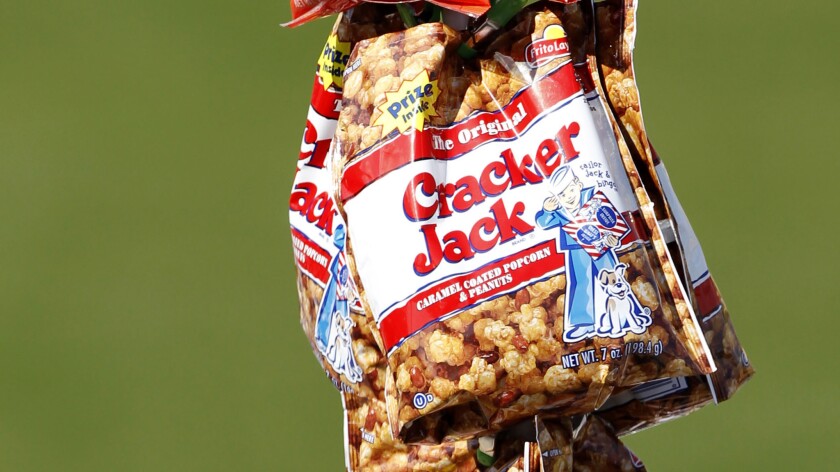 Washington Post
It's the seventh inning, "Take Me Out to the Ballgame" just echoed through the park and you've decided, because you're hungry or maybe just a sucker for good marketing, that nothing goes better with a stretch than a tiny box of American tradition.
You flag down the vendor, who is also likely selling "cold beer," and ask kindly for some Cracker Jack. You forget the fact that you're hungry and, like many people who buy Cracker Jack, forgo the popcorn and peanuts and dig down deep for the real reason this candied concoction is so beloved: the chintzy prize found inside.
Instead, you find a QR code, and realize that not even Cracker Jack could escape those millennials.
This is the new Cracker Jack experience, PepsiCo's Frito-Lay division announced last week.
The nearly 125-year-old product has opted to replace its prize inside with a surprise more worthy of the 21st century. From now on, Cracker Jack consumers with find a QR code that links to four mobile, baseball-themed games.
As always, some on the Internet are not pleased. One tweet:
"Today is one of the darkest days in our nation's history. Cracker Jack is removing physical prizes from their boxes."
Another tweeted, "It's not a prize ... it's click bait to more advertising. As an antique collector, I specialized in vintage Cracker Jack toys for a while. Great and clever stuff ..."
See more of our top stories on Facebook >>
On the Cracker Jack Facebook page, fans of the product aired frustrations on the change.
It's clear the company was aiming for a less apocalyptic reaction.
"The Cracker Jack Prize Inside has been as much a part of the nostalgia and love for the brand as the unforgettable combination of caramel-coated popcorn and peanuts," Haston Lewis, senior director of marketing at Frito-Lay, said in a news release. "The new Prize Inside allows families to enjoy their favorite baseball moments through a new one-of-a-kind mobile experience, leveraging digital technology to bring the iconic Prize Inside to life."
The "mobile experiences" are games called "Dot Dash," "Dance Cam," "Get Carded" and "Baseball Star," according to the release. They allow users to boogie on a simulated jumbotron, participate in their own dot race (a sixth-inning tradition of the Texas Rangers) and create their own baseball cards and autographed photos to trade with friends and family.
First, prize holders must download the Blippar app to their smartphone or tablet.
In addition to the prize shake-up, Cracker Jack will also debut a "contemporized" logo and packaging, according to the news release.
SIGN UP for the free California Inc. business newsletter >>
"We are a brand that authentically reminds people of simpler times, childhood memories and family experiences," Lewis said. "With this redesign and new mobile game experience, the Cracker Jack brand embraces a modernized, young-at-heart attitude while keeping that treasured feeling of childhood wistfulness."
The now relegated toys -- items such as hot-dog and hamburger charms, little plastic animal figurines and heart-shaped rings -- can still be found on websites such as Etsy and Ebay.
MORE BUSINESS NEWS
Biotech trade group Biocom expands to L.A.
Phone companies' unlisted-numbers fees are unjustifiable
Suit accuses Jessica Alba's Honest Co. of falsely labeling infant formula
---
Your guide to our new economic reality.
Get our free business newsletter for insights and tips for getting by.
You may occasionally receive promotional content from the Los Angeles Times.