Sharing her grief, Sheryl Sandberg becomes more powerful role model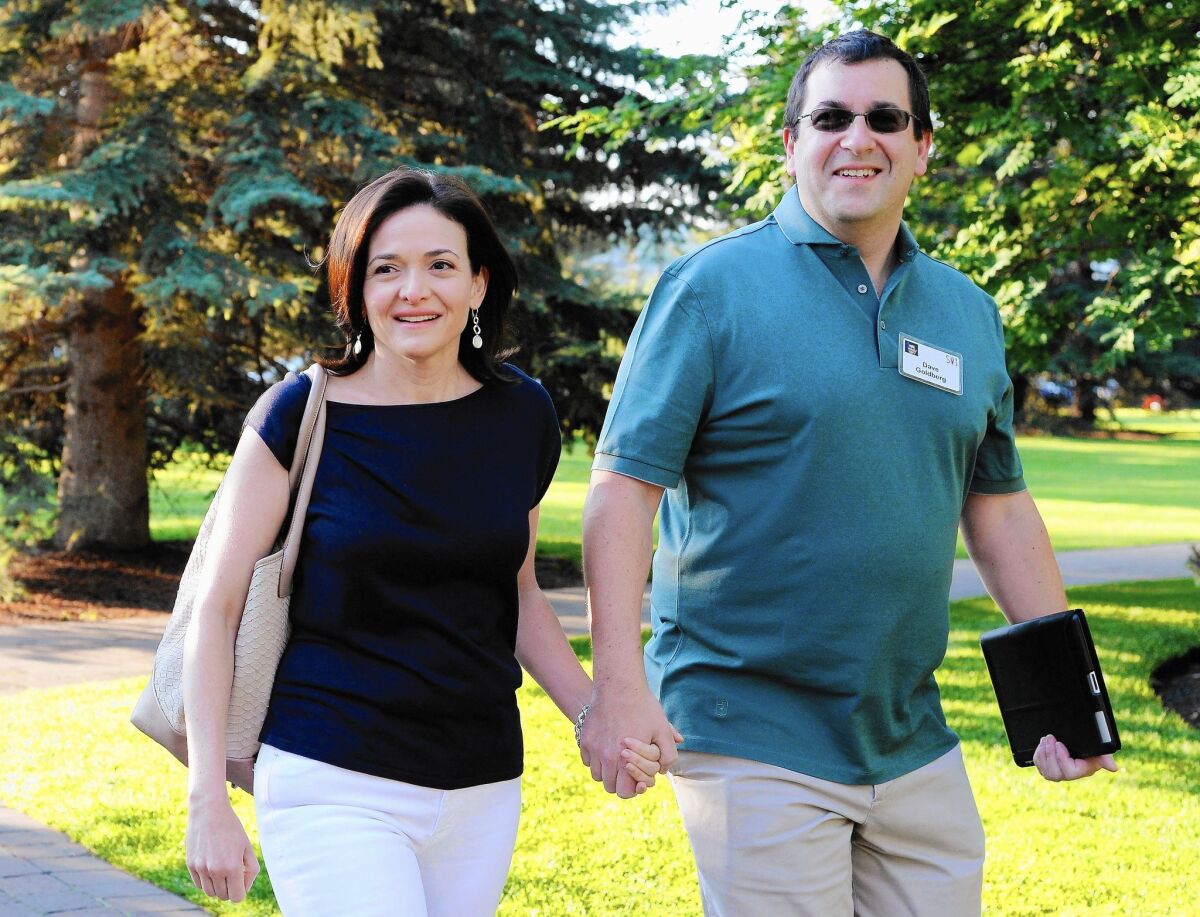 Sheryl Sandberg gained a loyal following with her bestselling "Lean In," which championed a life many women aspire to: a high-ranking job, wealth, a supportive husband, two great kids.
Millions bought the book and debated its merits, making Sandberg a household name in Silicon Valley, where female role models are too few and far between. Even though she hated the phrase, Facebook's chief operating officer was seen as having it all. Until she didn't.
One month ago, Sandberg's husband died after apparently falling off a treadmill while on vacation in Mexico. The death of 47-year-old Dave Goldberg, the highly respected and well-liked chief executive of SurveyMonkey, shocked the world.
Soon after, attention turned to Sandberg and her Lean In philosophy, which at its core depends on one key factor: that men be "50-50 partners" to women by helping them around the house, splitting child-rearing duties and backing their careers. Just two months before Goldberg's death, Sandberg had launched a Lean In Together campaign to encourage men to join women in the fight for equality.
In recent weeks, Sandberg, 45, has made clear that leaning in is still crucial, but she has focused on spreading a new, broader message: one of resilience, empathy and gratitude in the face of personal turmoil. As an author and business leader, she seemed almost superhuman; now, in the wake of a crisis, she is finding a wider and more receptive audience than ever before.
"I have learned how ephemeral everything can feel — and maybe everything is," she shared in a Facebook post Wednesday. "That whatever rug you are standing on can be pulled right out from under you with absolutely no warning."
Sharing sorrow and life lessons in such a public fashion is almost unheard-of for powerful business executives and other public figures, who tend to release brief, one-time statements after tragedies and then grieve privately.
Sandberg's approach has been quite the opposite. In some half a dozen Facebook posts over the last few weeks, she has paid tribute to her late husband while also laying out her grief for everyone to see with honest, raw and heart-wrenching candor.
"I have lived thirty years in these thirty days," she wrote. "I am thirty years sadder. I feel like I am thirty years wiser."
Sandberg detailed how she cries herself to sleep each night while being held by her mother, and the pain she feels while watching her children struggle with their anguish.
Among the lessons she has learned: The right way to comfort those in need (Don't say "It is going to be OK."). The importance of strong support networks and asking for help when you need it. And gratitude. "I appreciate every smile, every hug," she said of her children. "I no longer take each day for granted."
In revealing such intimate details, Sandberg has inadvertently recast herself as a new, more approachable kind of role model.
"The essay she wrote today about what she was going through, I sat there with my mouth open. I was shocked. It made her super relatable and human … in a way she hasn't been before," said Michelle Harrison, 26, community development manager at cooking app SideChef.
In the past, Harrison said she viewed Sandberg's message as "unattainable in a way."
"It seemed maybe she didn't know what the struggles are when you're just starting out in the industry," the Santa Monica resident said. "And being so high-powered, there wasn't any personal insight into her life. It was more about her work and career."
That was indeed the main criticism of "Lean In."
"I think people put the Lean In idea aside and said, 'I can't lean in, I'm trying to survive. I'm a single mom or I'm a black woman or I'm a Latino woman, and I would love to lean in, but I'm thinking of a more basic existence,'" said Bernice Ledbetter, a professor at Pepperdine University who studies women in tech and career mobility. "Because of that, I think her message was limited."
But the loss of a loved one is something everyone can relate to, and that gives "Lean In" and its author even more authenticity, said Laura Heritage, 39, director of API strategy at Los Angeles software firm Akana.
"She's a real person with feelings and struggles, and to me it makes her more real and credible," Heritage said.
Sandberg hasn't abandoned Lean In.
On Wednesday, she shared that the wife of a colleague "decided to show her support by going back to school to get her degree — something she had been putting off for years. Yes! When the circumstances allow, I believe as much as ever in leaning in," Sandberg wrote. "And so many men — from those I know well to those I will likely never know — are honoring Dave's life by spending more time with their families."
Two weeks ago, Sandberg posted an NBA public service announcement on her Facebook page that included Dwyane Wade and Stephen Curry asking men to support their women at work and at home. Goldberg, she wrote in the post, "was so proud of the #LeanInTogether partnership with the NBA and he lived its message every day."
A few days later, she posted a report that showed women earn less than men in every state in the country along with the hashtag #LeanIn.
Ledbetter, the Pepperdine professor, said she believes that Sandberg is likely to reshape her Lean In message: that the partner in one's life doesn't have to be a spouse, but can be a mother, sibling or friend — or a mix of all of them stepping in to help out.
"I suspect she will write about that when she is ready," Ledbetter said. "It changes the Lean In message. I think it's going to make it even more powerful going forward."
Twitter: @byandreachang

Twitter: @traceylien

Chang reported from Los Angeles and Lien from San Francisco.
---
Sign up for the California Politics newsletter to get exclusive analysis from our reporters.
You may occasionally receive promotional content from the Los Angeles Times.