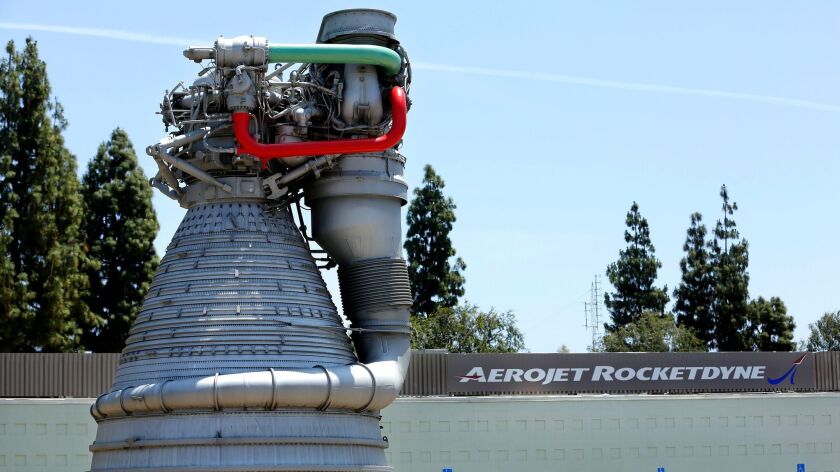 Sacramento will lose 1,100 jobs over the next 18 months as rocket engine maker Aerojet Rocketdyne plans to relocate or cut positions in that facility and move jobs to Alabama, Canoga Park and other locations.
The job changes are the next phase of a multiyear plan initiated in 2015 to reduce costs and increase operational efficiency, said Eileen Drake, Aerojet Rocketdyne's chief executive.
She said these changes will move "common work with common facilities," adding that much of the work done in Sacramento is related to defense.
By the end of 2018, defense-related program management, engineering and related support positions in Sacramento will move to Huntsville, Ala., where the company's defense business unit is based. Huntsville is also the final assembly site for Aerojet Rocketdyne's new AR1 rocket engine.
Sacramento jobs in space programs will move to Canoga Park, where the company has its space headquarters and develops several different kinds of rocket engines. Aerojet Rocketdyne's Canoga Park location also has a 100,000 square-foot manufacturing facility where several machines create parts through additive manufacturing, better known as 3-D printing.
As part of this plan, Aerojet Rocketdyne's Gainesville, Va., engineering facility, will close next year, and about 170 jobs will either be eliminated or relocated to Huntsville or another facility in Virginia.
The multiyear plan is expected to give the company about $230 million in annual savings. The consolidations in Sacramento and Gainesville will save about $85 million, said Paul Lundstrom, the company's chief financial officer.
Lundstrom said the company had not yet determined the exact number of jobs that would be moving to the various locations or be eliminated. Employees who are laid off will receive a severance package, Drake said.
Aerojet Rocketdyne's Sacramento location currently employs 1,400 people. After the job changes, that facility will house shared services for the entire company, including issues related to the supply chain, finance and human resources.
Huntsville will gain 800 jobs after the moves are complete, through a combination of relocated employees and new hires.
Aerojet Rocketdyne's parent company, Aerojet Rocketdyne Holdings Inc., is based in El Segundo.
Twitter: @smasunaga
---