Retailers are moving quickly to fill void left by Toys R Us closures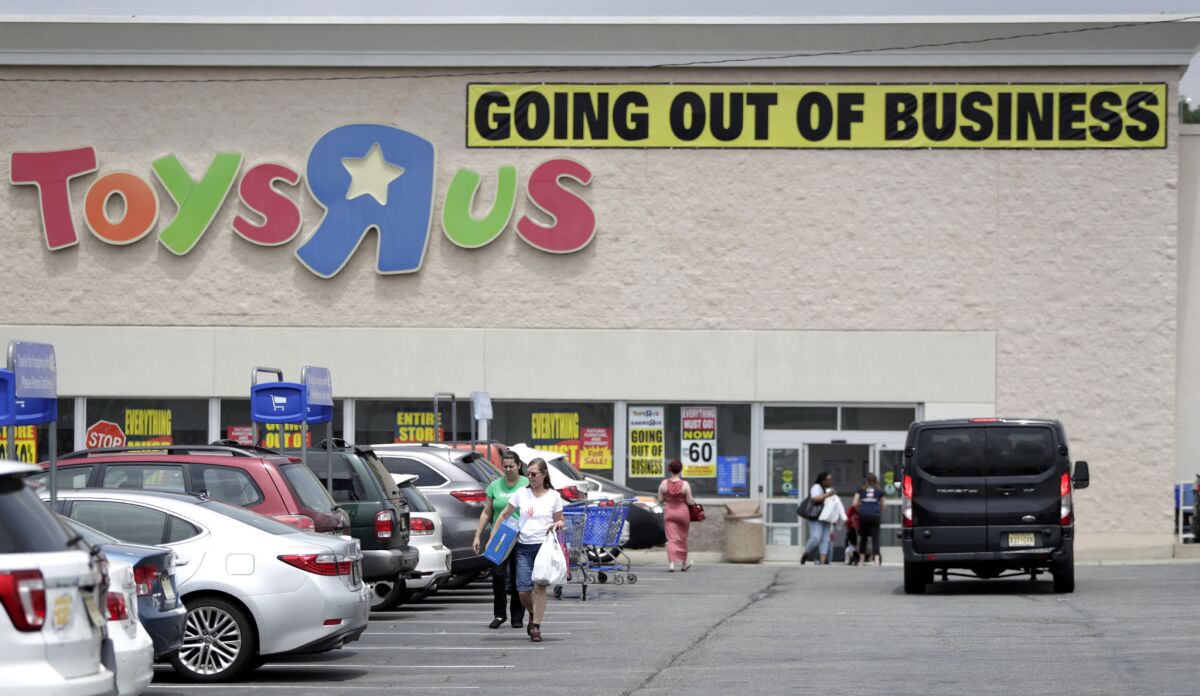 When Toys R Us closed its doors, customers mourned the loss of a beloved brand that conjured memories of their own childhoods.
Retailers, on the other hand, saw an opportunity.
Rather than cede any more ground to online behemoth Amazon, companies including Target, Walmart and Party City ramped up their offerings. Now, ahead of the pivotal holiday season, they're going even further by focusing on making their stores a dynamic shopping experience. That means creating play areas for kids, offering demos of new toys and staging events like scavenger hunts in the stores.
Retailers are trying to grab a piece of the nearly $3 billion left on the table by Toys R Us, or 12% of the U.S. toy market, according to NPD Group Inc., a market research group.
Last month, Party City opened 50 Toy City pop-up shops that feature 6-by-8-foot Lego dinosaurs and other interactive displays. Walmart says 30% of its holiday toy assortment will be new. It will also offer 40% more toys on Walmart.com compared with a year ago. In November and December, the company's toy area will be rebranded as America's Best Toy Shop.
Starting in late October, Target will devote extra space at 500 stores near former Toys R Us stores for bigger toys such as electric cars, playhouses and musical instruments as well as adding nearly 200 more products. And 100 Target stores will see new layouts and fixtures in the toy area. The company is also expanding the number of kids events it hosts. Most recently, it had a Lego Minecraft event that featured a scavenger hunt.
Meanwhile, Amazon is reportedly planning a toy catalog to be distributed at its Whole Foods stores. The company declined to comment on the catalog, but analysts say Amazon could expand its market share in toys from 15% to 20% this year.
Toy sellers had been long taking advantage of Toys R Us' woes but stepped up their efforts when the chain filed Chapter 11 bankruptcy protection in the fall of 2017 and accelerated the pace when the chain announced it was liquidating its operations in March. Early this year, Toys R Us had more than 800 U.S. stores. It closed the last 200 stores at the end of June.
With reports of the retailer's demise, there was an outpouring of nostalgia from shoppers, and some analysts credit that empathy for helping to drive an uptick in toy sales for the first half of the year. U.S. toy sales from January through June increased 7% to $7.9 billion, according to NPD. Last year, toy sales increased 1% to $20.7 billion from 2016.
"I am convinced that the strong toy industry growth so far this year has been at least partially supported by the empathy that people felt toward losing a store like Toys R Us," Juli Lennett, NPD's senior vice president and industry advisor for toys, said in a statement. "I think it brought about an emotional response that resulted in parents buying more toys overall."
Jessica McCune, 30, said she was a big fan of Toys R Us and stocked up on a number of toys when the stores were closing. Although she said she plans to shift her toy shopping to Walmart, Target and Amazon, she still misses her old go-to.
"There's a void," she lamented. "It's one less place dedicated to toys and babies."
Sign up for the California Politics newsletter to get exclusive analysis from our reporters.
You may occasionally receive promotional content from the Los Angeles Times.