Full flights make cancellations harder to rebook; new rules sought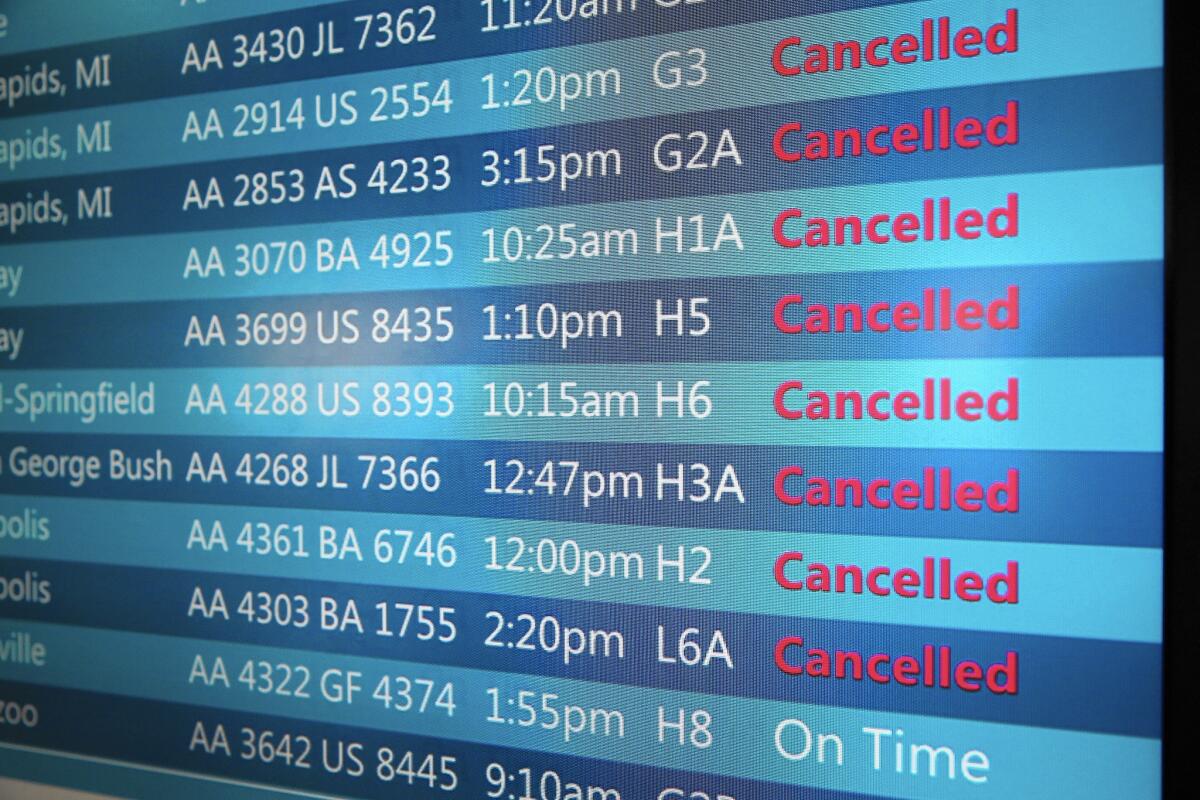 A five-day vacation in Florida turned into a travel nightmare for Chris Sullivan and his wife, Bonnie, when the first leg of the flight was canceled.
The couple were forced to stay in a cheap hotel in Newark, with no change of clothes and a raucous party nearby that made it impossible to sleep. A bee stung Chris at the hotel, and the stress of the experience made Bonnie sick for the first two days of the trip.
"This wasn't a small inconvenience," said Chris Sullivan, a contractor from New Hampshire.
Airline cancellations have already surpassed 162,000 this year — the most since the Sept. 11 terrorist attacks. With rain and snow expected to fall on a huge swath of the Northwest from Wednesday to Thursday, the number is sure to move higher.
For travelers like the Sullivans, getting rebooked has become harder because airlines are packing planes nearly to capacity, leaving fewer empty seats for stranded fliers.
The solution, say passenger rights groups, is to require airlines to transfer passengers to the next available flight, even if it means putting them on a competitor airline.
"If your flight is canceled, you can use your ticket on another airline," said Paul Hudson, president of FlyersRights.org, a passenger advocacy group with more than 40,000 members. The group has proposed the idea to an advisory committee of the U.S. Department of Transportation. "That would be a win-win situation."
George Hobica, founder of the travel site AirfareWatchdog.com, agrees, adding that airlines should also rebook passengers on competitor airlines if they abandon a route or severely change a flight schedule.
Before 1978, airlines in the U.S. were required to offer seats on a competitor's next flight if that would get the traveler to his or her destination sooner. The exception was cancellations caused by an act of God, which each airline can define. But the federal requirement, called Rule 240, was eliminated by most airlines after deregulation of the industry. A few carriers, including United and Alaska airlines, still abide by the rule.
Airlines oppose reintroducing the rule industrywide, saying each carrier has its own policy for rebooking passengers and a government mandate would only interfere with the industry's competitive environment.
Under such a mandate, the government would have to set the rate one airline pays another for a seat, said Jean Medina, a spokeswoman for Airlines for America, a trade group for the nation's airlines.
Snowstorms in January and February and a fire at an air traffic control center in suburban Chicago in September were to blame for a surge in cancellations this year.
But cancellation rates are also high, industry experts say, because airlines have increasingly canceled flights before bad weather even hits to avoid the cost of having staff and planes waiting idle in storm-locked airports.
A storm that blew through the Northeast on the day before Thanksgiving this year prompted the cancellation of 650 flights, including about 200 that were canceled the day before the storm hit.
"Airlines proactively cancel to ensure they have planes and crews in best position to recover quickly from any storm-related disruptions," Medina said.
The effect of cancellations on passengers has increased because airlines now pack planes to record levels, according to Hudson and other industry experts.
The percentage of airline seats that are flying full — known as the load factor — reached 84% for the first nine months of 2014, a record high, according to federal data.
"If flights are nearly 90% full and yours is canceled, you have to wait three or four planes before you get rebooked," Hudson said.
Airlines acknowledged that cancellations and load factors are up, but they say computer technology now makes it easier to rebook passengers on later flights. In fact, some airlines rebook passengers before they call airlines for help.
"When a customer's flight is canceled, they are automatically rebooked on the next available flight," Medina said.
Some airline employees acknowledge that a high load factor means stranded passengers must wait longer to get rebooked. But adding more seats would cut into the airline's profit margin, they say.
"We like the high load factor, but we need to be able to accommodate the passengers when flights are canceled or delayed," said Charles Cerf, president of the Transportation Workers Union, which represents 10,000 airline employees. "We are concerned that this is not going to change right away."
A flight cancellation can strand a flier for hours or days.
Jonathan Blake, a retired advertising agency owner from La Verne, was in Cozumel on vacation in October when his flight back to Los Angeles on American Airlines was canceled because of mechanical problems. The airline booked him on a flight the next day, forcing him to stay an additional night, at a cost of $125 in meals, tips and other expenses.
Blake sued American in Small Claims Court for the extra cost. To his surprise, the airline agreed to pay for the extra expenses, plus the cost of his court filing.
"American is now my airline of choice," Blake said.
The high load factor, along with declining fuel costs, has put U.S.-based airlines on pace to record the highest profit margins in decades. An industry trade group projected carriers in North America will report 6% margins in 2014, exceeding the peak rates for the 1990s.
The good news, say industry experts, is that the high profit margins should keep airlines from hiking airfares.
"On the upside, full planes, even though less pleasant for passengers, can help airlines to better cover their operating costs, ameliorating upward pressure on fares to some extent," said Jan Brueckner, an economics professor at UC Irvine and an expert on the airline industry.