Airports feared losing revenue to Uber and Lyft. Here's what happened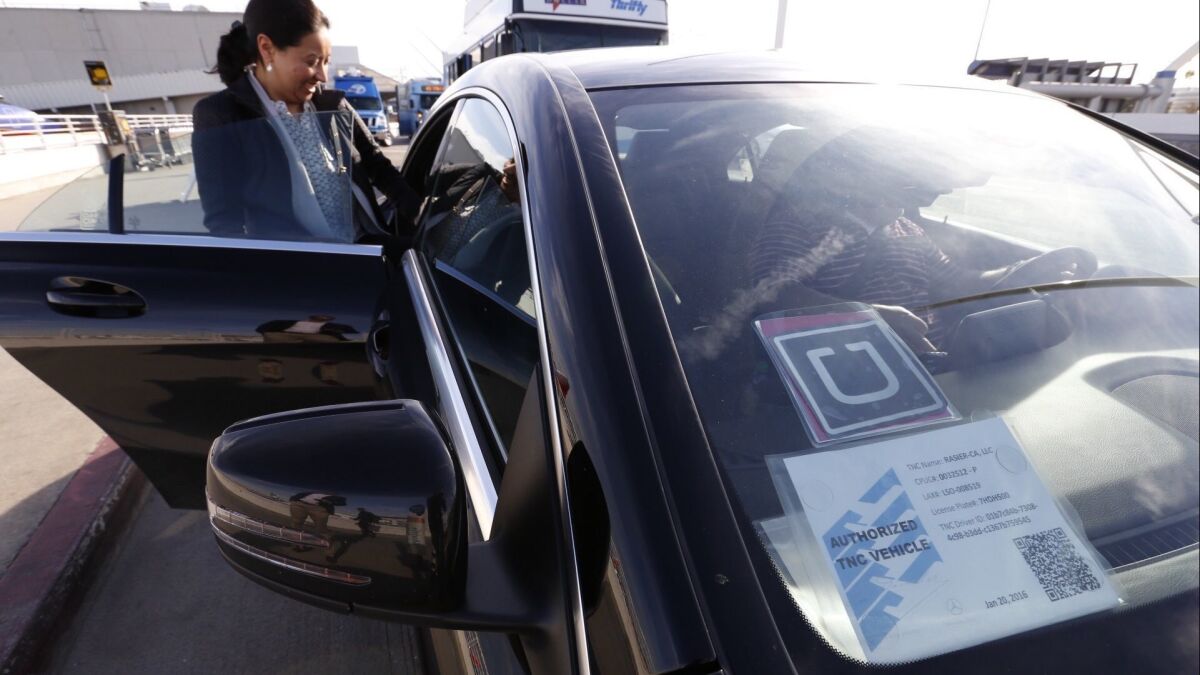 Airport officials were understandably nervous when Uber and Lyft drivers began pulling up at terminals across the country a few years ago.
After all, more fliers using the relatively cheap ride-hailing services could mean that fewer would pay for airport parking and rental car services — two significant sources of airport revenue.
"At the time, all we knew was there was some uncertainty around it," said Ryan Yakubik, deputy executive director and chief financial officer at Los Angeles International Airport.
But a look at Southern California airport budgets shows that the move to let ride-hailing services pick up and drop off passengers — and pay a fee to do it — was not the financial disaster some had feared.
Technology-amped gig-economy start-ups have disrupted many industries in the last decade but most of the airports in the region appear to be either unfazed or bolstered by the changes.
And a good thing, too. Although airports are generally self-supporting, a sharp decline in revenue would probably be resolved by increasing other fees, which could get passed along to travelers.
Taxing Uber and Lyft rides is L.A. County's latest idea to free up congested roads »
At Los Angeles International Airport — one of the nation's busiest airports — ride-hailing service drivers pay a $4 fee for every passenger picked up or dropped off at the airport curb. Uber, Lyft and other ride-hailing companies are charged fees of varying amounts by other local airports. Such fees typically are passed along to passengers as a surcharge.
Ride-hailing fees at LAX generated $44.3 million in fiscal 2018 and $33.7 million in fiscal 2017, up sharply from the $8.9 million in fiscal 2016, when ride-hailing services were prohibited from dropping off and picking up passengers in the same trip.
The hike in ride-hailing money more than made up for the decline in revenue from rental car companies, which dropped to $84.1 million in fiscal 2018 from $87.4 million in fiscal 2017, according to LAX budget records.
LAX parking revenue totaled $96.7 million in fiscal 2018, unchanged from 2017, which LAX officials attribute in part to closure of sections of a parking lot for a $4.9-billion construction project connecting the central terminal with a car rental facility, a ground transportation hub and a station on the Metro Crenshaw Line.
"The fact that people are taking Uber and Lyft in such volume is a good thing," said Justin Erbacci, LAX chief innovation and technology officer. "It shows people like to use them to get to the airport."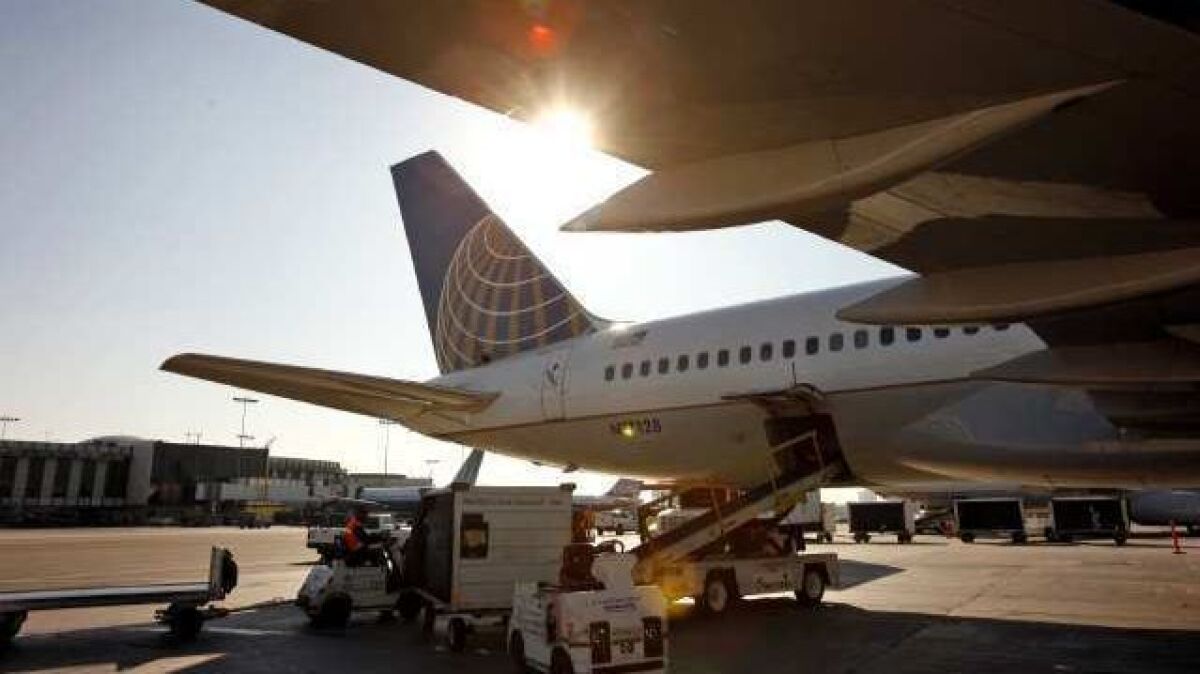 Most of Southern California's smaller airports have thrived since the introduction of ride-hailing services.
At Hollywood Burbank Airport, parking revenue rose 3%, or $553,000, in the 2018 fiscal year over the year before, and ground transportation money — which includes fees from ride-hailing services — jumped 60%, or $1.9 million, in the same period, according to budget records. "We are seeing some nice revenue" from ride-hailing companies, "and parking revenue is increasing year over year, month over month" said Denis Carvill, airport deputy executive director. "It's not like we are in dire straits."
For Ontario International Airport, the arrival of ride-hailing companies "has not affected us in a negative way," said Atif Elkadi, the airport's deputy executive director. Fees charged to Uber and Lyft increased about $230,000, up 85%, in the six months ended Dec. 31, 2018, over the same period in the prior year, while car rental fees bought in an extra $530,000, up 13.4%, and parking revenue was little changed.
Long Beach Airport reported that parking revenue rose to $10 million in 2018, up 10% over the previous year, while fees from rental car businesses climbed 2.7% to $3.24 million. On top of that, the airport took in $1.6 million in fees from Uber and Lyft last year. "All of our revenues are up," said Dale Worsham, the airport's revenue manager.
At John Wayne Airport in Santa Ana the financial picture has not been so rosy since ride-hailing companies began serving the airport in 2015.
The Orange County airport saw parking revenue drop 7.4%, or $3 million, in the fiscal year that ended June 30, 2017, compared with the previous year, according to the most recent budget reports available. In that same period, fees charged to ride-hailing services generated $1.2 million. Revenue from rental car businesses at the airport was nearly the same as in the previous year.
Airport officials said ride-hailing revenue is expected to rise because the companies last year began paying a $2.25 fee for each drop-off on top of the fee charged for pickups. The fee increased to $3 on March 1.
Airport industry experts say there are no recent studies on the broad airport revenue impact of Uber, Lyft and other ride-hailing firms, but they say the experience hasn't been uniform across the board.
Some large and midsize airports have suffered financially in states such as Oklahoma and Idaho where airports are prohibited by state law from charging ride-hailing services for dropping off or picking up passengers at terminals, industry experts said.
"Are they taking a financial hit?" said Carter Morris, executive vice president of the American Assn. of Airport Executives, a trade group that represents executives at 875 airports nationwide. "That's an airport-by-airport picture."
Over the last three years or so, ride-hailing services have become ubiquitous in big cities, especially popular among business travelers. Airports initially restricted Uber and Lyft to dropping off passengers at the terminal curbs but eventually reached deals to let them also pick up rides.
In 2018, Uber was — for the second year in a row — the No. 1 expensed brand among business travelers who use Certify, a cloud-based travel and expense report company. Lyft was ranked as the sixth-most expensed brand last year, behind companies including Starbucks and Delta Air Lines, according to Certify, which based the ranking on more than 50 million expenses filed in North America.
The effect of ride-hailing services on airports is difficult to gauge accurately because ride-hailing gained popularity at the same time that demand for air travel surged.
The Ontario and Long Beach airports in particular have seen sharp increases in passenger volume over the last several months as they have expanded service. That could mask any negative effects on parking and rental car revenue from ride-hailing services.
But fees from parking and rental car companies are key contributors to airport budgets. At LAX, parking and rental car businesses are considered part of the concessions operations, which generated about 33% of operating revenue last year, while building rental fees accounted for 37% of overall revenue.
With the growing popularity of Uber and Lyft, airline passengers have more options than ever to get to an airport. The biggest effect has been felt by taxis and shuttle van services, which have lost up to 43% of their business since the new competition came on the scene.
Uber and Lyft drivers say getting access to airports has been a mixed blessing.
Drivers with ride-hailing services say they can get double the number of passengers at airports because they are allowed to pick up a passenger within minutes of dropping off a rider at the terminal.
But heavy traffic at airports can often mean sitting in gridlock instead of making money by picking up new riders.
"It isn't more or less lucrative than a route where you don't end up picking up or dropping off at LAX," said Nephresha Singletary, a life coach who has been driving for Uber for more than three years. "Sometimes it's less [lucrative], like if you pick up someone during rush hour and move at a snail's pace to drop them off."
Airport operators say they are trying to ease congestion with new signage and designated drop-off and pickup spots.
"We've worked closely with more than 300 airports and local communities on how best to utilize curb space, carpool lanes and loading zones — efforts that have generated millions of dollars in revenue for airports across the country," said Bakari Brock, senior director of city partnerships at Lyft.
To read more about the travel and tourism industries, follow @hugomartin on Twitter.
---
Sign up for the California Politics newsletter to get exclusive analysis from our reporters.
You may occasionally receive promotional content from the Los Angeles Times.