Can white supremacist groups be blocked from raising money online? There's a campaign to try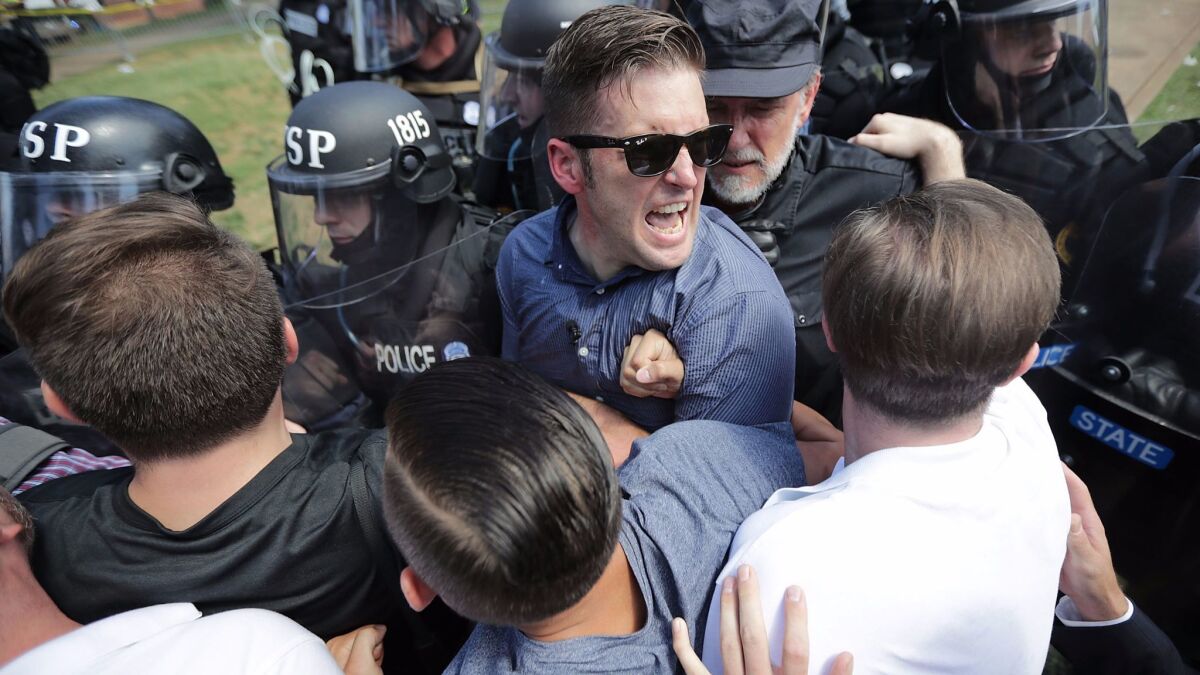 For years, Richard Spencer's white nationalist think tank, the National Policy Institute, was able to accept donations online through its PayPal account and through credit card payments processed by San Francisco start-up Stripe.
And those online channels accounted for the vast majority of NPI's support. Now, in the wake of the deadly rally in Charlottesville, Va., and a crackdown on white supremacist groups by some tech companies, that once-wide-open door is quickly closing.
PayPal shut down NPI's account earlier this week. And on Thursday, Stripe appeared to have ceased processing credit card payments for the group.
Spencer confirmed that an account with a payment processor, one he said had worked with his group for years, had been closed, but he would not identify Stripe by name. (NPI's donation page included Stripe computer code on Wednesday.)
"This is a huge obstacle we're going to have to overcome," Spencer said. "I do occasionally get a $25 check in the mail, but for every one check, I get 100 $25 donations online."
Advocacy groups and lawmakers have for years pushed credit card networks and other big players in the payments system to block particular types of bad actors, from companies that publish criminal mug shots online — with the promise of taking them down for a price — to anti-gay and anti-Muslim groups to Wikileaks.
Some of those campaigns have had wins here and there, but now, after Charlottesville, there's been a flurry of activity by payment providers to cut off access to online payments for white supremacist, white nationalist and neo-Nazi groups.
Along with PayPal and Stripe, which have shut down numerous accounts, Apple said its Apple Pay service would no longer be a payment option for websites that sell white nationalist- or Nazi-themed apparel.
"As a company, through our actions, our products and our voice, we will always work to ensure that everyone is treated equally and with respect," said Apple Chief Executive Tim Cook in an email to employees.
Online advocacy group Color of Change has been pushing credit card companies for months to cut off hate groups that it believes promote or incite violence. This week, it stepped up its campaign with the launch of website Bloodmoney.org, which calls out credit card companies for "helping hatemongers personally profit off their hate."
The nation's two largest credit card networks, Visa and Mastercard, now say they have cut off some groups, but only if they believe the groups have engaged in illegal activity such as inciting violence. Card network Discover went a step further, saying that hate groups will no longer be able to accept its cards even if they do not incite violence directly.
A spokeswoman for American Express said Amex cards are not a payment option at about 120 organizations identified by Color of Change.
Still, cutting hate groups out of the payment system entirely is not a simple process, and it's fraught with questions about censorship.
David Greene, civil liberties director at the nonprofit Electronic Frontier Foundation, said payment companies wield immense power yet are private entities.
"In this situation, many people are not sad about these groups being denied services," Greene said. "But where we have to be really careful is institutionalizing and normalizing these entities being the moderators of what's available. Today it's Nazis, but tomorrow it might be someone on the other end of the spectrum."
What's more, those decisions are being made by a web of interconnected players, all of which have different policies dictating what's allowed and what's prohibited.
Visa, Mastercard and the other card networks don't work directly with the stores, websites and other merchants that accept their cards. Instead, that's left to banks, which actually move money between accounts when a purchase is made. But banks sometimes don't have a direct relationship with merchants either, relying instead on third-party service providers such as Stripe and Square.
The card networks themselves have generally taken a permissive approach, banning only illegal activity. Discover aside, networks do not appear to have changed their thinking after Charlottesville.
"We generally do not prohibit the acceptance of Mastercard-branded payment cards by merchants based on our disagreement with specific views espoused or promoted," Mastercard spokesman Seth Eisen said in an email.
Banks and the third-party companies they work with often have somewhat more robust rules. PayPal, for instance, says users may not use its services for transactions that involve "the promotion of hate, violence, racial intolerance or the financial exploitation of a crime."
Representatives for Bank of America Merchant Services, Wells Fargo and JPMorgan Chase all say they have policies against working with groups that promote hate, violence or harassment.
Some rules are quite vague. Stripe, for instance, says it will block "any business that we believe poses elevated financial risk, legal liability, or violates card network or bank policies."
And it's not clear how consistently any of these rules are enforced. Though card networks and banks say they conduct ongoing monitoring, they also suggest they sometimes move to block merchants only when complaints emerge.
In an emailed statement, Visa spokeswoman Amanda Pires said the company shut down payment access for several hate groups only after the company was given a list of offensive groups. She said the groups were blocked because they were participating in illegal activity or were in violation of bank rules.
Spencer said the companies that have blocked payments to the National Policy Institute have cited nonspecific violations of their terms of service. But he said that if NPI is violating those terms, it has been doing so for some time — and that the new developments are nothing more than "an attempt to suppress speech."
"They have changed their interpretation of their own policies," he said. "Nothing has changed. We have been advocating for the same things for years; I've been using the same language for years. I've always been upfront with who I am and what our organization is."
PayPal did not respond to requests for comment. Stripe spokesman Ted Ladd said he could not comment on specific users.
Still, Spencer said he hasn't been cut out of the payments system entirely. He would not provide more details but said he had "some short-term options" he could turn to for fundraising.
Without PayPal or Stripe, NPI may be able to find another payment processor. Organizers of white nationalist groups might be able to take other steps as well, such as accepting payments through their personal PayPal or Venmo accounts.
They could also try to mimic what Wikileaks has done. In late 2010, shortly after Wikileaks published a trove of classified cables sent by the State Department, Visa and Mastercard blocked the site from accepting credit card donations, saying it was engaged in illegal activity. But donors can still give money to Wikileaks, if indirectly.
Click the donate button on Wikileaks' site, and you'll be presented with options to make donations to two other nonprofits — the Wau Holland Foundation and the Freedom of the Press Foundation — that will funnel donations back to Wikileaks.
Rashad Robinson, executive director of Color of Change, said it may not be possible to cut hate groups out of the financial ecosystem entirely, but that's not his immediate goal. Rather, he said, he simply hopes to make it harder for hate groups to raise money online.
"If everyone has to write a check, that changes people's ability to do recurring donations," he said. "It changes the amount of time it takes for people to support these groups. Cutting off what will be a significant portion of their funds will limit their ability to do the things they're doing."
Indeed, Spencer acknowledged that losing online payment access is a big inconvenience. Even if he finds a payment processor willing to work with him, that provider may bail out, too.
"We can't spend half our time jumping from service to service," he said.
To read the article in Spanish, click here
Follow me: @jrkoren