Amazon is considering offering something like checking accounts, report says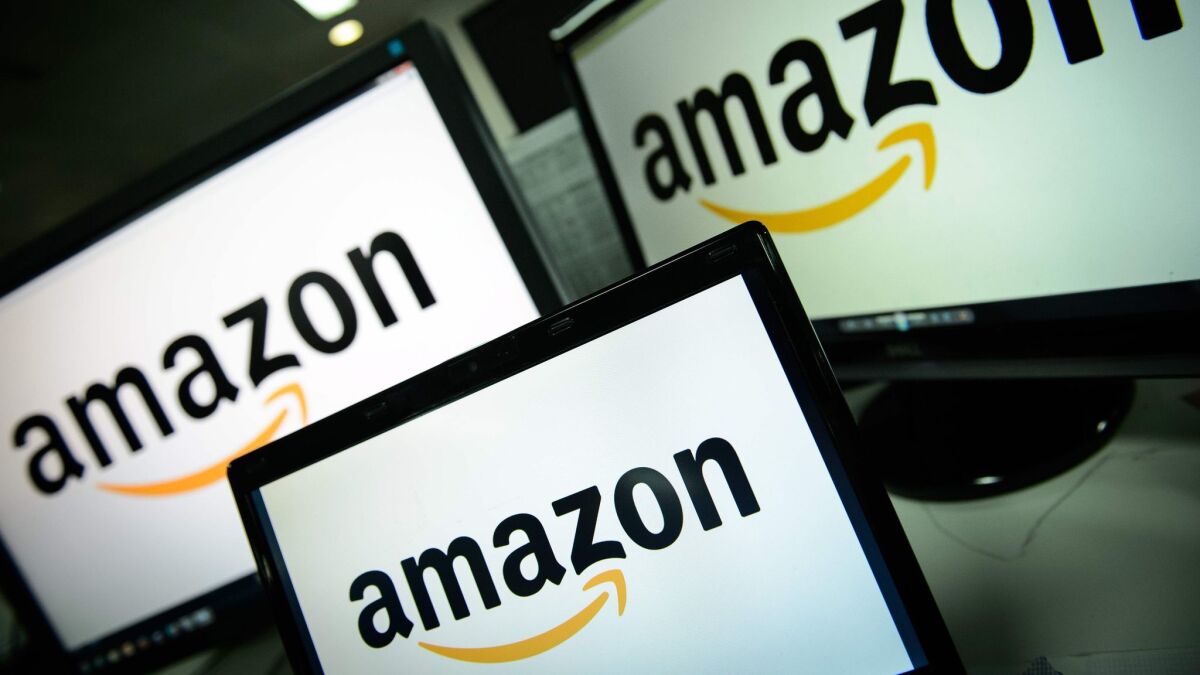 Banks have been warily watching Amazon.com Inc. for signs it would threaten their world. The tech giant's latest move looks more like an opportunity.
A proposal to start offering a product similar to checking accounts is "for now not showing any signs of disrupting the industry," Brian Foran, an analyst at Autonomous Research, said in a note to clients Monday. "While the 'Amazon effect' has dictated trading in several sectors, for banks it seems a much tamer story."
Amazon is in talks with JPMorgan Chase & Co. and Capital One Financial Corp. about the product, the Wall Street Journal reported Monday. The target is younger consumers and people without checking accounts, the newspaper said, citing people familiar with the matter. The strategy could help Amazon lower fees it pays to financial firms and give it a bigger window into customers' income and spending habits.
The offering, if it comes to fruition, would be yet another link in Amazon's extensive web of ways to touch every aspect of people's lives, including food shopping at Whole Foods, reading or listening to books, and streaming music and videos. As Amazon upends other retail businesses including groceries and healthcare, banks have long feared they might be next.
The financial industry has been concerned that major tech companies, not only Amazon but also Facebook Inc. and Apple Inc., might try to sideline banks by handling more of their customers' electronic payments, offering financing or accepting deposits — even if those services open them up to more regulation. The new venture may lessen that concern.
"Why put up all the capital that's required to run a bank and why pick up all the extra expense and headache of running a bank when you can go to a Chase and any number of smaller banks and have them license their bank?" said Ali Raza, managing principal at payments consultant Blue Leviathan.
Amazon shares climbed $23.36, or 1.6%, to $1,523.61 on Monday. JPMorgan shares rose $1.74, or 1.5%, to $115.06. Capital One shares rose $1.18, or 1.2%, to $97.90.
Amazon cash
Amazon already has made forays into the financial arena during its transformation from a bookstore more than 20 years ago. Amazon Pay enables people to pay for products on third-party sites without reloading their credit card information. More than 33 million people use the payment system, and Amazon has lent more than $3 billion to small businesses that sell on its platform since 2011, according to a research report by CB Insights this year.
The e-commerce giant also offers a pseudo-debit card, Amazon Cash, that lets people add cash to an Amazon wallet and buy items online without a credit card.
And last year, Amazon dipped its toe into the deposit business with Prime Reload, which gives customers a 2% bonus when they use their debit card to move funds from a bank account to an Amazon balance that they use for transactions on the website. The move means Amazon paid less in fees to card networks such as Visa Inc. and Mastercard Inc.
Amazon already has a co-branded credit card with JPMorgan, and the two companies' chief executives are working together — along with Warren Buffett's Berkshire Hathaway Inc. — on finding ways to bring down the cost of healthcare for their employees. It's too early to say whether the checking-account venture would include bill-paying services or access to nationwide ATMs, the Wall Street Journal said.
Policy shift
Prime Reload was seen as a way for Amazon to improve its appeal to lower-income customers who might not qualify, or want, the co-branded credit cards it already offers with JPMorgan and Synchrony Financial. Those cards come with as much as 5% cash back on purchases.
Although U.S. policymakers have for years been skeptical of letting big companies move into banking services, that may be changing. Keith Noreika, the former acting comptroller of the currency, said last year that it's time to reconsider whether the traditional separation between lending and retailing should be maintained.
Despite the possibility of tech giants such as Amazon wading into finance on their own, some analysts think partnerships are the more likely path.
"It's a logical extension that banks would partner with tech firms," said Mike Mayo, an analyst at Wells Fargo & Co.
Amazon didn't respond to phone and email requests for comment. Representatives for JPMorgan and Capital One declined to comment.
---
UPDATES:
3 p.m.: This article was updated with stocks' closing prices.
This article was originally published at 9:30 a.m.
Sign up for the California Politics newsletter to get exclusive analysis from our reporters.
You may occasionally receive promotional content from the Los Angeles Times.