Amazon is already undercutting prices on over-the-counter pills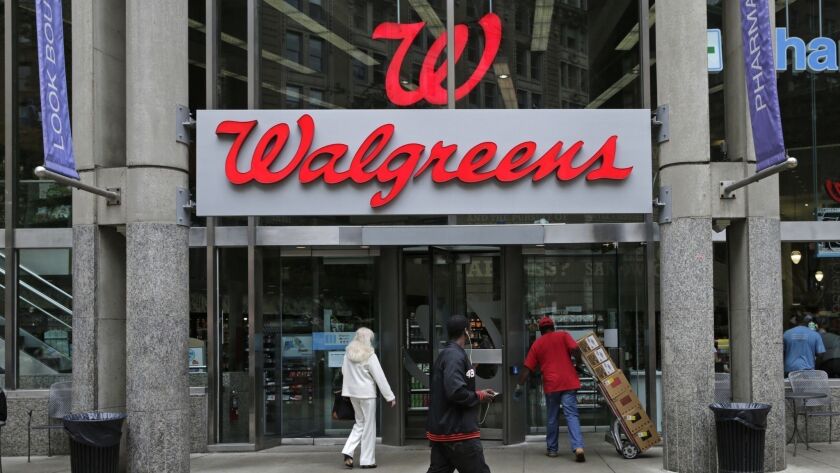 As pharmacy chains await Amazon.com Inc.'s entry into the prescription-drug market, the online retail giant is already undercutting them for nonprescription medicine for aches, colds and allergies.
Median prices for over-the-counter, private-brand medicine sold by Walgreens Boots Alliance Inc. and CVS Health Corp. were about 20% higher than Basic Care, the over-the-counter drug line sold exclusively by Amazon, according to a report Friday by Jefferies Group analysts.
Last week, Amazon announced that it was buying PillPack, a pharmacy company that will give it an entry point into the nation's $328.6-billion market for prescription drugs. Shares of CVS and Walgreens plunged on the news, as investors bet Amazon could attract pharmacy customers with lower prices, giving them one less reason to go to the corner drugstore.
Amazon began selling the Basic Care line in August with roughly 35 products and has since expanded its range to 65 drugs, according to the Jefferies analysts. The products include mild painkillers, cold and flu medication, sleeping aids and other medicine commonly found in the pharmacy aisle.
In midtown Manhattan at a Duane Reade store, part of the Walgreens chain, a store-brand pack of 500 acetaminophen pills costs $18.99. Amazon is selling the same count and strength product for $7.40. Two allergy medications — cetirizine, also known as Zyrtec, and loratadine, sold under the Claritin brand — cost about three-quarters less on Amazon than the drugstore chains' house brands did in the store.
According to the Jefferies report, 84% of Walgreens' and 72% of CVS' house-brand drugs were more expensive than the Basic Care line.
In-house brands are a way for retailers to sell over-the-counter products that can compete with manufacturers' brand offerings, such as Tylenol or Advil. Amazon's Basic Care brand is made by Perrigo Co., which also makes in-house brands for other retailers.
Many, but not all, of Amazon's over-the-counter drugs are available through the retailer's Prime service, which offers free shipping and fast delivery.
Representatives for Walgreens and CVS didn't immediately respond to requests for comment. Nell Rona, an Amazon spokeswoman, declined to say how the Basic Care brands were performing financially.
---
Be your money's boss! Learn how to make a budget and take control of your finances with this eight-week newsletter course.
You may occasionally receive promotional content from the Los Angeles Times.