L.A. wants to be home to Amazon's second headquarters. It may be a long shot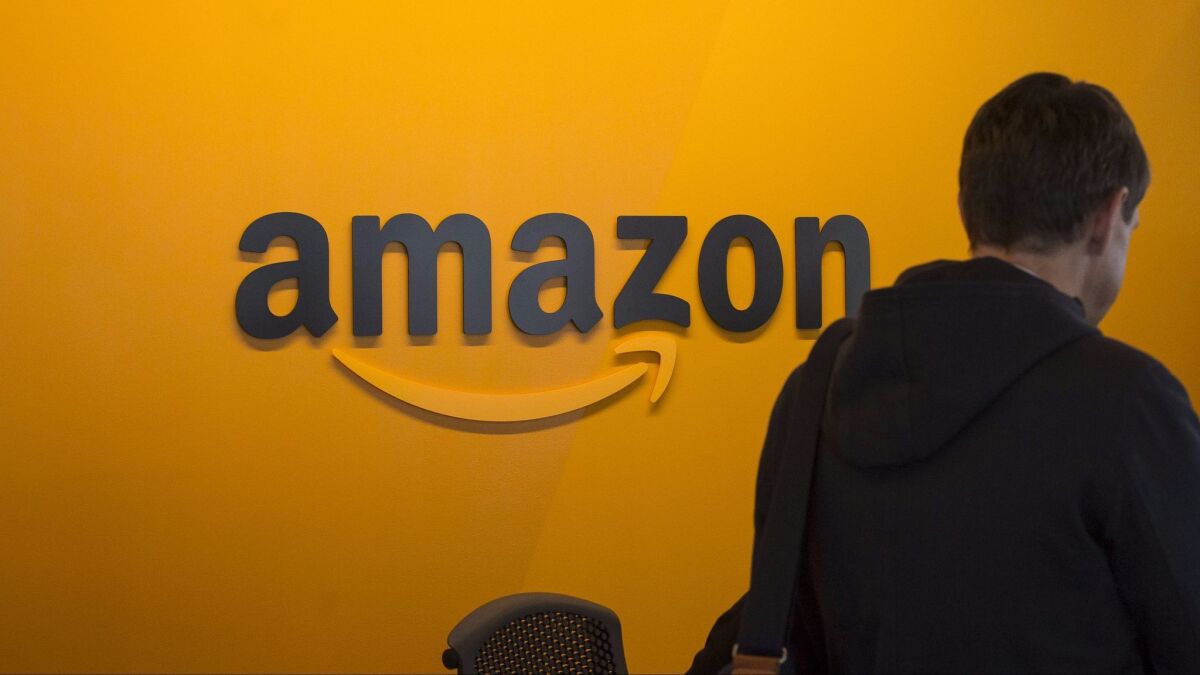 Amazon.com announced Thursday that it's launching a search for a second headquarters in North America. The $5-billion project — and the prospect of 50,000 new jobs — already has sent cities scrambling to land the deal.
Here are some arguments for and against Los Angeles:
Pro: L.A. hits all the basic requirements
Amazon said it would give priority to areas with more than 1 million people that are within 45 minutes of an international airport.
In addition, "a highly educated labor pool is critical and a strong university system is required" in the area, Amazon said in its request for proposal from potential bidders.
The company also is looking for places where its thousands of employees will enjoy living. That means "recreational opportunities, educational opportunities, and an overall high quality of life," the company said.
Pro: Amazon Studios is becoming a big Hollywood player
A new Amazon headquarters in L.A. would bring the company closer to its Amazon Studios division, which is based in Santa Monica.
The TV division of the studio shoots many of its shows in the L.A. region, including "Transparent," "Bosch" and "The Last Tycoon."
The studio has quickly become a major Hollywood player. It produced last year's Academy Award-winning "Manchester by the Sea" and has lured talented stars including Woody Allen, "Mad Men" creator Matthew Weiner and "Boyhood" filmmaker Richard Linklater to create original movies and TV series.
This year, Amazon will make its first foray into film distribution when it releases Allen's "Wonder Wheel" in December. In the past, Amazon has partnered with indie distributors, including Roadside Attractions and Bleecker Street, to bring its movies to cinemas.
"Amazon is investing hand over fist in entertainment content," said Tom Forte, senior research analyst at D.A. Davidson. "So that element would be a slam dunk."
Pro: Jeff Bezos just bought another house here
The Amazon founder bought a Spanish-style estate in Beverly Hills for $24.5 million in 2007. But last month, he expanded his compound.
The Times' Hot Property reported that he bought a neighboring home for $12.9 million in a deal completed outside the Multiple Listing Service.
Tax records show the home has 4,586 square feet of interior space on one level. Formal living and dining rooms, four bedrooms and six full bathrooms are among living spaces. There are two fireplaces.
The two combined estates total about 2.5 acres.
Pro: L.A. has existing logistics infrastructure with ports, warehouses
The Los Angeles and Long Beach ports combine to create the nation's largest port complex. Roughly 40% of U.S. imports pass through the ports, which support hundreds of thousands of logistics jobs throughout the region.
Many of those goods are trucked to warehouses in the Inland Empire.
Amazon already has nine sprawling fulfillment centers in California, including five in the Inland Empire. It announced plans earlier this year to build two more Southern California warehouses — in Redlands and in Eastvale, near Riverside. In June, the company said, it also would be building an 855,000-square-foot facility in Fresno.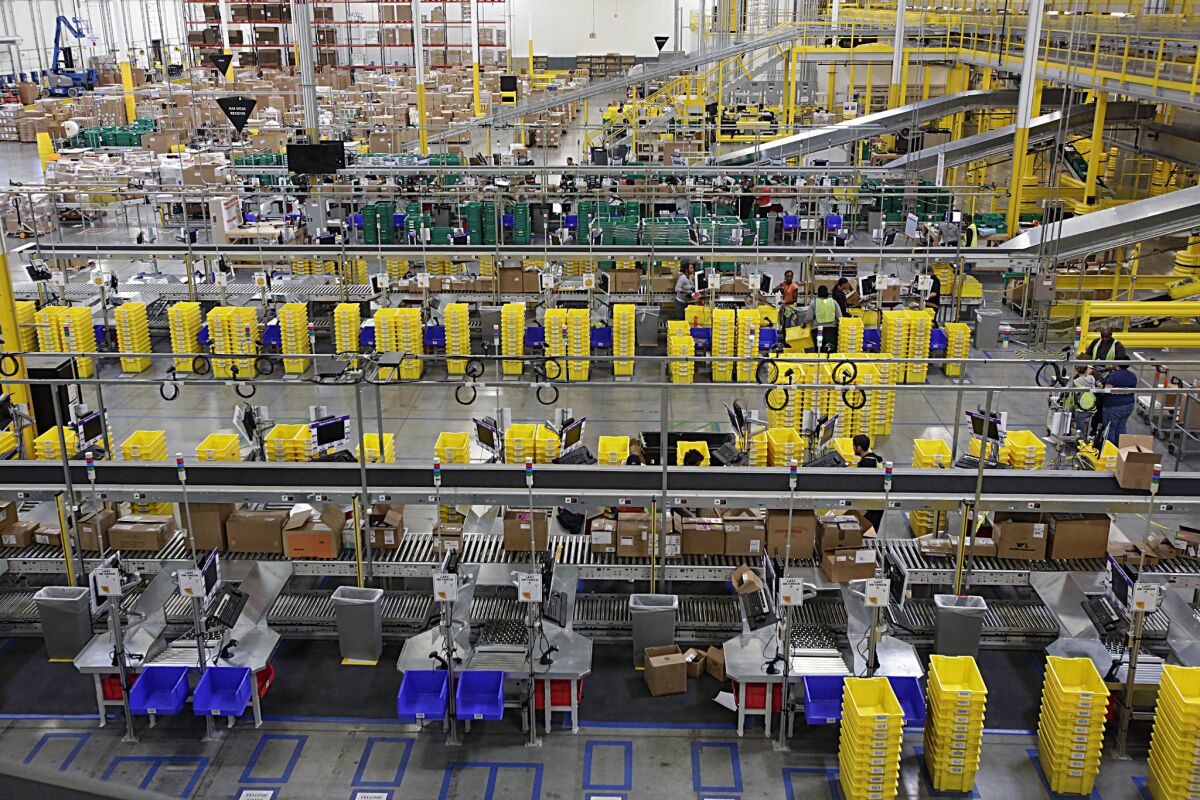 Con: L.A. faces stiff competition
There are several other big cities, however, that also meet Bezos requirements.
Many mayors — including Nashville's Megan Barry, Pittsburgh's Bill Peduto and St. Louis' Lyda Krewson — quickly voiced their interest, signaling a fierce battle among some of the nation's largest metropolitan areas could be imminent.
Con: High housing and rent prices
Both rent and home prices have soared in recent years, putting a strain on family budgets and the ability to take out a mortgage.
Businesses are now citing the region's high cost of living as an impediment to growth. And coastal residents are increasingly moving to cheaper locales in the Inland Empire or out of state in an effort to own a house.
"I personally think this is more about housing than anything else," said Michael Pachter, an analyst with Wedbush Securities in Los Angeles. "So Riverside makes more sense than L.A. Or Bakersfield. But you couldn't pay me to live there."
Amazon might make a similar decision and determine that coastal Southern California is simply too expensive.
For example, the median price for a home in the L.A.-Orange County metro region was $611,100 in July, while the median rent for an apartment was $2,455, according to Zillow. The median price in Austin, Texas, meanwhile is only $272,400 and rent only $1,536.
Chicago is similar priced, with the median home price at $212,300 and the median rent at $1,543.
Con: Doesn't add much geographic diversity
Amazon already has an enormous West Coast presence that stretches from Washington to Southern California.
With its headquarters in Seattle, Amazon often used Seattle as a test bed for new products and services. It's where the company beta tested its AmazonFresh grocery-delivery service as well as its Amazon Go prototype high-tech grocery store.
Adding a second headquarters in a city on the East Coast would give Amazon a fertile new testing ground, with a very different set of customers, Forte said.
"I like Virginia. AOL used to have a headquarters there, and it gets them close proximity to Washington. And Bezos owns the Post independent of Amazon," Forte said. "It checks a lot of boxes."
Although Amazon hasn't had trouble attracting talented workers to Seattle, a non-West Coast headquarters also could help it lure employees who insist on living on the East Coast, in the South or in the Midwest.
Con: History of lackluster tax credits
California doesn't always compete on tax credits compared with other states, and it already has lost out on some big corporate deals as a result.
One recent example: When Elon Musk wanted to build a massive $5-billion battery plant for Tesla, which is based in Palo Alto, he turned to Nevada.
Musk was able to secure incentives worth $1.25 billion from Nevada — no property tax for 10 years, no sales tax for 20. Plus, $195 million in tax credits that Tesla could sell for cash.
Point being, other states might be more willing to heavily subsidize Amazon's second headquarters.
"One that comes to mind is Wisconsin, just given that they're bending over backward for Foxconn," Forte said of the Taiwanese electronics manufacturer.
---
Sign up for the California Politics newsletter to get exclusive analysis from our reporters.
You may occasionally receive promotional content from the Los Angeles Times.