Can Amazon disrupt the $16-billion housekeeping industry?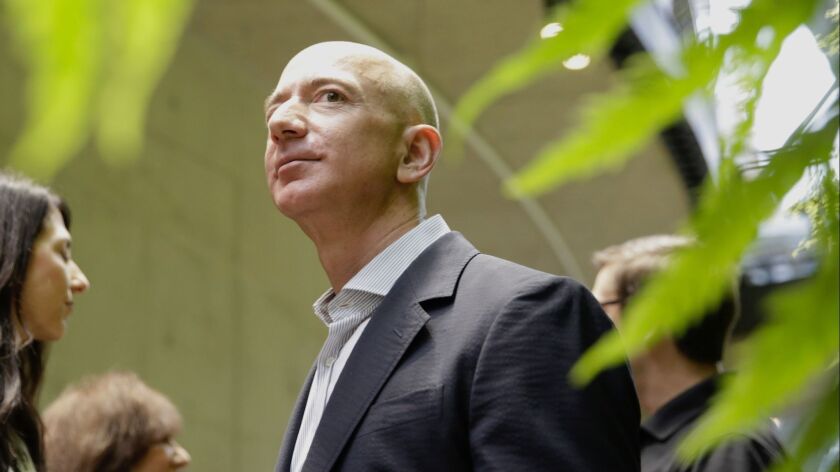 Three years ago, Amazon.com Inc. launched a marketplace to connect its customers with handymen, landscapers and housekeepers in their neighborhoods, a direct challenge to the likes of Angie's List Inc. and Yelp Inc.
The offering embraced the independent contractor model, using Amazon's web store to create a new service from scratch without hiring a single person or buying any lawnmowers, hammers or mops. Instead, it connected contractors using their own vehicles, tools and supplies with new business customers, taking a cut of each job. That same model let Uber Technologies Inc. disrupt the taxi industry without buying cars or hiring drivers.
Now Amazon is quietly hiring house cleaners in Seattle as direct employees. The online retailer is swapping the low cost of contract workers for the greater control of employing its own people. Doing so puts it on the hook for things like minimum wage, workers' compensation and overtime pay. But it also lets Amazon determine how the workers are trained, which cleaning products they use and how they organize their schedules.
Other Seattle area tech companies have been making similar moves, though that bucks a general — and controversial — trend in the industry to farm out tasks to independent contractors instead.
Amazon's experiment signals it's concerned that saving money by using independent contractors can compromise the customer experience and make it just another online matchmaker. Amazon had lofty expectations when it launched its Amazon Home Services marketplace in 2015, saying the hundreds of services offered combined to represent a $600-billion market. But growth has been sluggish, prompting Amazon to revisit the plan.
So it's conducting a trial to see whether investing in its own housekeepers will differentiate its services by linking them more directly to the popular Amazon brand. U.S. consumers spent $16 billion on home cleaning in 2017, according to ServiceMaster Global Holdings Inc., parent of the Merry Maids franchise.
If the test works for housekeeping, it could help Amazon grow more quickly into other service-oriented categories like home improvement products and sophisticated electronics that require assembly and installation. Best Buy Co. Inc.'s Geek Squad, which installs and repairs electronics and appliances, is an example of the branded service Amazon has to offer to keep expanding, said Kirthi Kalyanam, director of the Retail Management Institute at Santa Clara University.
"Any products that require additional services beyond opening a box, Amazon doesn't do well," Kalyanam said. "The possible rationalization of hiring housekeepers is they are hitting a wall in selling products where service is important. They need to add end-to-end services to enter more categories, and that service needs to be branded. With independent contractors, you don't get that."
The new housecleaning service, Amazon Home Assistants, offers home cleanings in Seattle that vary in price by the size of the home and frequency of visits. A weekly cleaning of a 1,500-square-foot home runs about $156.
Amazon last year introduced the Amazon Key, a smart lock that can let delivery people and service providers into a customer's home. Last month, it agreed to acquire smart doorbell start-up Ring for about $1 billion, giving it a greater presence in homes. Both products lend themselves to providing home access remotely, which also raises customer concerns about safety. Amazon makes using its own workforce part of the pitch.
"All our technicians are Amazon employees who are trained professionals," the Amazon Home Assistants website states. "We use 100% eco-friendly and kid-safe cleaning products which are rated 4 stars and above on Amazon. All our services are backed by our happiness guarantee. If you're not satisfied, we'll come back and fix any problems."
Amazon declined to comment.
It isn't the only Seattle-based technology company exploring the service-employee option. Seattle start-up Pro.com has assembled its own team of carpenters, plumbers and other home repair specialists to bring the convenience of online transactions to the more than $300-billion home-improvement market. Amazon CEO Jeff Bezos is an investor in Pro.com, which was founded by former Amazon executive Matt Williams.
"When you're in a contractor model or a lead-generation model, no matter how much vetting and pre-screening you've done, it's just hit or miss," Williams said. "You can't guarantee a consistent, high-quality experience unless you hire your own people."
Those companies are the exception in tech, which has embraced independent contractors to shepherd passengers, fetch groceries and even park cars without actually hiring anyone. The contractor model can reduce expenses by as much as 30% by avoiding overtime costs, payroll taxes and workers compensation associated with hiring workers directly. It also prevents those workers from forming unions. Amazon uses the independent contractor model through its Amazon Flex app, which lets contract drivers deliver packages in their own vehicles.
But doing so reduces a company's control over how the work is performed, giving customers inconsistent results. It also opens them up to lawsuits if they overstep boundaries by trying to exert too much control over their contractors and treat them more like employees. The housecleaning industry in particular has drawn scrutiny regarding worker classification.
Soper and Eidelson write for Bloomberg.
---
For reporting and exclusive analysis from bureau chief John Myers, get our California Politics newsletter.
You may occasionally receive promotional content from the Los Angeles Times.