Amazon gains valuable entertainment asset with purchase of Twitch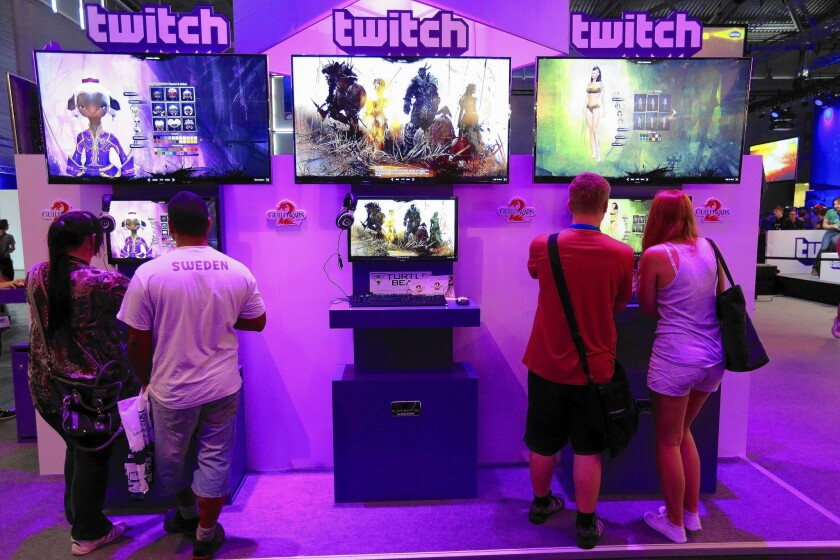 Amazon.com is already a go-to destination for shoppers, bookworms, and music and movie fans. Now it'll also be the virtual home for millions of hard-core video gamers.
The Seattle e-commerce giant announced Monday that it had agreed to buy Twitch Interactive, the massively popular online platform for the gaming community.
Amazon will pay $970 million in cash for the San Francisco start-up, which specializes in live streaming video games to spectators, sometimes with commentary, much like a professional sports event on prime time.
Amazon founder and Chief Executive Jeff Bezos said the company wanted to help Twitch "move even faster" to build new services for video game players.
"Broadcasting and watching gameplay is a global phenomenon, and Twitch has built a platform that brings together tens of millions of people who watch billions of minutes of games each month," Bezos said in a statement. "And, amazingly, Twitch is only 3 years old."
Under the terms of the agreement, which has been approved by Twitch's shareholders, Amazon will acquire all of Twitch's outstanding shares. The acquisition is expected to close by year's end.
In a letter to the Twitch community, Chief Executive Emmett Shear said the company chose Amazon "because they believe in our community, they share our values and long-term vision, and they want to help us get there faster."
"We're keeping most everything the same: our office, our employees, our brand and most importantly our independence," Shear said. "But with Amazon's support we'll have the resources to bring you an even better Twitch."
The news is a turnabout from earlier reports that pegged YouTube as the all-but-certain buyer for Twitch.
A YouTube deal — rumored to be in the $1-billion range — was said to be imminent once the two sides hammered out final details, and was expected to help YouTube, the world's largest video-sharing community, secure its foothold in the rapidly growing game-play video market.
Instead, talks between Google-owned YouTube and Twitch fell apart a few weeks ago. A number of tech companies reportedly stepped in to make their own plays for the company — including Yahoo, Sony and Microsoft — but were unsuccessful.
For Amazon, owning Twitch gives the company a valuable entertainment asset as it looks to build its reach in the video-streaming space.
The long-term ad revenue from a Twitch acquisition could also be massive. Twitch caters to an attractive demographic: typically young, tech-savvy men who have time on their hands and money to spend.
"Within the context of the Great Ecosystem War, gaming is critically important," Macquarie analyst Ben Schachter wrote in a note to investors after the deal was announced.
Carl Howe, vice president of research and data sciences at research firm Yankee Group, said Amazon has already dipped into gaming with its Fire TV streaming media player and its Kindle Fire tablet. Twitch, however, presented an attractive opportunity for Amazon "to jump with both feet into gaming."
"They're trying to expand into more media types. Music was the first step, TV was the next step, and they're getting into games," Howe said. "Having a gaming community is a natural next step."
But some questioned the move, saying it seemed like a mismatch — especially when compared with other rumored bidders that seemed to offer a better fit.
"Where's the tie-in to Amazon? I don't really see it," said Dan Rayburn, principal analyst at Frost & Sullivan. "I don't consider the Fire TV to be a gaming box — it's a device that has some gaming functionality."
Although the purchase didn't appear to make much sense now, he said, Amazon might be developing a new platform or product that would pair well with Twitch, and wanted to get the company under its belt while it had the chance.
"Amazon doesn't do anything short term, so I wouldn't put it past them to acquire something now to dominate something five years down the line," Rayburn said.
Even if Amazon isn't considered a gaming juggernaut today, the company is stepping up its focus on the sector.
During a live chat hosted on Twitch after the deal was announced, Mike Frazzini, vice president of games at Amazon, said Amazon had been investing heavily in gaming and saw the acquisition of Twitch as "a substantial step in the same direction."
And Ethan Kurzweil, a partner at Bessemer Venture Partners — the largest investor in Twitch — noted that although Amazon has its eye on gaming, "Twitch is about more than that" and represents a robust community with a built-in base of loyal fans and developers. Kurzweil, who sits on Twitch's board of directors, declined to discuss Twitch's negotiations with other companies.
Amazon's stock rose $2.43, or 0.7%, to $334.02 on Monday. After the deal was announced after markets closed, shares rose slightly.
Since launching in 2011, Twitch has fostered an online social community where viewers can follow their favorite channels, chat with one another while watching content, and send and receive direct messages.
In July, more than 55 million unique visitors viewed more than 15 billion minutes of content on Twitch produced by more than 1 million broadcasters, including individual gamers, pro players, publishers, developers, media outlets and conventions.
Twitch users said they hoped Amazon wouldn't meddle too much with the platform.
Twitch fanatic Richard Garcia of Bakersfield said he understood that Twitch needed more resources to keep growing. But the 29-year-old said he wouldn't be happy if Amazon bundles Twitch too closely into its other services.
"It might ruin it if Twitch goes, 'If you want a Turbo subscription, buy this with Amazon Prime,'" he said. "I would like it if Twitch were to just stay Twitch."
Twitter: @byandreachang
salvador.rodriguez@latimes.com
Twitter: @sal19
---
Your guide to our new economic reality.
Get our free business newsletter for insights and tips for getting by.
You may occasionally receive promotional content from the Los Angeles Times.