American Apparel is said to be considering moving manufacturing out of California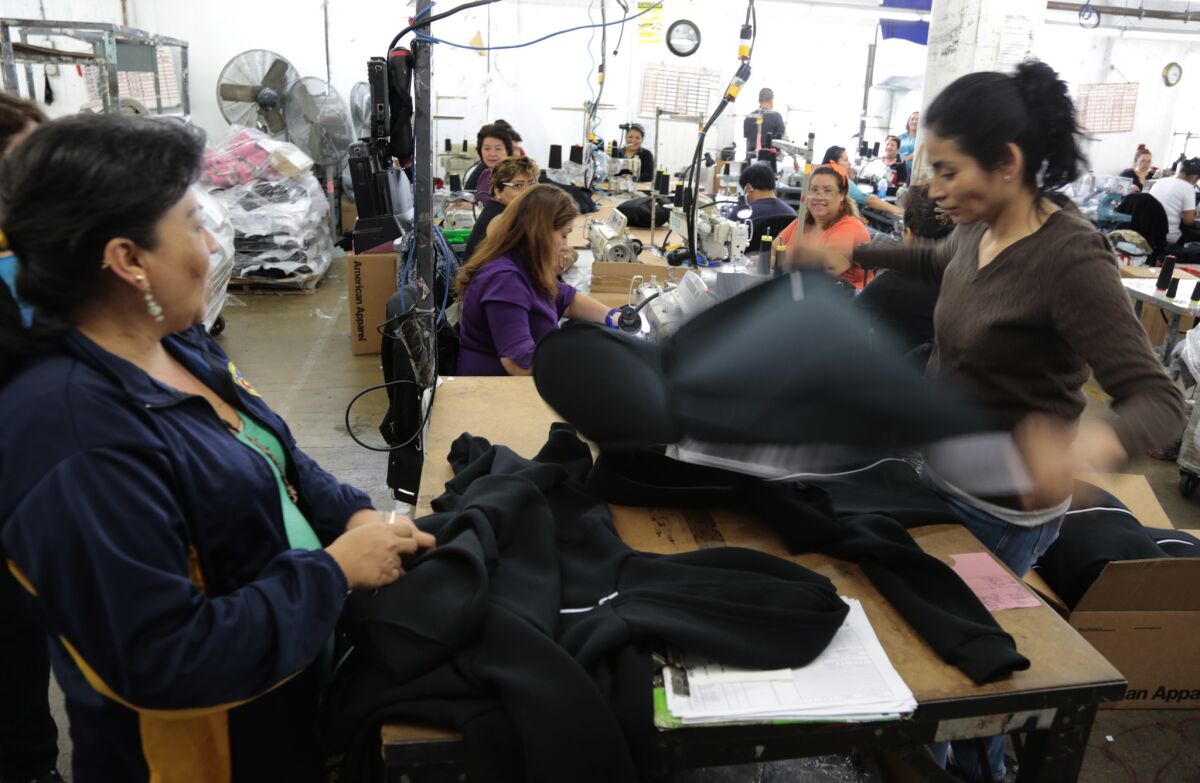 Struggling retailer American Apparel is eyeing a move out of its downtown Los Angeles manufacturing facility for a lower-wage part of the country, according to two sources familiar with the company.
The Los Angeles clothing maker, which emerged from bankruptcy in February, is contemplating a move to a state such as Tennessee, North Carolina or South Carolina, where the minimum wage is $7.25, said one source, who requested anonymity due to pending litigation. That would be a significant savings once California's minimum wage climbs to $15 an hour in 2020.
In a statement, American Apparel said it "does not comment on rumors or speculation."
The lease on its current downtown Los Angeles headquarters, which is also its largest factory, runs out in 2019. The New York Post first reported the news. Another source, who requested anonymity to avoid losing work, said the company plans to keep its headquarters, including its design team, based in L.A.
American Apparel used to tout its humane treatment of workers — relatively high wages, on-site healthcare and even free massages — as a chief selling point of its brand. For years, the slogan plastered on billboards and advertisements was "Made in USA — Sweatshop Free."
But its employment practices came at a price — in 2009, the company fired 1,800 skilled workers after an immigration inspection uncovered questionable employment documents. Now, it is looking to shave costs following the ouster of its founder, chief executive and chairman, Dov Charney, who was forced out after an investigation into misuse of company funds and inappropriate behavior with employees. In April, Paula Schneider, the current CEO, said some garments could be outsourced to another American manufacturer.
American Apparel is in the process of shedding its Los Angeles facilities — possibly in preparation for a move, the sources said. One said the company could shift manufacturing out of California before its downtown Los Angeles lease runs out, possibly next year or in 2018.
Earlier this year, a Hawthorne facility that dyed fabrics was closed. A Los Angeles factory that handles knits will be closed in October, according to a letter sent to employees. "The company will be implementing a reduction in force," the letter said, "and plans on terminating the employment of those employees at that location on October 11, 2016."
Another in South Gate, which is still operating, has shut down its denim operations. The company has also sold equipment used to make sweaters, shoes and hosiery, the sources said.
shan.li@latimes.com
---
UPDATES:
4:10 p.m.: This article was updated with additional reporting and context.
This article was originally published at 2:35 p.m.
Sign up for the California Politics newsletter to get exclusive analysis from our reporters.
You may occasionally receive promotional content from the Los Angeles Times.