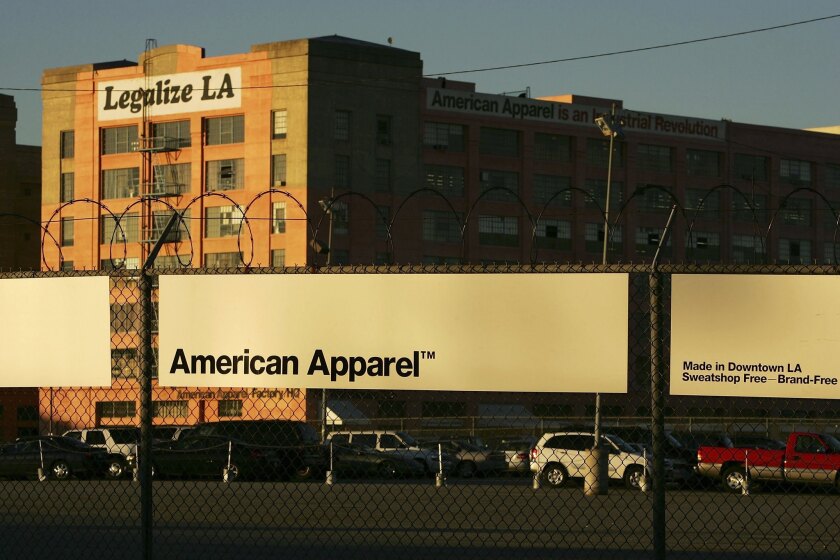 American Apparel set the date for the bankruptcy auction of its manufacturing, retail and wholesale business, likely delaying layoffs slated to affect as many as 3,457 employees in Southern California.
The Los Angeles clothier, which in November filed for bankruptcy for the second time, told workers Tuesday that the auction has been scheduled for Jan. 9 and 12. It does "not anticipate" any layoffs on Jan. 7 — the initial date when cuts were scheduled to occur.
After the auction, "we will have more clarity on the go-forward plan," Craig Simmons, the chief human resources officer, wrote in a letter to employees, "depending on which buyer or buyers succeed, and how they wish to move forward."
Gildan Activewear, a Canadian sportswear firm that has already bid $66 million for American Apparel's intellectual property rights and some other assets, has indicated its interest in maintaining at least a portion of manufacturing in the U.S.
Although Gildan has already bid, the bankruptcy process allows other potential buyers to make competing offers, including for American Apparel's retail business. Gildan has no interest in the 110 stores in the U.S. and 83 others around the world.
To comply with labor law requiring advance notice of mass layoffs, American Apparel had previously warned workers in three local production facilities — 332 in Garden Grove, 959 in South Gate and 2,166 at the company's headquarters in downtown Los Angeles — of potential layoffs on Jan. 7.
On Wednesday, American Apparel reemphasized that layoffs "continue to be potential, NOT pending."
"The notice was purely a legal precaution, as prospective buyers have expressed a deep interest in retaining manufacturing operations IN L.A.," the company said in an emailed statement.
Follow Shan on Twitter @ByShanLi
ALSO
Pebble smartwatch maker will shut down and sell its intellectual property to Fitbit
SpaceX now hopes to return to flight in January, not this month
Why your Christmas tree may cost more this year
---
UPDATES:
10:29 a.m. Dec. 7: This story was updated with a statement from American Apparel.
This story was originally published at 4:25 p.m. Dec. 6.
---