Why your Christmas tree may cost more this year
A Christmas tree shortage could have many Southern California shoppers feeling the holiday blues.
Some local sellers have increased prices 10% or more on certain varieties, especially the popular Noble fir, because they have become scarce. Some buyers have returned to their usual holiday tree lots this year only to find that the sellers weren't there.
Industry experts say an oversupply of Christmas trees nearly a decade ago brought low returns, prompting many growers to stop planting trees in favor of other crops, such as hazelnuts. That has led to a shortage this year among Southern California sellers, who get trees primarily from Oregon, Washington and North Carolina.
"We went to a Home Depot and the prices were definitely higher, so we decided not to buy," Venice resident Michelle Noble said.
Noble tried a few other places and ended up at the Chauvet Tree Farm lot in Venice, where evergreens cost from about $30 to nearly $230. With three children at home expecting something for Santa to put gifts under, "we are probably going to make the decision to just go with a smaller tree rather than a bigger one that is more expensive," Noble said.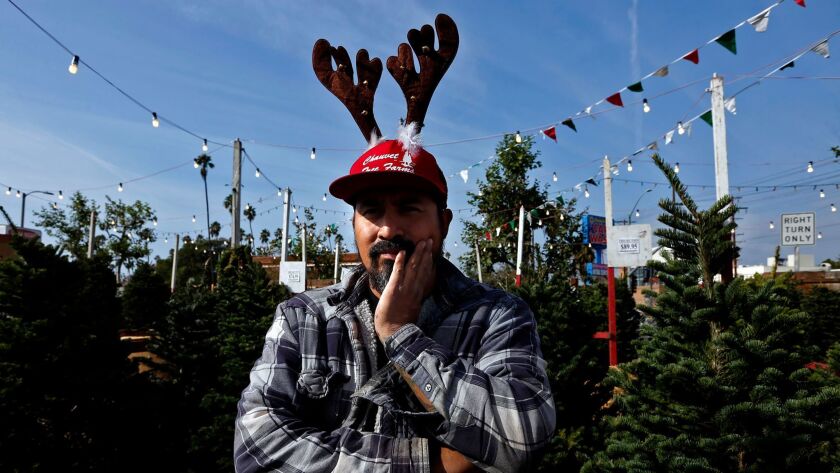 A few blocks away, George Lopez was unloading trees from his family's truck and bemoaning the small harvest that is forcing him to charge 3% to 5% more this season.
"Nobles are very scarce this year," said Lopez, who is selling at the empty Venice Ranch Market this season. "My cost to buy went up $5, so I had to raise [my sales price] $5."
Lopez hopes to outdo competitors by offering customers the option of a tree painted unexpected hues such as gold, black or even hot pink. About 10% of the buyers are willing to pay the extra $5 a foot for white and $10 a foot for other colors, said Alma Lopez, George's sister.
"Nowadays, people are forever innovating," she said. "There's a competition among friends, it seems, to come up with something totally different."
Norm Osborne, owner of Pinery Christmas Trees in San Diego, said that after 25 years in business he's used to cyclical shortages and this time isn't any worse than previous lulls.
Osborne said the shortage is mainly in Noble fir trees taller than 7 feet, but cost increases may extend to other tree varieties. Pinery's five locations were selling Douglas fir trees starting at $75 and Grand firs starting at $85 last year, but increased the starting price this year by $5 and $10, respectively.
"The growing period for a Noble fir is like eight to 10 years. That's a long time to wait for a return on your investment," Osborne said.
The cost of Noble and Nordman firs varies substantially based on size but ranges from $45 to more than $150 at Pinery. Osborne said he has raised prices on those trees 3% to 5% and added more Fraser fir trees to make up for the lack of Nobles.
Despite higher prices this year even at big-box retailers, trees at such stores usually are cheaper than at independent sellers. The big-box retailers keep costs down by buying more in bulk and other arrangements.
Scott Stearns, an assistant vice president for Costco Wholesale Corp. based in San Diego, said the company mostly gets trees from Oregon. Costco has lost many of the growers it used to buy from but still works to keep costs down.
"Part of the way we have been able to keep costs down is by not having a big lot taking up parking spaces," Stearns said. Customers also select the trees themselves, eliminating the need for extra employees.
Richard Gass, owner of Family Christmas Tree Farm in El Cajon, said costs can add up for small operations. A Douglas fir costs him $13 to $18, then about $3 to $5 for freight, then labor and watering costs, which keep going up. The price of some tree varieties is up 10%, Gass said.
Still, demand for real trees doesn't appear to be waning, sellers said, despite environmental concerns among some consumers.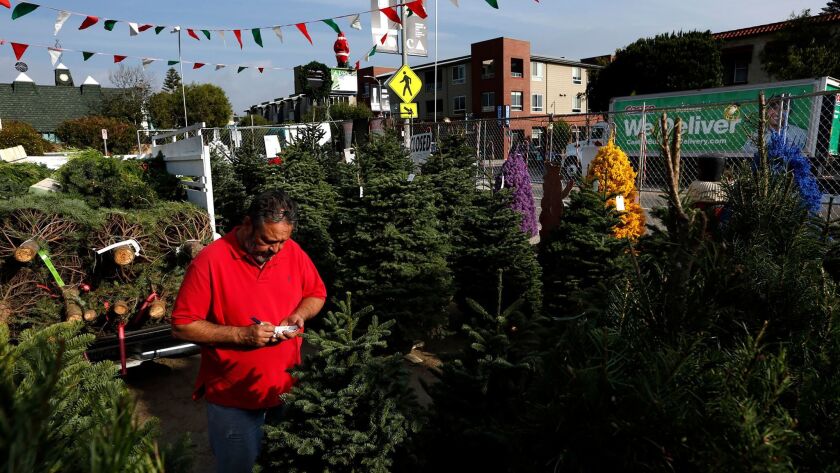 "We have a certain niche that we cater to," Osborne said. "There are people that would never buy a fake tree. They love beautiful trees. That's what we sell."
At the Chauvet Tree Farm lot, manager Nick Toledo was able to give customers a rare price break this year because a new freight hauler, anxious to lock in the company's business, charged less for transportation from the farm's 700 acres of trees in Salem, Ore. As a result, he's charging $5 less a tree on average, Toledo said.
Chauvet has only three lots in West Los Angeles this year, down from as many as nine since the company began selling in Southern California in 1971. Development and landownership changes have made it difficult to line up space, Toledo said.
Rachel Stewart, a registered nurse in Marina del Rey, wasn't particularly worried about the number on the tree's price tag.
Stewart said she is hosting family this year and "I have to have the best tree I can find."
phillip.molnar@sduniontribune.com
For more business news, follow Ronald D. White on Twitter: @RonWLATimes
ALSO
Trump economy poses big risk, high reward for California
Amazon's new convenience store has no cash registers and no checkout lines
How free coupons for patients help drugmakers hike prices by 1,000%
---