American Apparel ex-CEO Dov Charney could thwart bankruptcy plan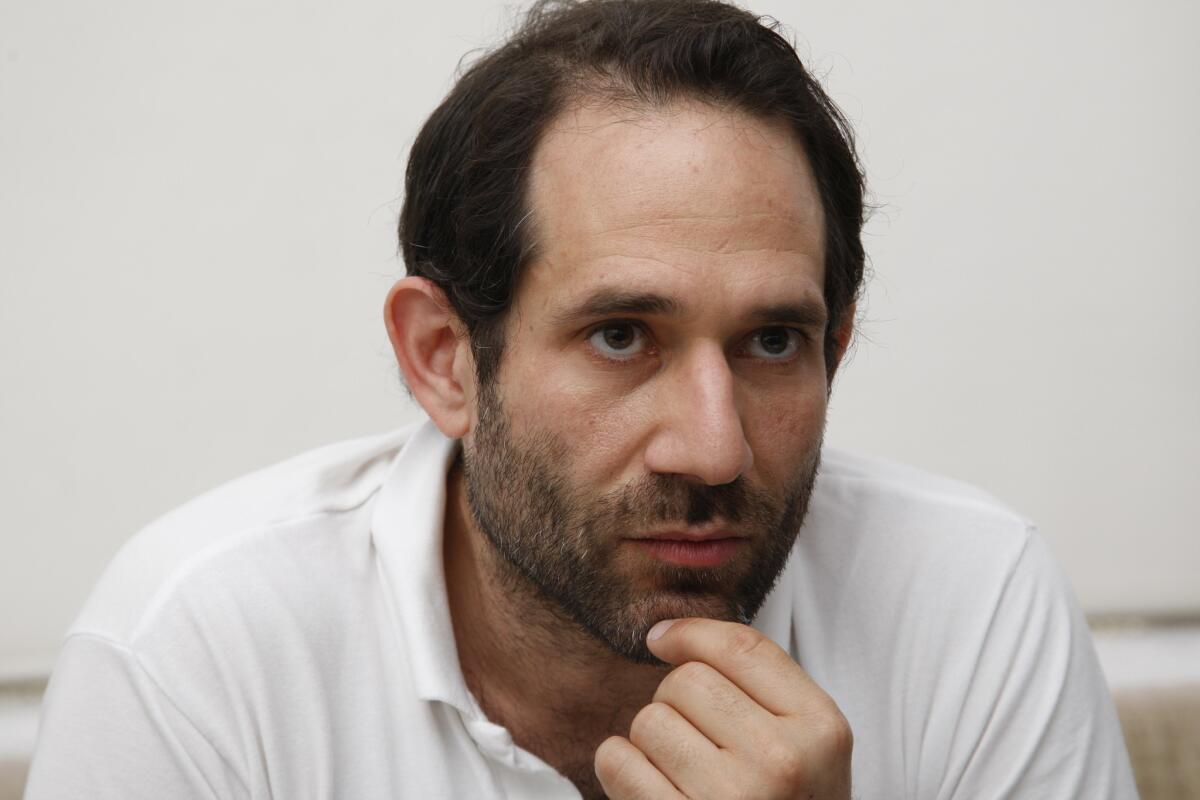 The Chapter 11 bankruptcy proceedings of American Apparel Inc. could be derailed -- or at least delayed -- by ousted Chief Executive Dov Charney.
That's according to Standard General, the New York hedge fund that could become one of the new owners of the Los Angeles company if the restructuring plan goes forward.
In Delaware Chancery Court on Friday, a lawyer for Standard General said Charney's contact with employees and possible investors could "interfere with the company's effort to reorganize and come out of bankruptcy successfully," according to a Wall Street Journal report.
Standard General indicated it wants to continue pursuing a case alleging that Charney has gone too far in his attempts to win back American Apparel, the Journal report said. Standard General's lawyer said a trial should take place by spring because the company's restructuring has given the case added urgency.
Charney has denied those allegations and could not be reached for comment on this report. He has already fired back with his own lawsuits against Standard General, accusing the company of misleading him and conspiring to push him out of the company.
American Apparel filed for Chapter 11 bankruptcy protection last week after reaching a deal with 95% of its secured lenders, including Standard General. The restructuring agreement -- which will take the company private and hand nearly 100% of control to its largest bondholders -- is designed to cut its crippling debts and interest payments.
If approved by the Bankruptcy Court, the deal would also wipe out the value of shares held by Charney and other major American Apparel investors. He was fired last year after an investigation into alleged inappropriate behavior and misuse of company funds. Charney has denied the allegations.
Bankruptcy experts say that Charney has enough power to slow the process in bankruptcy court, but has little chance of stopping it.
"Any CEO who has built a company from scratch -- which has become a sizable globally known enterprise that is nearly synonymous with the CEO himself and his personality -- is going to be able to cause some sort of disruption in the bankruptcy court," said Matt Covington, a managing director at Conway MacKenzie, a financial consulting firm that specializes in bankruptcy transactions. "Whether he is successful or not is an entirely different story."
Charney tethered his shares to Standard General last year in a comeback bid; the hedge fund loaned him the money to boost his stake to about 43%.
In Bankruptcy Court, Charney could object to the plan as a shareholder and argue that stockholders are owed some money (under the current plan, they would get nothing). He could also vote no on the plan once the ballots go out for concerned parties to vote on the proposed restructuring deal, experts said.
But shareholders have less standing than secured and unsecured lenders, experts said, because stocks are essentially gambles that may not pay off. Even if shareholders object, the judge can still OK the plan.
Charney could also object along the way -- for example, when the disclosure statement is filed that lays out detailed information as to how creditors and others will be treated under the plan.
NEWSLETTER: Get the day's top headlines from Times Editor Davan Maharaj >>
"He certainly can file an objection saying, 'Judge, you shouldn't let this go forward because of ABC reason,'" said Jasmin Yang, a bankruptcy attorney at Snell & Wilmer. "He has his right to due process."
Ultimately, Charney may also get a chance to file his own competing plan, although bankruptcy experts say that is unlikely. For at least 120 days after filing Chapter 11, American Apparel will have the exclusive right to submit and get its plan approved. That period of exclusivity is often extended as a matter of course.
"It's hard to foresee that Dov Charney or some coalition of Dov and other investors will be able to propose a competing plan of reorganization that could get approved by the court," Covington said.
But the unlikely has happened before, Yang said. She pointed to Meruelo Maddux Properties, a commercial real estate company whose minority shareholders successfully proposed a competing plan of reorganization.
"Nobody ever thought it would be a competing plan situation," she said. "It is possible, although it's not likely to happen."
Follow Shan Li on Twitter @ByShanLi
MORE FROM BUSINESS
Tesla Motors investors turn bearish as stock slumps
Americans are expected to spend $6.9 billion on Halloween this year
Southwest says systems back to normal after glitch led to hundreds of flight delays