Candidates supported by Disney lead in Anaheim but voters are split on 'living wage' measure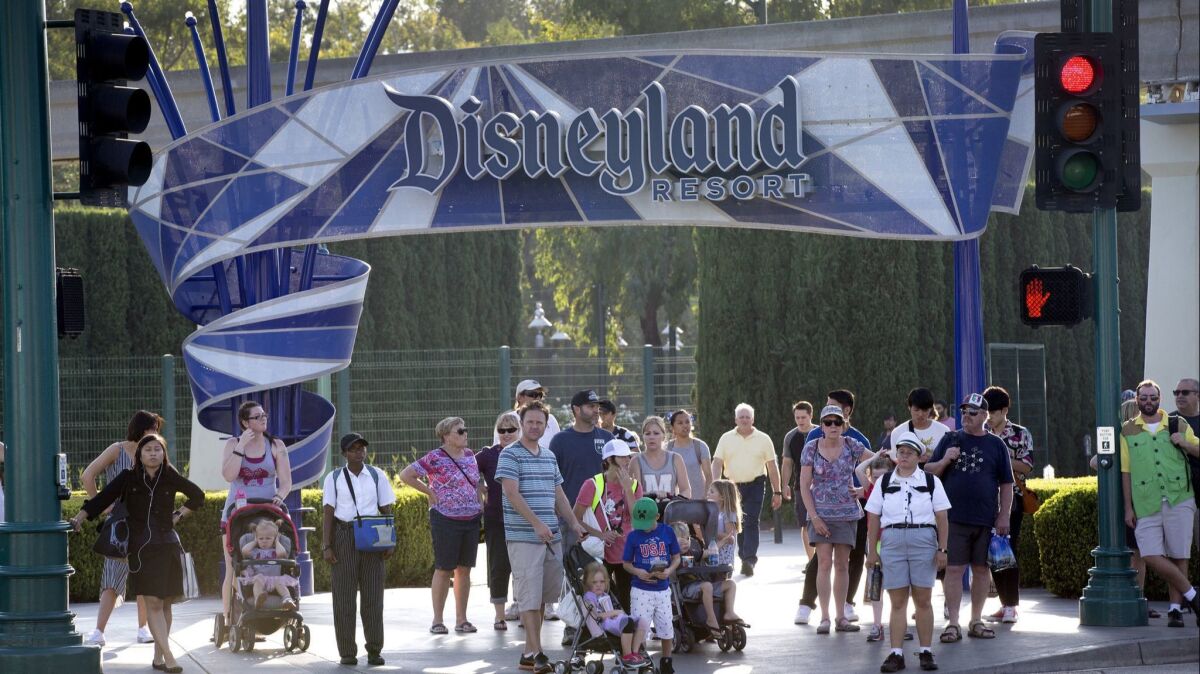 Anaheim City Council candidates who are supported by the city's biggest employer — the Disneyland Resort — were leading a wide field of hopefuls in early returns Tuesday night, but voters were split on a controversial "living wage" initiative that Disney has opposed.
The politics in Anaheim have recently centered on whether the Disneyland Resort, the source of nearly half of the city's general fund revenue, is paying enough local taxes and whether it should be offering its workers higher wages.
Harry Sidhu, a businessman and former mayor pro tem who received campaign donations from Disney, was leading a field of eight candidates in the race to replace Mayor Tom Tait, an ardent Disney critic who has to step down because of term limits.
Another Disney critic, Councilman James Vanderbilt, was losing Tuesday to Jordan Brandman, an educator and businessman who received hefty campaign contributions from Disney.
Trevor O'Neil, the owner of an in-home care service company who also received donations from Disney, was in the lead to replace Disney supporter Kris Murray, who is also being forced out by term limits.
If the three candidates supported by Disney win, they will join Councilwoman Lucille Kring, a strong Disney advocate, and give the Burbank-based media giant a pro-Disney majority on the seven-member council. Kring has two more years on her term.
Councilman Jose Moreno, an ardent critic of the Disneyland Resort, was leading in his reelection bid.
Early results showed voters were split on Measure L, which would require hospitality businesses that get a city tax break to pay workers an hourly wage of at least $15 starting in January, increasing $1 an hour each year until 2022, when the wage would then be tied to the cost of living. Unions representing Disney workers collected the signatures needed to put the measure on the ballot.
More than $7 million in contributions have been made to City Council candidates and ballot measures, according to campaign reports for donations made before Oct. 25.
Walt Disney Co., through Disney Worldwide Services, has donated at least $1.6 million to City Council candidates and independent committees. Before Measure L qualified for the ballot in June, Disney donated heavily to defeat the measure.
But the media giant has been outspent by unions, led by Unite Here Local 11, which represents hotel workers in Anaheim. As of Oct. 25, unions have contributed $1.9 million to candidates and to support Measure L.
Disney donated heavily to a slate of candidates that include O'Neil, Brandman and Mitch Caldwell, a former city planning commissioner who is running to unseat Moreno.
Disney has also contributed to the mayoral campaign of Sidhu and Lorri Galloway, the executive director of a nonprofit homeless shelter.
Supporters and opponents of Measure L disagree on whether it applies to the Disneyland Resort.
As the city's biggest employer, with about 30,000 workers on its payroll, the resort is also Anaheim's economic engine. Its three hotels, along with the 72 other nearby hotels, are expected to generate $151.2 million in occupancy taxes this fiscal year. That's about 46% of the city's $330-million general fund budget, which is used to pay for police, fire and recreational programs.
Anaheim City Atty. Robert Fabela has said that two hotels under construction, two other hotels in the planning phase and a shopping district in the city are receiving a tax break and would be obligated to pay the higher wages if Measure L passes.
Fabela said he doesn't believe Measure L applies to the Disneyland Resort.
But the unions supporting the measure disagree, saying they believe the measure applies to the resort because the city agreed in 1996 to sell bonds that were used to build a $108-million parking structure for the resort. The bonds are being paid off with bed taxes from Disneyland Resort hotels as well as hotels outside the resort. The unions argue that the bond deal is a tax break.
Labor unions say that the measure would ensure that resort workers earn enough to pay for housing, groceries and other essentials. Opponents say the extra cost of the higher wages will scare off future development in the city.
Labor unions also collected signatures to place measures J and K on the ballot. The measures ask voters to either support or reject deals made by the City Council in 2016 to offer tax subsidies worth nearly $300 million to a developer who plans to build two four-diamond hotels. Both measures were leading in early returns.
To read more about the travel and tourism industries, follow @hugomartin on Twitter.
---
Sign up for the California Politics newsletter to get exclusive analysis from our reporters.
You may occasionally receive promotional content from the Los Angeles Times.