Apple branches away from its iPhone focus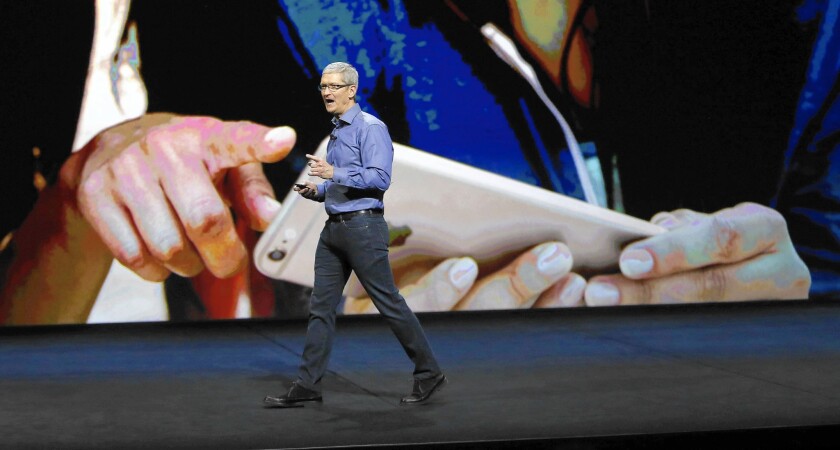 After years as the main attraction at Apple's annual September event, the iPhone is no longer front and center.
Chief Executive Tim Cook made sure of that when he began Wednesday's annual product bonanza by saying "We are about to make some monster announcements across several of our product lines."
He followed through with a two-hour-plus rollout of new devices and updates that spanned the Apple Watch, iPad, Apple TV and, finally, the iPhone. No one product stole the show, as Apple sought to portray itself as a well-rounded tech juggernaut that is branching beyond its hugely successful smartphone.
The main takeaway, according to FBR Capital Markets analyst Daniel Ives: Apple is "trying to broaden out their product wings with some of these new frontiers."
"They're putting more fuel in the growth tank," he said. "In the near term, it doesn't move the needle, but as we go into 2016 and 2017, some of these new product categories might start to beef up to be a larger percentage of revenue."
The iPhone has been Apple's flagship product since its introduction in 2007, accounting for more than two-thirds of its revenue. But that heavy reliance on the iPhone was a risk that concerned investors and industry analysts. They see an inevitable slowdown in iPhone growth as markets become saturated, and have pressed Apple to diversify its product lineup.
So instead of getting their usual top billing, the phones on Wednesday took a back seat.
Despite the event's more extensive reach, early reaction among analysts was tepid. Many were underwhelmed by what they called incremental improvements and noted that nearly every announcement had been leaked weeks before.
Shares of Apple fell $2.16, or 1.9%, to $110.15.
"There wasn't anything that we think is going to drive substantial interest from consumers," said Angelo Zino, an analyst with S&P Capital IQ. "Given that we're going to enter a tough time in the December quarter, it will probably be a disappointment for investors."
Cook kicked off the event with Apple Watch news. The Cupertino, Calif., company's first smartwatch is getting an upgrade with the Sept. 16 release of watchOS 2, an improved operating system that will allow for native apps — apps designed specifically for Apple Watch — and better functionality. The watches will also come in new case colors and a wider selection of watchbands.
He then moved to the iPad — which in prior years merited its own separate event — unveiling the outsized iPad Pro after more than a year of rumors. The introduction of a 12.9-inch tablet geared toward businesses is another sign that Apple, long focused on consumer customers instead of the enterprise market, is evolving. To demonstrate iPad Pro features, Apple brought out executives from Microsoft and Adobe onto the stage.
The iPad Pro starts at $799 and can be used with a physical keyboard attachment ($169) and a stylus called the Apple Pencil ($99), which enables users to quickly write and draw on the tablet. The device and accessories will be available in November.
The introduction of a stylus was notable, given the late Steve Jobs' open derision of the hand-held tool; in 2007, he famously told a crowd at the company's developers conference, "Who wants a stylus?"
There were immediate comparisons to Microsoft's Surface tablet, which works with a physical snap-on keyboard and tablet pen.
"It's eerily similar to Microsoft's Surface, unfortunately," Zino said.
One potential problem for Apple with the big iPad is the effect on MacBook Air laptop sales, said Marlene Morris Towns, teaching professor of marketing at Georgetown University.
"There might be some cannibalization," she said. "For people to have a laptop and this larger iPad seems a bit redundant."
Next up was the revamped Apple TV. Apple is intent on modernizing TV viewing, an experience that Cook said "hasn't changed that much in decades."
"The television experience has been virtually standing still while innovation has been thriving in the mobile space. Today we are going to do something about that," he said. "We need a new foundation for TV, one that is built on powerful hardware that runs a modern operating system."
The new Apple TV comes with an improved remote control and Siri capabilities that enable users to use their voices to search for content: "Show me funny movies from the '80s. Now show me just John Hughes titles," for instance. Siri can also be used to move forward and backward within a show, and to get retroactive captions if you didn't catch what was just said on screen.
Analysts said they expected this to be just the beginning of a much bigger television strategy down the line. Apple has been holding early talks with executives in Hollywood that could lead to a push into original video content to take on the likes of Netflix and Amazon.
"It feels like the tip of the iceberg in terms of broader ambitions down the road, from content to gaming to a more integrated experience," Ives said. "I think this is the first big step in cord cutting that we're seeing."
Nearly an hour and a half in, Cook unveiled the iPhone 6s and 6s Plus, which will come with 3D Touch, a feature that senses how much pressure a user is exerting on the touch screen. 3D Touch was touted as a timesaver, enabling shortcuts to the camera, text messages, Web links and emails with the press of a finger as opposed to multiple taps.
The phone's rear-facing camera got a big boost to 12 megapixels, up from eight in the iPhone 6 and 6 Plus, and a feature called Live Photo turns pictures into GIF-like moving images. A rose gold color was added to the current lineup of space gray, gold and silver. The new phones will be available for pre-order Saturday and will hit stores Sept. 25.
All told, it wasn't a blockbuster event that incited the kind of rampant excitement of past September announcements. But it was what Apple needs in the long run, Zino said.
"They clearly need to diversify their portfolio," he said. "It's a positive step toward growing the ecosystem, and that's the key for Apple."
---
Your guide to our new economic reality.
Get our free business newsletter for insights and tips for getting by.
You may occasionally receive promotional content from the Los Angeles Times.