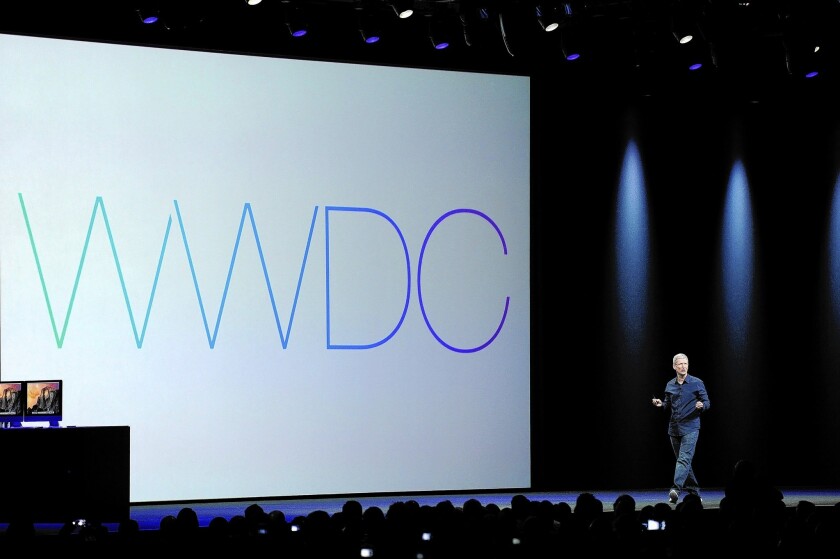 Rather than making any single splashy announcement, Apple's latest developers conference keynote Monday was all about how the company plans to make its gadgets work together even better.
The ease and simplicity of its iPhones, iPads and Macs have long been the company's calling card and a key selling point against rivals like Microsoft Corp. and Google Inc.
Now, if you have a house full of Apple Inc.'s products, the company will encourage you to do even more with them by making it easier to share content between devices. Apple also aims to make those devices hubs of health information and home automation. At the same time, the company wants to ease people's switch from competitors' platforms, or entice them to add more Apple devices if they own only one or two.
Consumers will start to see these incremental improvements this year when the company releases a new version of its Mac operating system, dubbed Mac OS X Yosemite, and iOS 8, the latest version of its mobile operating system for iPhones and iPads. To supercharge the effect of these new releases, Apple plans to lean harder than ever on its global army of developers to extend the usefulness of those products and services by making major changes under the hood.
"Our operating systems and devices all work together in harmony," Apple Chief Executive Tim Cook told the crowd. "Together they provide an integrated and continuous experience across all of our products."
Compared with past Apple keynotes, the latest opening of Apple's World Wide Developers Conference in San Francisco contained considerably less drama. The keynote kicks off a weeklong gathering of developers who meet with Apple employees and attend workshops to learn about the company's latest software and design changes.
At last year's event, by contrast, Apple launched iTunes Radio, its first entry into streaming music, which has failed to catch fire with consumers. More important, it pulled back the curtain on a completely redesigned version of its mobile operating system, iOS 7. The new Mac OS will adopt some of the look and feel introduced with iOS 7.
But the two-hour keynote Monday was as notable for some of the rumored features and services that didn't get a mention as those that did.
There was no talk about an upgraded Apple TV device or interface. No hints about features for an Apple iWatch. There was no Apple Wallet or payment service launched. And the only acknowledgment that Apple just last week made its largest acquisition in history by paying $3 billion for Beats Music and Beats Electronics was a phone call made onstage from an Apple executive to Beats co-founder and rapper Dr. Dre.
"I can't wait to get to work with the team at Apple," Dre said.
But that demo involving Dre was a perfect example of the kind of new features coming with the new operating systems that Apple highlighted during the keynote. When an iPhone or iPad are near a Mac, they will detect their presence and begin to interact. So, if the iPhone is charging in another room and someone calls, caller ID will pop up on the Mac. Likewise, users can now initiate a call from their Mac, essentially using it as a speaker phone.
In the same vein, the AirDrop feature introduced with iOS 7 will now let users send files between their iPhones and Macs, not just their iOS devices. Also, the company will add a feature called Handoff that lets users start a task on their iPhone or iPad, such as writing an email, and immediately resume the activity on the Mac. If those features work as advertised, they could further set Apple apart from the competition.
"They're really able to differentiate themselves from Android and Windows," said Tim Bajarin, an industry analyst and president of Creative Strategies Inc. "For users, this is really great news."
Not that Apple is always a leader. There were plenty of places where Apple clearly seemed to be racing to match services offered by competitors, including small start-ups. Executives showed off new features for the company's iMessage service that enables users to send voice messages and videos that seemed nearly identical to features offered by WhatsApp, which was bought by Facebook Inc. for $19 billion.
Apple also announced iCloud Drive, an online storage service for documents and photos, that seemed to promise more limited versions of cloud services provided by Google's Drive, Microsoft and Dropbox Inc.
"They're still catching up with Microsoft and Google on this one," said Patrick Moorhead, principal analyst at Moor Insights & Strategy. "Google and Microsoft have very mature platforms based in the cloud. I think there is still a gap there."
Where the company really seemed to strike a chord Monday was with developers. The company announced an entire new programming language for writing applications called Swift that it promised was simpler and more powerful. The company demonstrated new tools for creating even richer video games.
And perhaps biggest of all, the company announced development tools called HealthKit and HomeKit. These tools will enable developers to build their various health monitoring gadgets and services in a way that will enable Apple's new Health app to become a central dashboard for consumers to track their medical information.
With HomeKit, Apple wants to let the iPhone become a centralized hub for controlling smart-home products such as connected thermostats, light bulbs and even garage door openers.
Leveraging all these new tools probably will take developers months, if not years. Still, the potential of these new tools had developers at the conference cheering wildly, even jumping out of their seats near the end.
"Everything I've learned about programming for Apple is getting thrown out the window, and I couldn't be more excited," said Paddy O'Brien, a developer in Toronto who was attending his first WWDC. "It's cool to see them take the focus away from marketing and put it back on developers."
Twitter: @obrien
---