Q&A: Association boards should not wait for legislation before inspecting and repairing deteriorating balconies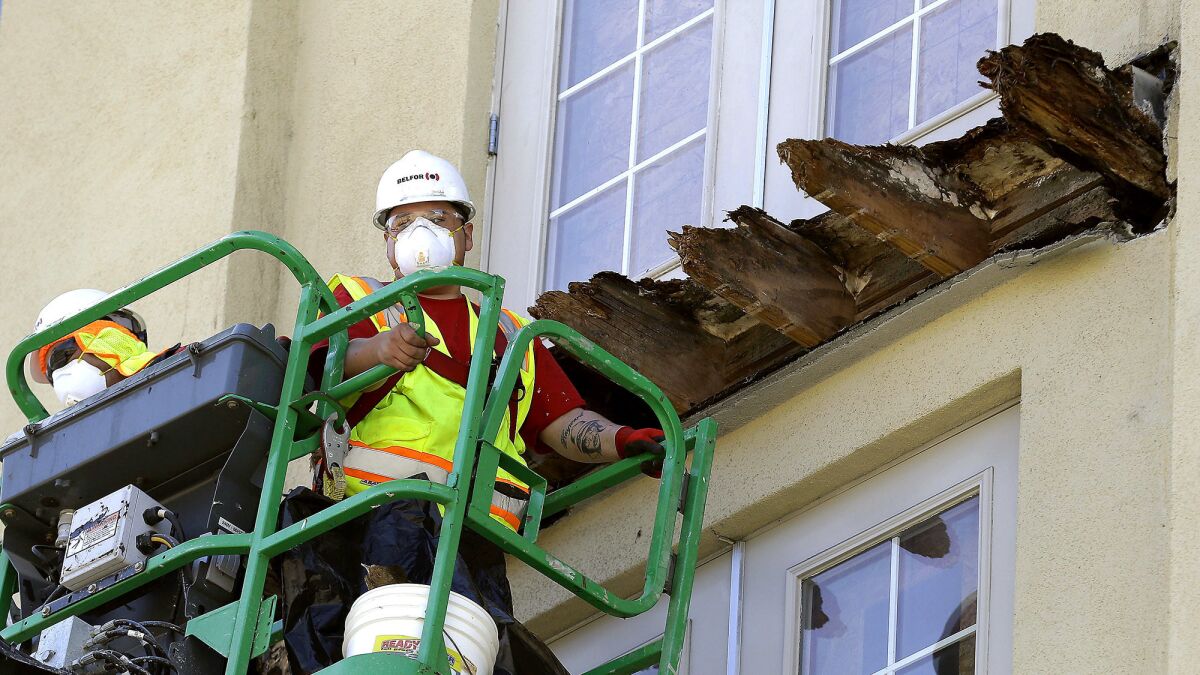 Question: I own a condo in Orange County that has a second-floor balcony. For two years I've complained to management and the board that my balcony is drooping and is unsafe to use but they just ignore me. My neighbor in the building next door also complains that the stairwell to her unit wobbles and that the handrails are loose.
Management is not taking the complaints seriously. More than half the buildings have dry rot and balcony problems yet owners can't get anything resolved. My sister's upstairs balcony in Los Angeles has visible cracks and the unit above her has a ceiling that is coming down. Her board also says it's not the board's problem.
What can be done about this? Why doesn't someone pass a law that would require regular inspections and repairs as needed?
Answer: A responsible board should never wait for the Legislature to pass laws before performing its maintenance duties and addressing potentially dangerous conditions in its association.
That said, this year Senate Bill 721, written by Sen. Jerry Hill (D-San Mateo), was introduced to address the issue of unsafe decks, balconies and elevated walkways.
The bill was spurred by the 2015 collapse of an apartment complex balcony in Berkeley that killed six people -- most of them students visiting from Ireland -- and injured seven. Investigators found that water had seeped into the wood structure and caused dry rot, decay created by fungus that causes wood to lose its strength.
The bill proposes requiring an inspection of all decks, balconies and elevated walkways more than 6 feet above ground level in any building containing three or more multifamily units.
The completion date of the inspection and any necessary repairs was originally to be Jan. 1, 2021. A copy of the inspection would then be filed with the county recorder's office, with subsequent inspections and reports required every five years. Civil penalties would apply for untimely compliance.
The bill ran into opposition from the Community Assn. Institute, an HOA trade group, which was concerned the proposed deadline for completing the inspections and repairs was not realistic because of a shortage of qualified professionals -- and the difficulties in performing work that requires access to individual owners' units.
Opponents also claimed that the requirements could substantially increase monthly dues, stressing already-stretched association budgets, and even slow sales and make it harder to get mortgages.
The initial bill required inspections to be performed by a licensed general contractor, structural pest control licensee, licensed architect, licensed engineer, a certified construction inspector, or a building official as specified in Health and Safety Code Section 18949.27 -- or other licensee approved by the Department of Consumer Affairs.
As a result of the opposition, the bill was amended to allow the inspection to be performed by a licensed architect, licensed civil or structural engineer -- or an individual certified as a building inspector or building official from a recognized state, national, or international association, as determined by the local jurisdiction where the building is situated. This change would potentially expand the sphere of qualified professionals.
The inspection deadline also was moved back to Jan. 1, 2023, with inspections required every six years thereafter.
The bill never made it out this year's legislative session, but Hill plans to take it up again in January when the Legislature reconvenes. It will then face an Aug. 31 deadline for passage.
Bill Leys, a former association manager and publisher of DeckExpert.com, said that associations should not wait for the Legislature to make sure their decks and other elevated walkways are safe.
"The balcony that fell at Berkeley wasn't an accident. It was a deadly combination of bad design, bad execution of that design including a failure to inspect and perform maintenance," he said.
He warns that although a thorough inspection may be costly, it could be far cheaper than a tragic accident.
The Irish Times reported in May that the families whose relatives were killed or injured in the Berkeley collapse received a $20-million partial settlement with the defendants involved in the design and construction of the balcony. The deal did not include the complex owner or management company.
Leys also disputes arguments that current state law already mandates that common interest developments perform inspections under the "reserve study" requirement. The rule mandates HOAs identify major components of a development that need repair, replacement or restoration or have a remaining useful life of less than 30 years.
He said the rule is more of a budgetary tool and that it fails to adequately spell out requirements for the inspections. The Los Angeles Times has reported that the balcony that collapsed in Berkeley passed muster with inspectors hired by the complex's owners less than a year before the tragedy.
The revised, current text of SB 721 does not specifically call for a dry rot inspection. However, it does call for inspectors to ensure that decks, balconies and other exterior load-bearing structures are free of any hazardous condition caused by improper alterations, decay, deterioration or fungus, which Hill's office said is a definition that includes dry rot.
The bill is the second written by Hill that has been spurred by the Berkeley collapse. SB 465, which took effect this year, provides more oversight to construction contractors. After the tragedy, it was learned that the builder of the complex had paid out $26.5 million to settle claims of construction defects on various other projects.
Zachary Levine, a partner at Wolk & Levine, a business and intellectual property law firm, co-wrote this column. Vanitzian is an arbitrator and mediator. Send questions to Donie Vanitzian, JD, P.O. Box 10490, Marina del Rey, CA 90295 ornoexit@mindspring.com
Sign up for the California Politics newsletter to get exclusive analysis from our reporters.
You may occasionally receive promotional content from the Los Angeles Times.