Arizona State to expand into downtown L.A. at historic Herald Examiner building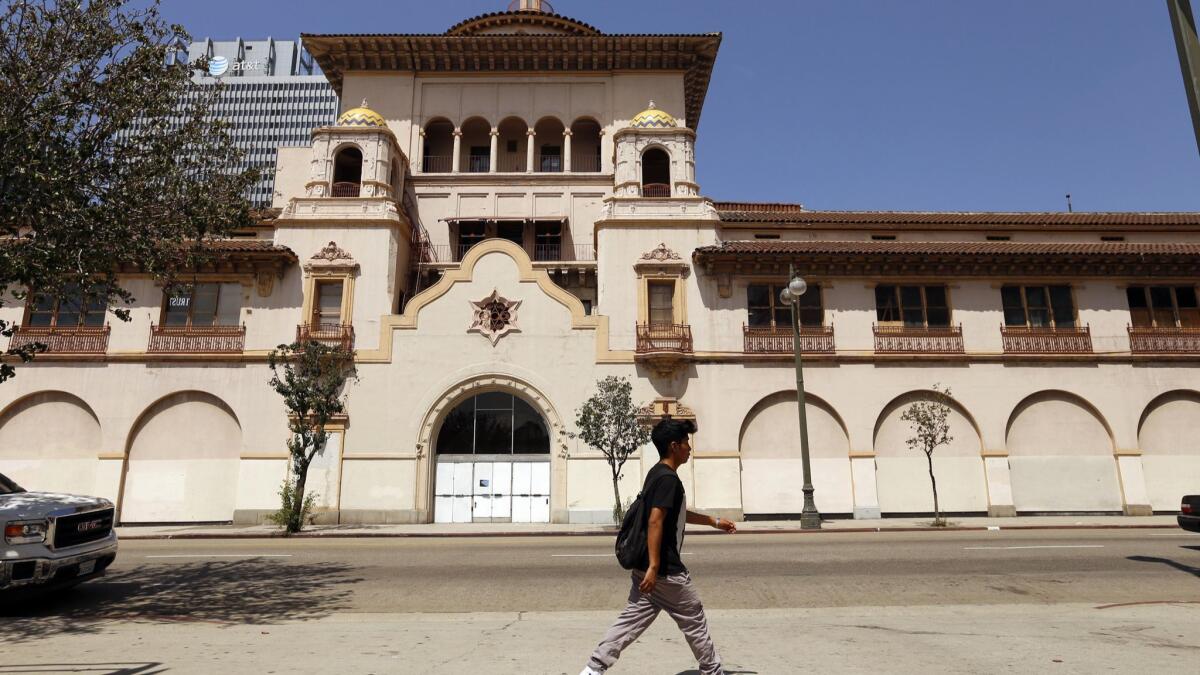 Students from Arizona State University's journalism school will soon be typing away in the Herald Examiner building in downtown Los Angeles, the long-vacant home of one of the great newspapers founded by legendary media mogul William Randolph Hearst.
ASU, which operates the Walter Cronkite School of Journalism and Mass Communication, has agreed to lease the century-old newspaper headquarters as part of an ambitious expansion program in multiple disciplines that will see it compete with Los Angeles-area colleges including USC, UCLA and the California Institute of Technology.

For the record:
2:05 p.m. Aug. 21, 2018An earlier version of this article said Arizona State University is working with the Los Angeles Unified School District. The university is in discussions with LAUSD to provide online technology services.
"Los Angeles is a behemoth place with three research schools," ASU President Michael M. Crow said. "Who says that's enough?"
The university's L.A. landlords include Lakers star LeBron James and former Gov. Arnold Schwarzenegger, who filmed scenes in the Herald Examiner Building when it was used as a movie location.
James and Schwarzenegger are among the investors in Main Street Advisors, a Santa Monica investment advisory firm that is part-owner of the now-shuttered building on Broadway at 11th Street.
Schwarzenegger supported the investment after a pre-purchase tour led to his reminiscing about filming the 1999 thriller "End of Days" there, said Main Street Advisors founder Paul Wachter.
"We look for things that capture the imagination of our clients," Wachter said. "It wouldn't have been as interesting to [buy] a different building."
ASU has had satellite offices for the past five years in Santa Monica, where it runs a filmmaking program called Film Spark, but it needs a bigger footprint in the region, Crow said.
"Los Angeles is one of the two global cities in the United States" along with New York, Crow said — and ASU has global ambitions. The Tempe-based school of 109,000 students has outposts in China, Vietnam, Mexico City and Dubai. It also recently opened a branch in Washington, D.C.
In May, ASU's Herberger Institute for Design and the Arts launched a partnership with the Los Angeles County Museum of Art to establish a training program for curators, directors and other museum professionals. ASU also works with the federally funded Jet Propulsion Laboratory in La Cañada Flintridge and is in talks with the Los Angeles Unified School District to provide online technology services. Zocalo Public Square, a Los Angeles nonprofit that calls itself an "ideas exchange," is a unit of ASU.
ASU's downtown Los Angeles campus, which Crow called "a starter facility," will fill all 80,000 square feet of office space in the old five-story Herald Examiner building. It will have open floor plans so the space can be used for classes, community events and other programs. The lease was first reported by the Los Angeles Business Journal.
The university affixed Cronkite's name to its journalism school in 1984 with the approval of the famous CBS newsman. It currently has more than 1,200 undergraduate students.
In addition to the Cronkite School, ASU's downtown L.A. branch will house students from the Herberger Institute and other university programs. The Santa Monica center is expected to remain open.
The landmark newspaper building on South Broadway was constructed by newspaper mogul Hearst in 1914, but it has been closed since 1989 when the Herald Examiner went out of business.
The once-blighted neighborhood around the old newspaper headquarters is being transformed with apartments, hotels and offices. Just north on Broadway, the Ace Hotel and theater in a former 1920s office tower has become a thriving recreation destination since it opened in 2014.
New York real estate developer Georgetown Co. acquired control of the property in 2015 and announced plans to turn the building into leasable offices, with restaurants and shops on the ground floor. Georgetown owns the building with Main Street and the Hearst Corp. An affiliate of ASU also became part-owner as part of the lease transaction.
The building will also contain two restaurants and perhaps a store, said Michael Fischer, vice president of Georgetown. It is set to open in spring 2020 with ASU and a restaurant operated by well-known Los Angeles restaurateurs Walter and Margarita Manzke, who serve modern French dishes at the upscale Republique.
The Herald Examiner building was constructed after Hearst paid $1 million in 1913 for a parcel on the southern side of downtown.
Hearst hired architect Julia Morgan to design the new home for his newspaper, then called the Examiner. Morgan, who went on to design the publisher's storied Hearst Castle in San Simeon, conceived the newspaper building in a mix of Mission Revival and Spanish Colonial Revival styles.
Its showpiece is the lobby, intricately decorated with carved wood panels, hand-painted floor tiles, hammered iron grills, marble and gold. Carved cherubs over the central elevator facade hold shields emblazoned with the letter "H."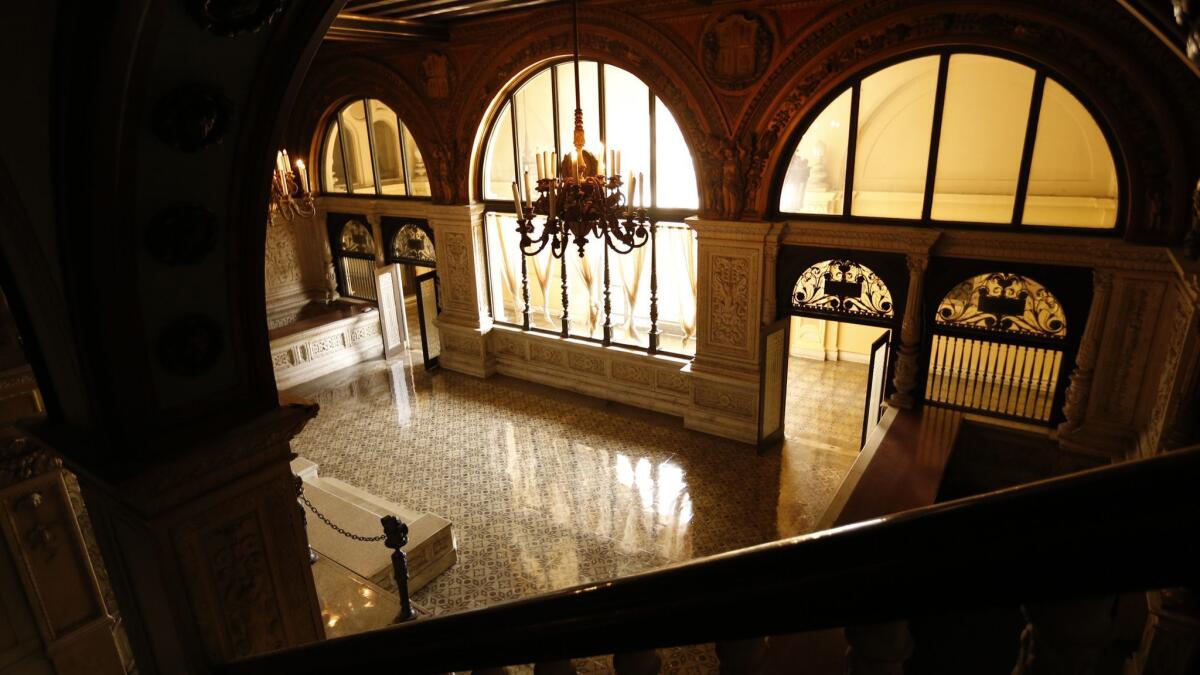 One of the priorities is to reopen the tall, arched windows that once faced Broadway but were boarded up during a nearly 10-year labor dispute that started in 1967. The action was taken after bricks were hurled through the newspaper's windows.
The Manzkes' new restaurant and one or two other cafes will extend through the arched openings onto Broadway in an effort to bring more activity to the street.
Upgrades to the building will begin in earnest in November, but the interior already has been stripped of old "improvements" such as dropped ceilings and walls.
Initial plans for renovating the Herald Examiner building called for converting it for residential use, but now it is surrounded with thousands of new apartments including a complex built on former Herald Examiner property directly behind the structure.
Two old brick-clad office buildings nearby are being turned into hip boutique hotels, the Downtown L.A. Proper Hotel and the Hoxton. The 148-room Proper is a $50 million makeover of the former Case Hotel, a 13-story tower built in the mid-1920s. It is set to open in the fall.
The Hoxton is being built in a 10-story Renaissance Revival-style former office building erected in the 1920s that was once the headquarters of the Los Angeles Railway streetcar line. When completed in the fourth quarter, it will have 174 rooms.
Next to come may be a 139-room boutique hotel across Broadway. A Los Angeles developer recently submitted a proposal to the city to build a Hyatt Centric at 1140 S. Broadway. The 15-story building would have a rooftop bar and swimming pool.
The Herald Examiner building is at the intersection of three up-and-coming downtown neighborhoods — the Broadway Historic District, South Park and the Fashion District — said real estate broker Carl Muhlstein of JLL, who represented Georgetown in the lease.
"It's breathtaking how the neighborhood is evolving," Muhlstein said.
Twitter: @rogervincent