Citigroup to pay nearly $100 million to settle Banamex money-laundering claims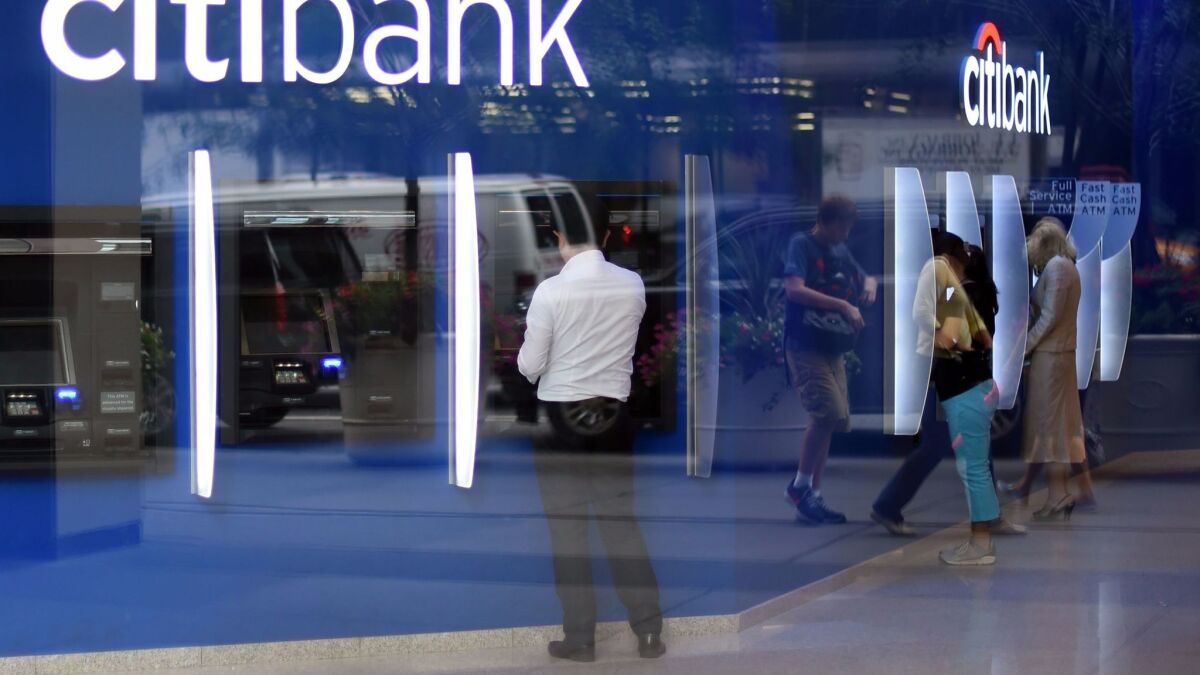 Citigroup has agreed to pay nearly $100 million to federal authorities to settle claims that a lack of internal controls at the bank's Banamex subsidiary may have allowed customers to launder money sent to Mexico.
The Justice Department announced Monday that the division, based in Century City, will pay $97.44 million for criminal violations of the Bank Secrecy Act. The Act requires that banks take actions to prevent money laundering and report suspicious activity to authorities.
The Justice Department agreed to not prosecute the New York bank as part of the settlement. It follows a $140-million civil penalty Citigroup agreed to in 2015 with the Federal Deposit Insurance Corp. and the California Department of Business Oversight to resolve their own probes into the matter.
As part of the earlier deal, Citigroup said it would shut down Banamex USA, and in a statement Monday the bank said it anticipates the division will wind down by June 30.
The operation had $1 billion in assets, $700 million in deposits and 394 employees in March 2015, a few months before Citibank agreed to shut it down, according to regulatory filings.
The Justice Department said that from at least 2007 until at least 2012, Banamex USA processed more than 30 million remittances to Mexico valued at more than $8.8 billion. Those remittances prompted more than 18,000 alerts involving some $142 million in potentially suspicious transactions.
However, the bank conducted fewer than 10 investigations and filed only nine suspicious activity reports stemming from the alerts because its compliance unit was seriously understaffed with only two employees.
The Justice Department said Monday that it agreed to enter into a non-prosecution agreement with the bank due to Citigroup's cooperation in investigating the violations and the bank's decision to shut down the operation.
The non-prosecution agreement, which the Obama administration had previously used in other cases to gain banks' cooperation, was the first announced by the Justice Department since the appointment of Jeff Sessions as attorney general.
In 2015, California authorities said they moved to shut down Banamex USA after the bank agreed to improve its anti-money laundering program three years earlier but never did so.
On Monday, Citigroup said it was pleased to resolve the Justice Department investigations and said having "the strongest possible system for anti-money-laundering" was among its most serious obligations.
Banamex USA, the former California Commerce Bank, was set up by Citigroup as an arm of another Citi subsidiary, Banco Nacional de Mexico, to make it easier for businesses and individuals to transfer funds across the border.
The Mexican bank, since renamed Citibanamex, has had its own problems. Citigroup was forced to reduce its previously reported 2013 pre-tax earnings by $360 million as a result of fraud affecting its Mexican bank.
However, the bank is still in operation, and as of Dec. 31 had 1,494 retail branches in Mexico, with about 27.4 million retail banking customer accounts, $18.3 billion in retail banking loans and $26.4 billion in deposits, according to a regulatory filing.
laurence.darmiento@latimes.com
Sign up for the California Politics newsletter to get exclusive analysis from our reporters.
You may occasionally receive promotional content from the Los Angeles Times.