A year after CEO's ouster, palace intrigue grips Banc of California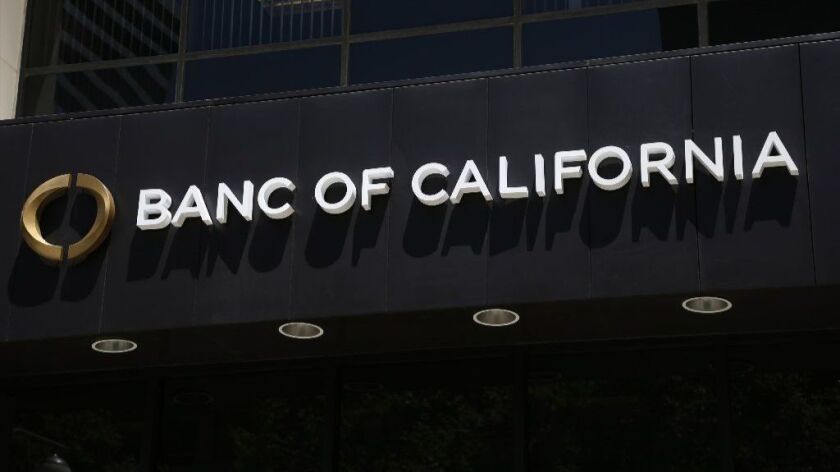 A year ago, the story of Banc of California was of a hard-charging chief executive eager to turn a fast-growing institution into a household name — but fond of inside deals and potentially connected to a financier who has pleaded guilty to fraud.
But over the last few months, lawsuits filed by several former insiders have told a different version of the tale: one in which a handful of board members at the Orange County bank ousted CEO Steven Sugarman to shield themselves from scrutiny and then ignored allegations that included improper accounting, workplace drug use and sexual misconduct.
One of those lawsuits call the whole episode a "Machiavellian effort" to clean house of rivals and take over the bank. Another suggests that a current board member may have been in cahoots with an anonymous short seller who peddled the damaging allegations about the fraudster that kicked off the scandal.
In a detailed, point-by-point response filed Thursday, the bank said the lawsuits are filled with "baseless or meritless allegations" and are part of a plot by Sugarman and his "proxies" to restore his reputation and undermine the bank.
A spokesman for Sugarman said the filing amounts to the bank's directors following through "on their threats to retaliate against and defame Mr. Sugarman."
The legal faceoff marks a continuation of what's been a tumultuous year and a half for the Santa Ana bank, which will soon have its name adorning the region's newest sports stadium, the Exposition Park home of the Los Angeles Football Club, an MLS expansion franchise.
The bank is being investigated by the Securities and Exchange Commission and recently underwent a boardroom and management shake-up related to the turmoil.
Robert Hockett, a Cornell Law School professor who specializes in financial services, said this level of palace intrigue reflects the bank's rapid growth into one of the largest banks based in Southern California even as it remains small by national standards, with about $10 billion in assets.
"It's a perfect petri dish," he said. "The stakes are high enough for things to matter, but the firm is still small enough that it can be controlled by a small number of people."
The latest and most explosive allegations about the bank came in a suit filed last month by Heather Endresen, a former managing director who ran the bank's Small Business Administration loan program.
She claims she was pushed out of the bank because she raised concerns about bad accounting and inappropriate behavior by J. Francisco Turner, named interim president after Sugarman's departure. Endresen alleged that Turner had sex with bank employees in his office, pressured workers to use drugs with him and used company money to take employees and clients to strip clubs.
Turner, who is not named as a defendant in Endresen's suit, resigned from the bank in June. Through a spokeswoman, he said, "I vigorously dispute the allegations made about me and am confident that I will be vindicated once the legal process takes its course."
In an interview with The Times, Endresen acknowledged she did not have firsthand knowledge of the alleged inappropriate behavior by Turner but said that rumors became widespread soon after Sugarman resigned 12 months ago.
"The board was running the bank," she said. "They didn't want us coming to them and telling them anything bad was happening."
The bank, in a filing responding to a separate lawsuit, said it took Endresen's claims seriously and investigated them but found no evidence to back her allegations. Endresen's lawyer, Jasmine Duel, said Wednesday that the case will be moved to private arbitration.
The trouble at Banc of California started in October 2016, when an anonymous short-seller published a blog post on investment website Seeking Alpha alleging the institution was secretly controlled by Jason Galanis, a Beverly Hills financier with a history of criminal fraud.
The post laid out a web of alleged connections — many of them backed up by court filings and other documents — between Galanis and Sugarman associates, including Jason Sugarman, a paid advisor to the bank and the former CEO's older brother.
For instance, a real estate firm run by Jason Sugarman was accused in a bankruptcy case of improperly receiving property tied to one of Galanis' schemes. The firm reached a settlement in that matter. Jason Sugarman himself has not been accused of wrongdoing and has never responded to requests for comment.
The blog post led to renewed calls for change among some Banc of California investors, who complained about an apparent lack of oversight by the board and Steven Sugarman's penchant for deals that favored his family members or close associates.
The most recent such deal, announced just weeks before the blog post, is the bank's $100-million stadium naming-rights pact with the Los Angeles Football Club, partly owned by Jason Sugarman.
Steven Sugarman resigned as the bank's chairman and chief executive Jan. 23, soon after the SEC informed the bank that it was under investigation. The bank publicly announced the inquiry and his resignation at the same time.
The SEC does not comment on ongoing investigations and the full scope of the agency's inquiry is not clear.
In its announcement, the bank did not cite a reason for Steven Sugarman's resignation, though it now alleges in its legal filing that he tried to stymie a board investigation into the Galanis matter and would have been fired had he not resigned.
Steven Sugarman told The Times in a statement that he resigned because, when he started looking into reports of "financial control violations by directors and officers" of the bank, "the board began retaliating against me and others with threats of termination and defamation."
Lawsuits filed over the last few months by two companies co-owned by Steven Sugarman as well as suits from two of his associates, former Banc of California executives Jeff Seabold and Carlos Salas, tell a similar story.
Seabold and Salas allege conflicts of interest by board member and investment banker Halle Benett. Seabold alleges Benett broke bank policies when, without providing required disclosure to the board, he served as broker on outside deals that could have affected Banc of California.
Seabold also alleges that Robert Sznewajs, who has served as Banc of California's chairman since Steven Sugarman's resignation, inappropriately approved a deal that benefited his son's firm. And he claims that board member Jeff Karish oversaw a major investment in a company run by now-former board member Chad Brownstein but did not disclose that arrangement.
Seabold's suit also seems to suggest that Karish may have been a source for the anonymous blogger who kicked off the Galanis scandal, alleging he was previously at a company where board members were ousted after a scandal that was sparked by an anonymous blog post on Seeking Alpha. The bank's filing does not address that claim and Karish could not be reached for comment.
Salas and Seabold allege the bank retaliated against them and Steven Sugarman, forcing them out. The suit filed by two of Sugarman's companies, Cor Securities Holdings and Cor Clearing, alleges that the bank improperly accessed private documents as part of a "desperate but unsuccessful hunt to find compromising information on Mr. Sugarman."
Salas is a Cor executive and Seabold is the co-founder of Sugarman's latest business venture, nonbank lending firm Capital Corps.
Seabold and Endresen also claim that, after Steven Sugarman's departure, the bank improperly sought to boost the bank's financial performance by cutting bonus money set aside for 2016 and applying it to 2017 earnings.
Endresen said in her suit that this amounted to "sham accounting" in violation of federal accounting rules, and that she called the bank's whistleblower hotline and complained to Turner, a board member and others about the bonus change. She alleged her complaints about that issue and about Turner led to her being pushed out of the bank.
In its Thursday court filing, a response to Seabold's suit, the bank denied all the alleged conflicts of interest by board members and any suggestion of bad accounting.
The bank said Sznewajs never approved the hiring of a firm affiliated with his son, that the bank had never hired any of the Sznewajs' relatives and that Benett did not work on any deals that created conflicts of interest. It also said Karish did not oversee a major investment linked to Brownstein, though Karish did personally own $3,000 worth of stock in one of Brownstein's companies.
The bank confirmed the accounting change related to 2016 bonuses but said in its court filing that the move was aboveboard and "had nothing to do with shifting income between 2016 and 2017."
Meanwhile, the bank's financial performance has suffered over the last year.
In March, it sold off its nationwide mortgage business, Banc Home Loans, and last summer laid off more than 100 workers. Profits in the bank's remaining business are down substantially. Through the first nine months of the year, the bank reported income from continuing operations of $42.6 million, down 32% from the same period in 2016.
The bank also has benefited less than its peers from the run-up in the stock market.
Since Feb. 9, 2017, the day of the bank's announcement that an internal investigation had found no illegal activity or problematic ties to Galanis, Banc of California shares are up about 7%. The benchmark KBW Nasdaq Bank index has gained 20% in the same period.
Follow me: @jrkoren
---
Must-read stories from the L.A. Times
Get the day's top news with our Today's Headlines newsletter, sent every weekday morning.
You may occasionally receive promotional content from the Los Angeles Times.