American beer is feeling the pinch of Trump's tariffs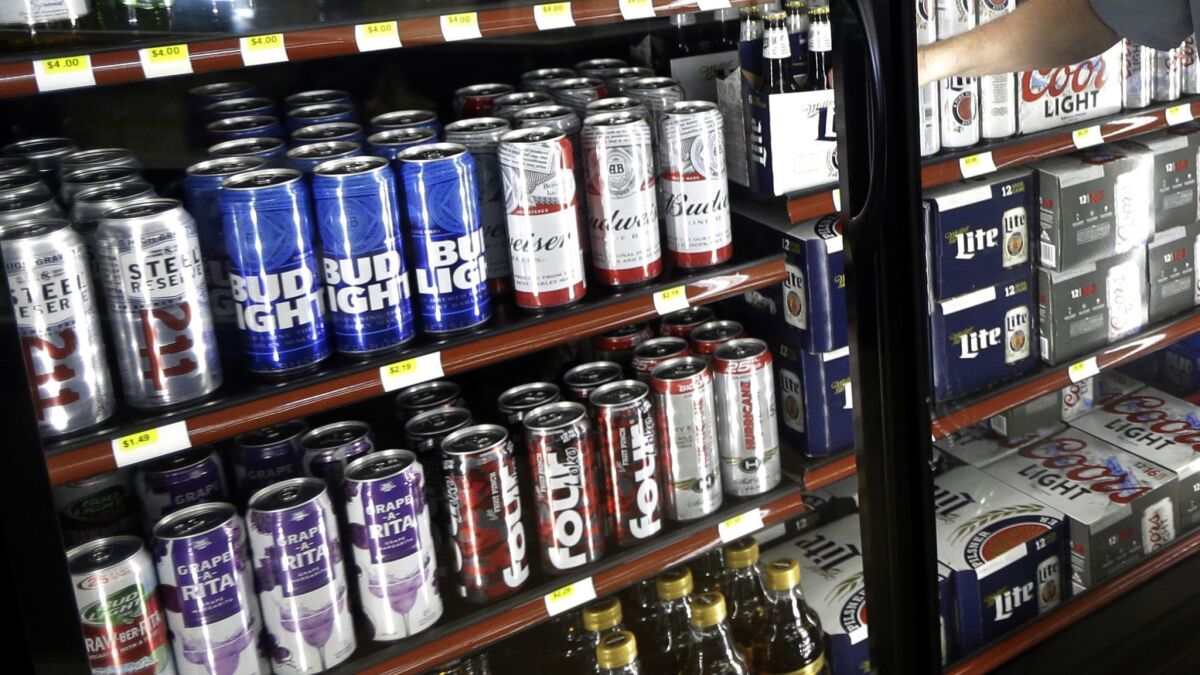 The Washington Post
For American brewers, metal tariffs are a bit of a buzz kill.
This summer, as the United States, Canada and Mexico tried to cut a new North American trade deal, President Trump slapped tariffs on foreign steel and aluminum.
More than a month after the countries reached a provisional agreement for the U.S.-Mexico-Canada Agreement, or USMCA, those tariffs are still in place. Canadian industry has been bruised, but so have a number of U.S. businesses, including beer.
In a vivid example of how Trump's trade tactics abroad can hurt business at home, the U.S. beer industry, which needs aluminum to make cans, is seeing costs rise.
Brewers say the math is simple: A cold can of beer requires a can, which requires aluminum. As tariffs roil the market, sending prices up, the cost of producing each can increases.
The Trump administration has played down the impact. In a television appearance in March, Commerce Secretary Wilbur Ross held cans of Budweiser, Campbell's Soup and Coca-Cola before the camera and called the per-can cost increase "no big deal."
"If that goes up by 25%, that's about six-tenths of one cent," he said, holding the soup can. "Who in the world is going to be too bothered by six-tenths of a cent?"
The Beer Institute, a U.S. trade group, says brewers are bothered. It projects that, over a year, tariffs on foreign aluminum could increase the cost of beer production by $347 million.
The industry has found common cause with Canadians and others, calling on the Trump administration to scrap the tariffs before the ceremonial signing of the U.S.-Mexico-Canada trade deal, which may come as early as the end of the month.
"We'd like to see these tariffs repealed," said Jim McGreevy, president and chief executive of the Beer Institute.
"We were hoping that the renegotiation of NAFTA would have taken the steel and aluminum tariffs off the table, but all indications are that the tariffs will continue," he said. "And that does not bode well for American beer."
The impact is already being felt, said Ryan Krill, co-founder and CEO of Cape May Brewing Co., a small brewery in southern New Jersey.
Krill, who started his business in 2011, says rising aluminum prices will cost him about $30,000 this year — a big sum for a small team. "We could get a lot of miles out of that," he said. "It's a bit of a bummer."
To understand why U.S. beer is having a bummer year, look to the aluminum market — and to Trump.
After persistent tough talk on trade, the president in March announced a 25% tariff on foreign steel and a 10% tariff on aluminum.
The Trump administration argued that reliance on foreign metals is a threat to U.S. national security. The administration also wanted to put pressure on China, a leading producer of aluminum, to change its trade practices.
Though many U.S. businesses support the idea of taking a tough line with Beijing, members of Trump's Cabinet, economic advisors and industry groups warned that tariffs would create uncertainty and increase costs for U.S. companies that import goods.
Initially, Canada, Mexico and the European Union were granted exemptions. But as the U.S., Canada and Mexico negotiated this summer, Trump changed course, saying publicly that the move was meant to gain leverage over Canadian Prime Minister Justin Trudeau.
"The United States has been taken advantage of for many decades on trade," Trump said in a May 31 statement. "Those days are over. Earlier today, this message was conveyed to Prime Minister Justin Trudeau of Canada: The United State[s] will agree to a fair deal, or there will be no deal at all."
The problem is that the U.S. and Canadian aluminum markets are intricately linked, said Matt Meenan, senior director for public affairs at the Aluminum Assn., a trade group.
A piece of aluminum may cross the border five times during production. "Canada and the U.S. is almost like one market," he said.
So when Trump hit Canada, he also hit the United States.
Tariffs on foreign aluminum benefit U.S. aluminum smelters, including Kentucky-based Century Aluminum, which is investing millions of dollars in a push to double its output. But the United States has few smelters, and American manufacturers that buy aluminum — including carmakers, soda canners and beer brewers — stand to lose.
"This is putting a question mark on future investment," Meenan said. "It comes down to uncertainty."
That's already hurting business, brewers say.
In a May 14 Wall Street Journal op-ed, the chairman of Molson Coors Brewing Co., Pete Coors, said Trump's trade war already was disrupting the sector.
"A cold can of beer on a hot summer day is as American as it gets," Coors wrote. "But now that experience will cost you more."
The company's U.S. business, MillerCoors, said that Trump's trade war rhetoric and tactics have since worsened irregularities in the aluminum market, particularly in relation to the Midwest Premium, a fee that largely determines the cost of buying bulk aluminum across North America.
Since early this year, when Trump stepped up tariff talk, the Midwest Premium has jumped 137%, leading to $40 million in additional costs for MillerCoors, CEO Gavin Hattersley said in an emailed statement.
"MillerCoors does not support tariffs of any kind and believes that free and open markets are ultimately what's best for the beer industry," he said.
The Brewers Assn., a trade group for independent and craft brewers, also opposes the tariffs, arguing that they "undermine the Trump administration's pro-job, pro-growth agenda."
"The market uncertainty and financial penalties created by these tariffs negatively affect a growing manufacturing sector of the American economy: the craft brewing industry," Brewers Assn. President and CEO Bob Pease said in a June 5 statement. "We urge this administration to reconsider these tariffs, as they place an unnecessary burden on small, Main Street business owners who are creating thousands of jobs and pouring money back into their local economies."
The uncertainty may prevent Krill of Cape May Brewing from reinvesting in his business until the long-term impact of the tariffs becomes clear.
"I appreciate what they are trying to do with tariffs," he said. "But it definitely has unintended consequences for small businesses like ours."
Rauhala writes for the Washington Post.
---
Sign up for the California Politics newsletter to get exclusive analysis from our reporters.
You may occasionally receive promotional content from the Los Angeles Times.