Hotel Bel-Air holds a garage sale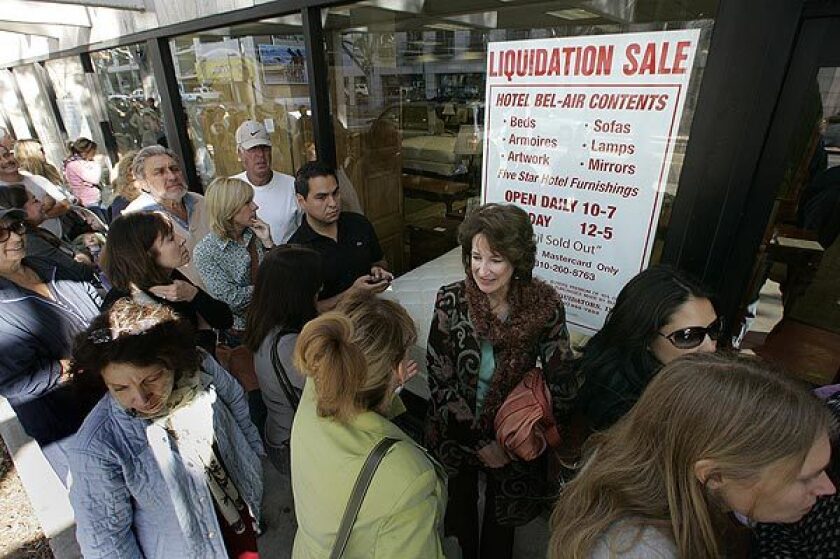 Robert De Niro slept there. So did Elizabeth Taylor and Cary Grant.
But the crowd that gathered Thursday morning to buy up a piece of the Hotel Bel-Air, a longtime playground of the rich and famous, was hunting for bargains, not souvenirs.
Closed Oct. 1, the Los Angeles landmark is getting a two-year, multimillion-dollar face-lift. Its owners are selling off beds, rugs, lamps and other furnishings. About 100 people lined up outside a Santa Monica storefront where the items are on display, hoping to get a little stardust on the cheap.
"We are looking for deals," said Charles Frye, who came with his fiancee, Christine Hsieh.
The Pasadena couple need to furnish a new home. Times being what they are, this high-end garage sale seemed just the place to start.
"I'm really excited," Hsieh said. "I think this is going to be our ticket."
Organizers of the liquidation sale declined to say how much they expected to make from the sale. But the inventory included furnishings from nearly 100 rooms as well as the hotel's kitchen and ranged from an $825 chandelier to $2 steak knives and wineglasses.
The sale continues Mondays through Saturdays, 10 a.m. to 7 p.m., and Sundays, noon to 5 p.m., until everything is sold. The location is 1251 4th St. in Santa Monica.
"This is some great merchandise," said Frank Cucinelli, a representative of National Content Liquidators, the company that is organizing the sale. "The Bel-Air was known for its needlepoint carpets."
Still, Cucinelli said the crowds that grew to about 250 by midmorning were modest compared with the nearly 3,000 people who showed up in 2005 for the liquidation sale at New York's Plaza Hotel.
The first day of the Bel-Air sale ran relatively smoothly. That is, until shoppers filled the store and tempers flared
Michael Lunsford, head of the liquidation company, got in a loud argument with a woman who blocked an aisle with a pile of carpets and other merchandise she planned to buy. A security guard who tried to limit the number of people in the store to 50 at a time had to chase off a few who tried to rush the door.
A woman who identified herself only as Cynthia complained bitterly when she found out that the hotel allowed about 100 neighbors of the hotel and "special guests" to get first crack at the merchandise earlier in the week.
"It's a sham," she complained, as she pointed to two paintings that were already sold when the doors opened. "They didn't say only 50 people at a time could come in and they didn't say they would sell all of the good stuff on Monday."
Not everyone was looking for a bargain. The first person in line, Judy Ogren of West Los Angeles, was searching for any items bearing the name of the hotel that was the site of a famous Marilyn Monroe photo shoot.
"I'm looking for dishes or anything that says 'Bel-Air,' " said Ogren, who said she spotted Robert Redford when she stayed at the hotel six years ago.
Over the years, the Mission-style hotel has hosted the likes of Grace Kelly and Jackie Gleason. Today's glitterati, including Oprah Winfrey, Lindsay Lohan, Ashlee Simpson and Jim Carrey, have also stayed at the hotel.
Narda Malakzad, a shopper from Beverly Hills, had a sentimental reason to buy a set of silverware at the sale: Her husband had proposed to her at the Hotel Bel-Air.
"We are sad that it's not going to be the same Bel-Air after this," she said of the hotel's makeover.
Hotel representatives said the renovation would mean upgrades for all 91 rooms and suites, the hotel's Champagne Bar, its restaurant and private dining rooms. When it is finished in mid-2011, the hotel will boast 12 new villas and a spa with seven treatment rooms.
For the most part, the shoppers at the sale scurried about the two-floor building looking for bargains among the high-end furnishings. One wall was lined with 42-inch flat-screen televisions selling for $450. In another corner, shelves were piled high with $5 towels. King-size beds sold for $375. Stereos were priced at $35.
Within an hour after the doors opened, at least 50 people were lined up inside the store, ready to pay for their goods.
Frye and Hsieh, the couple from Pasadena, stood nearly in the middle of the queue with about $250 worth of items, including a desk, a comforter, coffeepots and two paintings. Oprah Winfrey may never have touched any of it. But they didn't seem to mind.
"I think we did really well," Hsieh said.
---
Must-read stories from the L.A. Times
Get the day's top news with our Today's Headlines newsletter, sent every weekday morning.
You may occasionally receive promotional content from the Los Angeles Times.