Sen. Bernie Sanders speaks at rally to call for higher wages for Disneyland Resort workers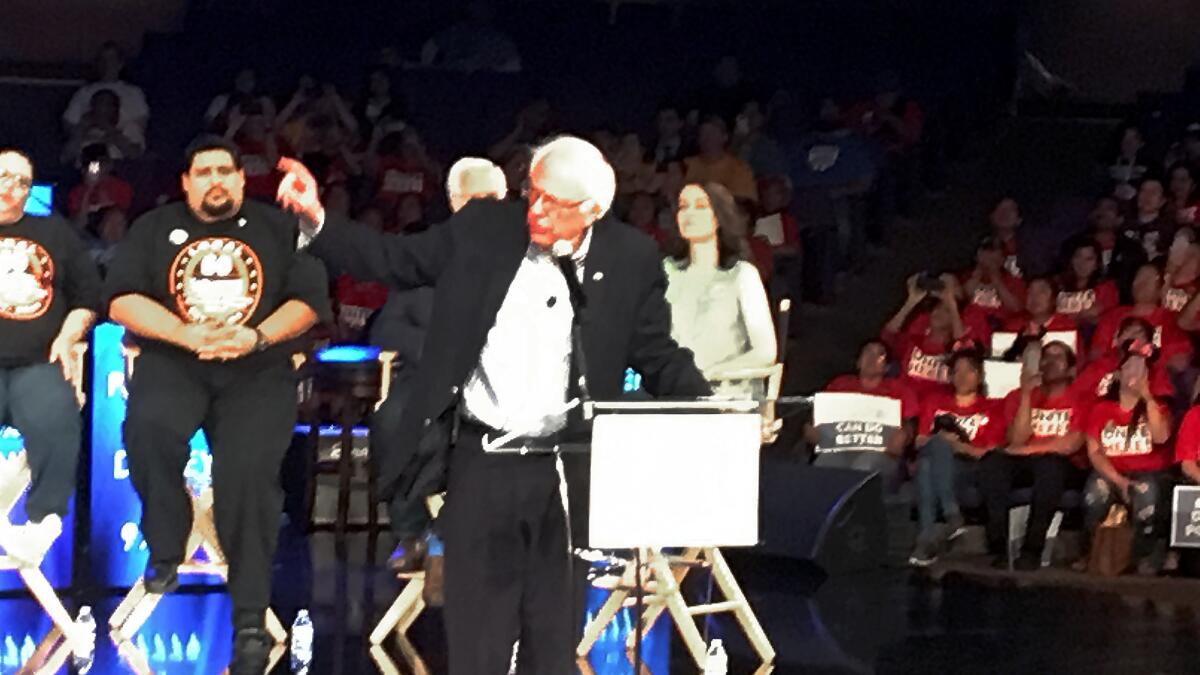 At a rally attended by hundreds of Disneyland Resort workers, Sen. Bernie Sanders spoke out Saturday against wealthy corporations that fail to pay their workers a "living wage."
Emphasizing the themes he relied on during his unsuccessful 2016 presidential campaign, Sanders told the crowd at an Anaheim church that the Walt Disney Co. should share its financial success with its employees.
"The struggle that you are waging here in Anaheim is not just for you," he told the cheering crowd. "It is a struggle for millions of workers all across this country who are sick and tired of working longer hours for lower wages."
The Vermont senator was accompanied on stage by members of a coalition of unions that has collected about 21,000 signatures, seeking to qualify a measure for the November municipal ballot that would require large employers accepting city subsidies to pay at least $15 an hour.
To qualify for the ballot, the unions needed to collect the signatures of 10%, or 13,150, of the voters in Anaheim. The Orange County Registrar of Voters has until June 14 to verify the signatures.
If adopted, the measure would require that workers be paid a minimum of $15 an hour starting Jan. 1, 2019, with salaries rising $1 an hour every Jan. 1 through 2022. Once the wages reach $18 an hour, annual raises would be tied to the cost of living.
During the rally for union workers, several Disneyland employees joined Sanders onstage to discuss their struggles to make ends meet on a theme park salary.
Grace Torres and her husband, Edgar Campista, of Garden Grove, said they both work at the resort but can't afford to start a family.
"Disney prides itself on making dreams come true," Torres said, choking back tears. "Disney, where is my dream?"
Opponents of the measure, including the Anaheim Chamber of Commerce and the Disneyland Resort, say the higher salaries will increase the cost of doing business and scare off future development.
The Disneyland Resort announced last week that it has previously offered a 36% pay increase to about 9,500 resort workers over a three-year period. The workers in that union have been in contract negotiation with the resort since March.
The pay increase offered by Disney would give staffers who work in stores, attractions, custodial, costuming, parking, transportation and other fields a minimum of $15 an hour by 2020 — a year after the ballot measure would reach that pay scale.
"We are proud of our commitment to our cast, and the fact that more people choose to work at Disneyland Resort than anywhere else in Orange County," said Disneyland spokeswoman Suzi Brown. "While Mr. Sanders continues to criticize Disney to keep himself in the headlines, we continue to support our cast members through investments in wages and education."
But the Masters Services Joint Council, which represents the workers, described the Disney raise offer as a "first step, but it is not enough." In a statement released last week, the council said the Disney offer also threatens to cut "fringe benefits that have been long standing traditions at the park."
The offer by the Disneyland Resort does not impact ongoing salary negotiations with hotel workers who also attended Saturday's rally.
To justify the pay increase, the Disney workers have pointed to a study released in February that found 73% of Disney employees who were questioned said they don't earn enough to pay for such basic expenses as rent, food and gas.
The study concluded that the average wage for Disneyland Resort workers when adjusted for inflation dropped 15% from 2000 to 2017, from $15.80 to $13.36.
Disney officials rejected the study, calling it flawed.
After the rally, Sanders traveled to Carson to speak out on behalf of Los Angeles and Long Beach port workers who have been calling for higher wages and other benefits.
To read more about the travel and tourism industries, follow @hugomartin on Twitter.