A quest to rule the universe? Amazon's Jeff Bezos expands his rocket plans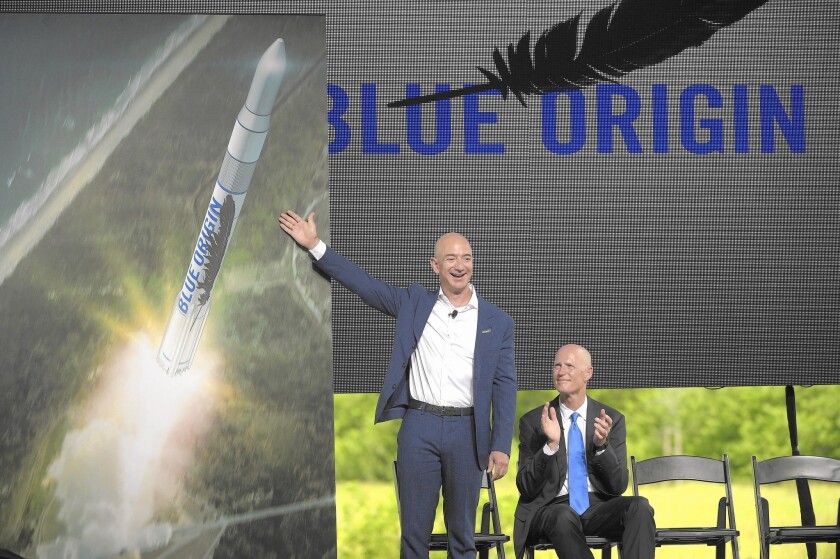 The heavens are getting crowded with billionaires.
Amazon founder Jeff Bezos is challenging Elon Musk and Richard Branson in a race to outer space.
Bezos detailed expanded plans on Tuesday for his rocket business, which will lug cargo, satellites and — someday — people into the great unknown. Like his fellow billionaires, Bezos has a far-out prophecy for where his Blue Origin project could lead.
"Our ultimate vision is millions of people living and working in space," Bezos said during a rare, 30-minute conversation with reporters after the announcement in Cape Canaveral, Fla.
Musk, the Los Angeles entrepreneur who founded SpaceX, envisions a "multi-planet species" that will escape Earth's suffocating pollution to live, for starters, on Mars — after nuking the red planet to warm it up, as he recently told "Late Show" host Stephen Colbert. (To delay the pending environmental collapse, Musk prescribes electric cars and solar panels — from his other two companies.)
Britain's Branson, Virgin Galactic's founder, has a relatively modest vision of celestial tourism — at $250,000 a ticket. He's collected at least 700 deposits, many of them, no doubt, from other billionaires. But he ultimately wants to "democratize" access to space.
These are more than mere flights of fancy; all three have backed the big talk with big money and years of research and development.
They've already scored lucrative deals. Musk's SpaceX has been ferrying payloads to the International Space Station under a $1.6-billion contract with NASA and serves a wide array of commercial clients. In June, Virgin Galactic said its LauncherOne rocket was chosen to launch at least 39 satellites into orbit for OneWeb Ltd., a start-up planning to provide global Internet service.
But their motivations involve more than making money in the ultimate emerging market; all three have been fascinated with space since childhood, and they believe strongly that humanity is destined to explore and even colonize other worlds.
The billionaires probably are driven far more by the quest to leave behind a towering legacy than a towering pile of cash, said Yael Hochberg, associate professor of finance and entrepreneurship at Rice University's Jones Graduate School of Business.
"When you reach that state where you've made a huge amount of money ... it becomes less about making money and more about the legacy you leave behind and the impact you want to have on the world," she said.
They are also capitalists, who believe industry, not government, has the best shot at succeeding in space, said Gregory Autry, assistant professor of clinical entrepreneurship at the Lloyd Greif Center for Entrepreneurial Studies at USC's Marshall School of Business.
"They were all kids and watched the moon landings and thought, 'That's going to be part of my future,' and that never happened," he said. "They thought NASA and the government wouldn't deliver the dream they had."
The three men are convinced that their commercial ventures are the launch pad for widespread space travel.
At a news conference at Cape Canaveral, Bezos said his Blue Origin space firm would build and launch rockets there. SpaceX already launches some rockets from the site on the Florida coast.
"I come by the space bug honestly," Bezos said. "As a kid, I was inspired by the giant Saturn V missions that roared to life from these very shores" and lifted Apollo astronauts to the moon, among other achievements.
Musk told The Times in 2012 that he started SpaceX out of a feeling of dismay that Apollo would "be our high-water mark."
"We do not want a future where we tell our children that this was the best we ever did," he said.
Bezos, Musk and Branson all hope to one day fly humans to space. In the meantime, they're developing reusable rockets that can carry cargo and other payloads such as relatively small satellites.
They're navigating an increasingly competitive frontier that also includes established rocket companies United Launch Alliance — a joint venture of Boeing Co. and Lockheed Martin Corp. — and Orbital ATK Inc.
Another billionaire, Microsoft Corp. co-founder Paul Allen, has a company called Stratolaunch Systems Inc. that's developing a mammoth aircraft to launch satellite-carrying rockets into orbit. It's meant to be an alternative to ground-launched rockets.
The billionaires are "all visionaries who see this as future technology that could revolutionize the world, and they want to be at the forefront of it," said William Ostrove, an analyst at the research firm Forecast International.
But they're also keen businessmen who are seeking cost-effective ways to launch people and payloads so they can recoup the billions of dollars they've invested, analysts said.
"There's a tremendous amount of excitement about people pouring money into the space business ... and it keeps a lot of people employed in the industry," said Roger Rusch, president of TelAstra Inc., a satellite consulting firm in the South Bay.
"But it's also a risk," Rusch said. "They're all betting that there will be a certain scale of operations that will justify the investment. I'm not so sure it will be enough."
There also have been serious setbacks.
Virgin Galactic's SpaceShipTwo, which would carry passengers, crashed during a test flight last October, killing one of the two pilots. In June, a SpaceX rocket on a cargo mission to the space station blew up.
Nonetheless, SpaceX — officially named Space Exploration Technologies Corp. — said Monday that it had secured two more contracts to launch communications satellites from Cape Canaveral in late 2017 and 2018. The same day, Virgin Galactic announced an enhanced version of its LauncherOne rocket capable of lifting heavier payloads into orbit.
Many of these efforts boost California's economy. United Launch Alliance is based in San Diego, and SpaceX is headquartered in Hawthorne. Virgin Galactic's SpaceShipTwo has been tested in the Mojave Desert area, and earlier this year the firm opened a satellite-launching rocket factory in Long Beach.
Another rocket-engine maker, Aerojet Rocketdyne Holdings Inc., is based in Rancho Cordova near Sacramento and has a plant in Canoga Park.
The new home of Bezos' Blue Origin will be Launch Complex 36 at Cape Canaveral, where it will manufacture reusable orbital launchers near Kennedy Space Center. Keeping vehicle assembly close to the launch pad will make transportation of the "really big rockets" easier, Bezos said.
In a telephone interview, Bezos said that the fleet of rockets would be ready to launch later this decade and that the orbital launch vehicle — dubbed "Very Big Brother" by the team — would be certified to carry humans.
But the first flights will ferry only supplies or satellites to gain experience before humans go aboard, Bezos said. No date has been set for the first human flight.
"My personal passion is humans in space," Bezos said. "But once you build a human-rated vehicle, you can use it for payloads as well."
He said Blue Origin's BE-4 rocket engine, which is being developed through a partnership between Blue Origin and United Launch Alliance, also would be tested in Florida. The BE-4 engine will power the first flight of United Launch Alliance's Vulcan rocket, Bezos said.
Blue Origin will keep its primary engineering headquarters in Kent, Wash., about 20 miles south of Seattle, and will continue to test suborbital flights and develop the BE-4 engine in West Texas, Bezos said.
It will also house the childhood fantasies of one of the world's richest men.
"This is something I've been thinking about and dreaming about since I was a little boy," Bezos said.
---
For reporting and exclusive analysis from bureau chief John Myers, get our California Politics newsletter.
You may occasionally receive promotional content from the Los Angeles Times.