Banc of California snags naming rights for L.A. Football Club soccer stadium
When the Los Angeles Football Club takes the field in its new Exposition Park stadium in 2018, its home pitch will bear the name of an Irvine bank some Angelenos might not have heard of.
When the Los Angeles Football Club takes the field in its new Exposition Park stadium in 2018, its home pitch will bear the name of an Irvine bank some Angelenos might not have heard of.
Yet the scope of the 15-year deal that the Banc of California announced Tuesday with the Major League Soccer expansion franchise goes far beyond the typical naming-rights agreement.
Not only will the lender have a branch on site, but it will serve as the bank for the team and its affiliated nonprofit foundation. Moreover, it has already participated in a $180-million syndicated loan with other banks funding stadium construction — and it plans to lend to the project's minority subcontractors.
The deal may seem surprising given the bank's size — it's tiny compared with other banks that have named pro-sports venues — but it reflects a web of relationships the bank's leaders have nurtured behind the scenes with the team's management and its star-studded backers since an expansion-minded ownership group took over the institution in 2010.
"We have a lot of relationships with the ownership group," said Steven Sugarman, chief executive of Banc of California. "We're probably zero or one degree of separation between myself and everyone in the ownership group."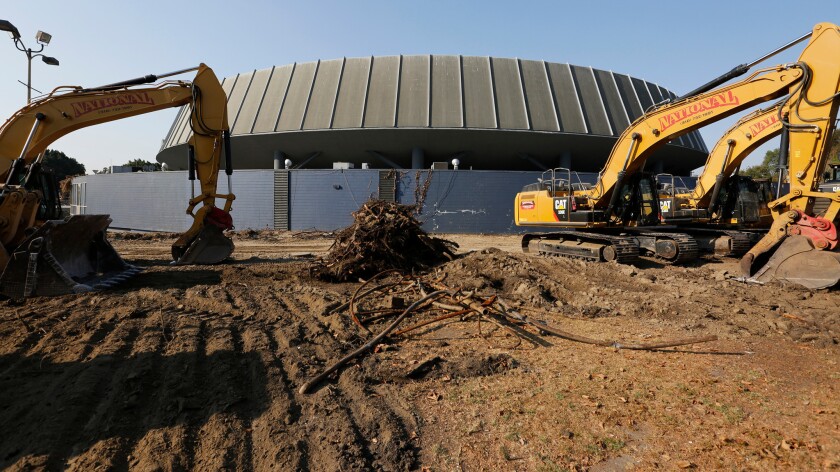 For starters, Sugarman's brother, Jason, is a minority investor in the soccer team and son-in-law to the team's executive chairman, Hollywood producer Peter Guber – though Sugarman said his brother owns a tiny stake in the team and had no involvement with the naming-rights deal.
Eric Holoman, one of the bank's board members, is also president of Magic Johnson Enterprises. The former Lakers star is another part owner of the team.
But the relationship that Sugarman said sparked the deal is one between himself and club President Tom Penn. Both are members of the organizing committee trying to bring the Olympics to Los Angeles in 2024.
Banc of California serves as the organizing committee's bank, while the new stadium is one of the venues that would be used during the games.
Penn said he liked the idea of working with Banc of California because of its focus on Los Angeles and its track record of lending to businesses overlooked by other banks. The bank is one of the few to have earned an "outstanding" rating from federal regulators for its lending to small businesses and minority borrowers.
"It's incredibly important for us and our endeavor that we're affiliated with local L.A. businesses that are in the community making life better," Penn said. "Banc of California does that better than any other bank in America."
The $350-million stadium complex is being built on the site of the Los Angeles Memorial Sports Arena, a 57-year-old venue that is being demolished to make way for the 22,000-seat soccer stadium. The development will feature more than 100,000 square feet of restaurant, retail and office space.
The venue is scheduled to be completed by March 2018, when that year's MLS season begins.
LAFC has pledged to hire minority- and woman-owned businesses to do at least 35% of the construction work on the stadium. Sugarman said he hopes to bring those companies into Banc of California's fold too, providing loans that contractors will need as they work on the stadium.
"Those businesses will become growth businesses," he said. "Those contracts will generate the need for additional capital."
What's more, loans to those firms could help the bank meet federal obligations to lend to small businesses and minority borrowers.
It's reminiscent of a deal announced last year by City National Bank in which the L.A. bank said it would lend to small and minority-owned businesses that have contracts with major utility companies.
It's a little out of the mold for a bank of our size. But we think it's exciting.
— Steven Sugarman, Banc of California chief executive
David Carter, executive director of the Sports Business Institute at USC's Marshall School of Business, said it has become standard procedure for firms that take on naming rights to pledge different types of benefits for local communities.
"It's common that a community-centric message resonates," he said. ""No company is going to spend that kind of money, allocate those kids of resources and then not crow about the fact they're trying to make a difference in the community."
Neither the bank nor the team would disclose financial terms of the arrangement. But the naming rights could help make Banc of California, which has existed under that moniker for only three years, more of a household name.
Though the bank has grown dramatically over the last few years, it has fewer than 40 branches and assets of about $10 billion, making it by far the smallest bank to put its name on a professional sports venue.
By comparison, it's about one-tenth the size of BBVA Compass, the bank that holds the naming rights to Houston's pro soccer stadium.
"It's a little out of the mold for a bank of our size," Sugarman said. "But we think it's exciting. It demonstrates the commitment we have to California and to Los Angeles."
Sugarman was part of a group of investors that in 2010 took control of Chula Vista lender Pacific Trust Bank, which back then had less than $1 billion in assets.
Sugarman became the bank's chief executive in 2012 and has since led the bank through a growth spurt. Over the last few years, the bank moved its headquarters to Irvine, bought a handful of smaller lenders and, in 2013, changed its name to Banc of California.
Though Angelenos might have seen Banc of California ads around town, many touting the lender as the official bank of USC athletics, Larry Berg, managing owner of the soccer club, acknowledged that the bank isn't well-known.
But he said that's not a bad fit for his team, which is starting from scratch in a city that already has one successful MLS franchise, the LA Galaxy.
"We're not as well-known either," said Berg, a senior partner at New York private equity firm Apollo Global Management. "They're on the rise, we're on the rise. And frankly, to have California as part of our stadium's name is very attractive."
Follow me: @jrkoren
ALSO
Anaheim ignores Angels' objections and goes ahead with major development near stadium
L.A. City Council declares 8/24 as 'Kobe Bryant Day'
Tim Tebow will show off his baseball skills for MLB teams next week in Los Angeles
---
UPDATES:
5:30 p.m.: This article was updated with additional details and quotes throughout.
This article was originally published at 10:15 a.m.
---
Must-read stories from the L.A. Times
Get the day's top news with our Today's Headlines newsletter, sent every weekday morning.
You may occasionally receive promotional content from the Los Angeles Times.