Boeing scraps its 2019 forecast and halts buybacks as 737 Max crisis continues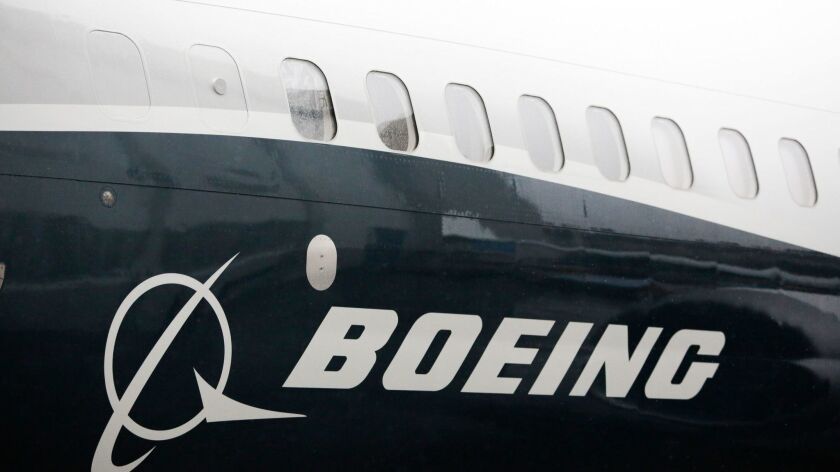 "How did this happen?"
That question, posed by analyst Ron Epstein during Boeing Co.'s earnings call Wednesday, lies at the heart of a crisis of confidence in the plane-maker after two fatal crashes of its 737 Max jetliners in five months.
The most valuable U.S. industrial company is reviewing its operations and working to convince regulators, airlines and consumers that the bestselling jet in Boeing history is safe to fly. The manufacturer abandoned its 2019 financial forecast as it deals with the Max's grounding, which began six weeks ago after an Ethiopian Airlines jetliner went down minutes after takeoff.
With Boeing enmeshed in one of the biggest crises in its century-long history, earnings missed analysts' estimates for just the second time in five years. The company has also temporarily halted repurchases as it seeks to preserve cash and the 737's production system. The accident in Ethiopia and an October disaster in Indonesia killed everyone on board — a total of 346 people.
"All of us at Boeing had been deeply affected by the accidents in Indonesia and Ethiopia, beyond anything I can recall in my 34 years with this great company," Boeing Chief Executive Dennis Muilenburg said at the outset of Wednesday's call.
Boeing shares ended the day up 0.4% at $375.46. Investors probably were breathing a sigh of relief that the results weren't worse, said Ken Herbert, an analyst at Canaccord Genuity. Through Tuesday's close, Boeing shares had fallen 11% since the crash in Ethiopia, the biggest drop in the Dow Jones industrial average.
Boeing delivered 50 fewer 737s than planned because of the grounding, while its profit margins reflected a $1-billion cost resulting from a cut in output of the narrow-body jets. Boeing also booked charges to revise training for pilots and update the Max's software, which has been linked to both disasters.
Adjusted earnings fell to $3.16 a share, Boeing said in a statement. That was 9 cents less than the average of analyst estimates compiled by Bloomberg. Sales slipped 2% to $22.9 billion, in line with expectations.
Cash impact
The worst of the Max-related squeeze lies ahead for Boeing as it waits out regulatory scrutiny of the aircraft while trying to allay pilots', airlines' and consumers' fears.
Each month the Max is grounded at the current production tempo will siphon $1.5 billion from Boeing's previous guidance of wringing between $17 billion and $17.5 billion in cash from its sprawling businesses in 2019, Seth Seifman, an analyst with JPMorgan Chase & Co., said in a note to clients.
Boeing's cash from operations would probably only break even in the second quarter if Max deliveries don't resume, he said.
Epstein, an analyst at Bank of America Corp., spoke for many when he asked how the software flaw in a stall-prevention feature known as MCAS slipped by Boeing's engineers and the Federal Aviation Administration. The U.S. agency certified the 737 Max 8 for flight two years ago.
Muilenburg declined to share details, citing international protocol for accident investigations.
"But there was no surprise or gap or unknown here or something that somehow slipped through a certification process — quite the opposite," the CEO said. "We know exactly how the airplane was designed. We know exactly how it was certified."
That knowledge is reflected in redesigned software that Boeing is expected to submit to the FAA soon, he said. The company will also need to convince regulators from 50 countries to recertify the plane.
"We're very confident that when the fleet comes back up, the Max will be one of the safest airplanes ever to fly," Muilenburg said.
While the Max's indefinite grounding drags on, Boeing's management team is focusing on conserving cash and tamping down costs. The company has set up a war room to monitor the crisis, recruiting people from across Boeing to manage the many threads of the situation, Chief Financial Officer Greg Smith said Wednesday.
The company has temporarily slowed its 737 final assembly line by 19% to build only 42 planes a month, the first such factory slowdown since the Sept. 11, 2001, terrorist attacks disrupted air travel.
The rate cut was abrupt — such moves are typically flagged a year in advance. Blunting the blow somewhat, Boeing is picking up the bill as suppliers such as Spirit AeroSystems Holdings Inc. continue work at the previous production pace of 52 planes a month.
The changes to 737 production didn't take effect until mid-April, so the full impact on cash and profit will first be reflected in second-quarter earnings. But under Boeing's program accounting, a $1-billion impact was included in first-quarter profit margins for the jetliner division.
Max unknowns
Robust sales at the defense and services divisions helped Boeing withstand the pressure from the Max grounding, as did a production increase for the 787 Dreamliner. Still, there's a risk that investors will lose patience if regulators are slow to allow flights of the 737 Max, a key source of cash for Boeing.
"There is still a lot that we don't know about the Max situation," Rob Stallard of Vertical Research Partners said in a note to clients after the conference call.
"Our sense is that investors generally expect a three- to six-month grounding of the plane, but the financial impact of these scenarios remains unclear," he said. "Until we get more clarity, we could see the shares stuck in a holding pattern."
---
Your guide to our new economic reality.
Get our free business newsletter for insights and tips for getting by.
You may occasionally receive promotional content from the Los Angeles Times.