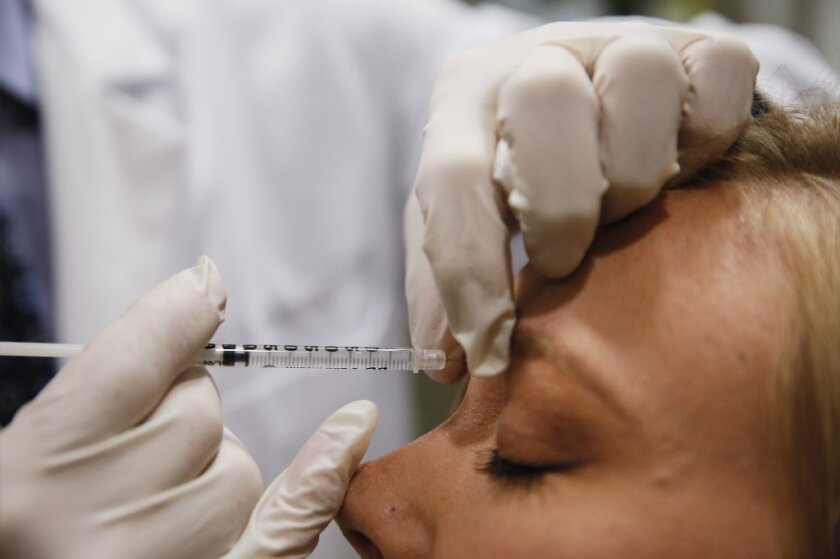 Botox maker Allergan Inc. is closing in on a deal to be acquired by Irish company Actavis, a move that would potentially thwart a hostile takeover by Canadian company Valeant Pharmaceuticals International Inc.
A $62.5-billion deal could be announced as early as Monday, Bloomberg News reported, citing unnamed sources familiar with the negotiations. The deal would call for Actavis to pay a little more than $210 a share in cash and stock for each share of Allergan.
That's a lot more than Valeant's most recent offer, which would pay $183.39.
Allergan shares closed Friday at $198.65.
A spokesperson for Actavis did not immediately respond to a request for comment from The Times. Bonnie Jacobs, an Allergan spokeswoman, also did not comment.
Actavis, which maintains U.S. headquarters in New Jersey, sells generic and branded drugs in more than 60 countries. As of December 2013, the company employed 19,200 people worldwide.
Valeant and its hedge-fund partner, Pershing Square Capital Management, has been fighting for six months to acquire Allergan, which has rejected all of the offers as too low.
Allergan shareholders are scheduled to vote Dec. 18 on a Valeant proposal to remove a majority of Allergan's board and replace them with directors who would probably approve a sale to Valeant.
Allergan executives have said they were unhappy with Valeant's proposal to slash the amount of money the company spends on research, a move that would probably lead to layoffs of hundreds or even thousands of its employees, many of them in Irvine.
If an Actavis deal is not completed before the Dec. 18 vote, Allergan would probably ask shareholders to reject Valeant's proposal and allow the company to complete the sale to Actavis, analysts said.
Twitter: @spfeifer22
---