Beware of scary 'Brexit' headlines pushing you to buy gold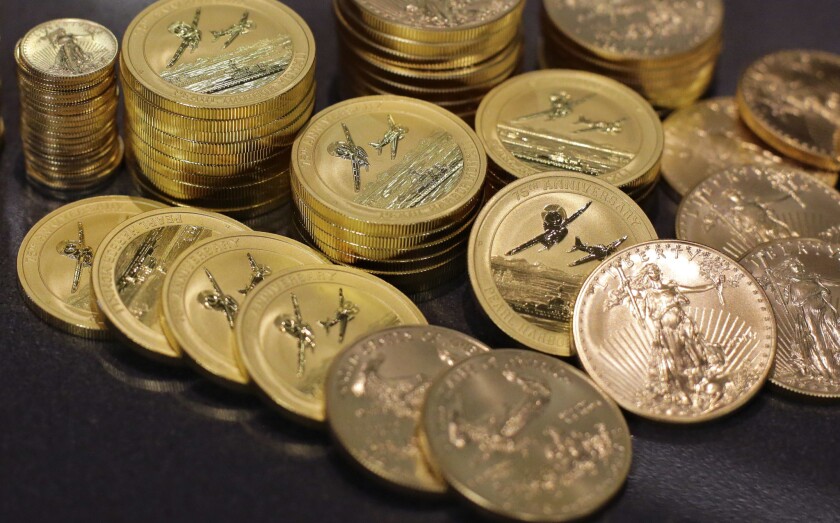 If you thought the "Brexit" vote was scary, check out the full-page newspaper ad that recently appeared in the New York Times recounting all the horrors in the present tense, as if they were still unfolding: The vote "topples" the British government, "crushes" the pound and "wipes away" billions in stock market wealth.
Then came the purpose behind all the panicky prose.
"Buy Gold Now!"
Investors have done just that, pushing up the price of the metal to a two-year high.
The ad was from a company selling gold coins that is run by Philip Diehl, a coin expert in Austin, Texas. "Phones have been ringing off the hook," said Diehl of the reaction to Brexit. Gold is "a way of protecting wealth. It's like auto insurance or house insurance."
But before joining the rush, experts warn, beware that assets marketed as conservative and safe bought in a panic can sometimes wallop investors.
A quarter of a century ago, money poured into "world income funds" that bet on seemingly conservative short-term government debt. And after the 2008 financial crisis, index annuities were pitched as a way of betting on stock indexes with no risk of loss, a big draw after the U.S. market had lost half its value in a little over a year.
All these seemingly safe products slammed investors with high fees or kept them from accessing their money or socked them with outright losses.
"Fear is a good thing," said Barbara Roper, a director of investor protection for the Consumer Federation of America. "Fear mongering is not."
Gold has been a trusted storehouse of wealth and means of exchange for centuries, of course, but lately it's been jumping around like a risky biotechnology stock. It soared during the financial crisis, fell in the four years through the end of last year, then began climbing sharply in recent months.
On Monday, gold hit $1,366 an ounce, up 28% since the start of the year.
Diehl thinks it will continue to rise because of all the turmoil in the world. Investors seem to agree. In the five trading days after the Brexit vote, $2.7 billion rushed into gold funds, according to EPFR, a research firm. That is more than 10 times the typical weekly investment in the last bull market for gold in 2011.
For all the popularity of the funds, gold bulls who are worried about a sort of financial Armageddon argue you're only really safe owning the metal itself, something like what Diehl sells, a coin you can hold in your hand and use to trade and survive.
Regulators have long warned of shady sales practices in the business of selling physical metal, though.
In April, securities regulators shut down two gold and silver sellers operating out of Boca Raton, Fla., for assuring customers of 30% returns before losing all their money. In 2012, the state court in California ordered a precious metals dealer made popular by TV commentator Glenn Beck — Goldline International — to pay $5 million to customers misled by price markups and false claims.
The danger with gold is that it doesn't pay interest like a bond or represent a share of a company like a stock. It's got no intrinsic value. It is only worth what people believe it's worth. And even after the recent surge, they believe it's worth less than what they thought it was worth five years ago.
If you had invested $150,000 in gold at its peak price of $1,923.70 in September 2011, now you would have just $106,000, down 29%.
ALSO
Travelers can get reviews of airlines, not just hotels and restaurants
Stocks end the day flat as 5-day rally peters out
---
Your guide to our new economic reality.
Get our free business newsletter for insights and tips for getting by.
You may occasionally receive promotional content from the Los Angeles Times.