Burger King swallows Tim Hortons; new firm is Canada-bound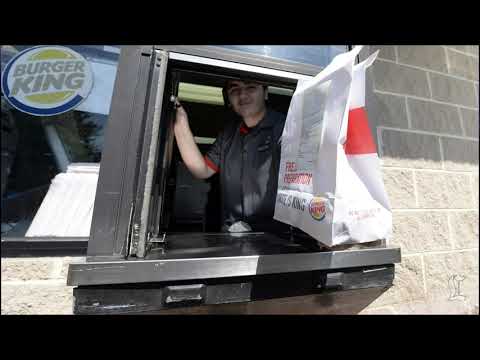 Burger King struck a deal to buy Ontario, Canada-based Tim Hortons coffee-and-doughnut chain for about $11.4 billion, with plans to place the new companies' headquarters in Canada, where corporate taxes are lower than in the U.S.
Burger King Worldwide Inc. said Tuesday it would buy the Tim Hortons coffee-and-doughnut chain for about $11.4 billion and place the new firm's headquarters in Canada, where the corporate tax rate is lower than in the U.S.
The cash-and-stock deal creates the world's third-largest fast-food chain, with more than 18,000 restaurants in 100 countries and about $23 billion in annual sales.
The new company will keep the two brands separate and try to use Burger King's international expertise to expand Canada's Tim Hortons around the world, said Alex Behring, who is Burger King's executive chairman and will hold the same role for the still unnamed merged firm.
"We plan to take the beloved Tim Hortons brand, which has such a rich heritage here in Canada, to the rest of the world," he told analysts during a conference call Tuesday.
Burger King is looking to the Tim Hortons chain to boost its standing in the booming breakfast market. But there are no plans to mix products at the two restaurants, said Burger King Chief Executive Daniel Schwartz.
Warren Buffett's Berkshire Hathaway will help finance the deal with $3 billion, receiving preferred shares but having no role in management and operation of the new company, Burger King and Tim Hortons said.
Behring is managing partner of 3G Capital, a Brazilian investment firm that controls Burger King. 3G Capital will own about 51% of the new firm, the companies said.
Tim Hortons Chief Executive Marc Caira will be vice chairman of the new company.
Burger King's headquarters will remain in Miami, and Tim Hortons' will stay in Oakville, Ontario.
The headquarters for the combined firm will be in Canada, which will be its largest market and its "natural home," Behring said.
Two-thirds of the new company's revenue will come from Canada, with 20% from the U.S. and 13% from the rest of the world, the firms said.
Canada also has a lower tax rate, allowing Burger King to reduce its tax bill.
The combined federal, state and local corporate tax rate in Canada is 26.3%, according to the Organization for Economic Cooperation and Development. The combined U.S. corporate rate is 39.1%.
Burger King's overall effective tax rate in 2013 was 27.5%, according to its annual report. Tim Hortons effective tax rate for the same year was 26.8%.
"This is a strategic transaction," Berhing said. "It's not being driven by tax rates."
He said Burger King's effective tax rate is roughly consistent with the Canadian tax rates.
"We don't expect our tax rate to change materially," Schwartz said.
Buying a foreign competitor in a lower-tax location and shifting headquarters to that company's home country is known as a tax inversion. The maneuver has come under fire in Washington as more U.S. companies are using it to lower their tax bills.
Analysts said there are strong strategic reasons for Burger King to purchase Tim Hortons beyond the tax benefit, which is not as large as some recent inversion deals in the pharmaceutical industry.
Still, Burger King is a popular U.S. brand and its decision to move its corporate headquarters to Canada could fuel efforts in Congress to place new restrictions on inversions.
Sen. Sherrod Brown (D-Ohio) urged Congress to act quickly to stop offshore tax shifting and called for a boycott of Burger King.
"Burger King's decision to abandon the United States means consumers should turn to Wendy's Old Fashioned Hamburgers or White Castle sliders," Brown said Monday after news of the potential deal surfaced.
"Burger King has always said 'Have it Your Way,'" he said. "Well, my way is to support two Ohio companies that haven't abandoned their country or customers."
For breaking economic news, follow @JimPuzzanghera on Twitter