What the DACA phaseout means for workers and employers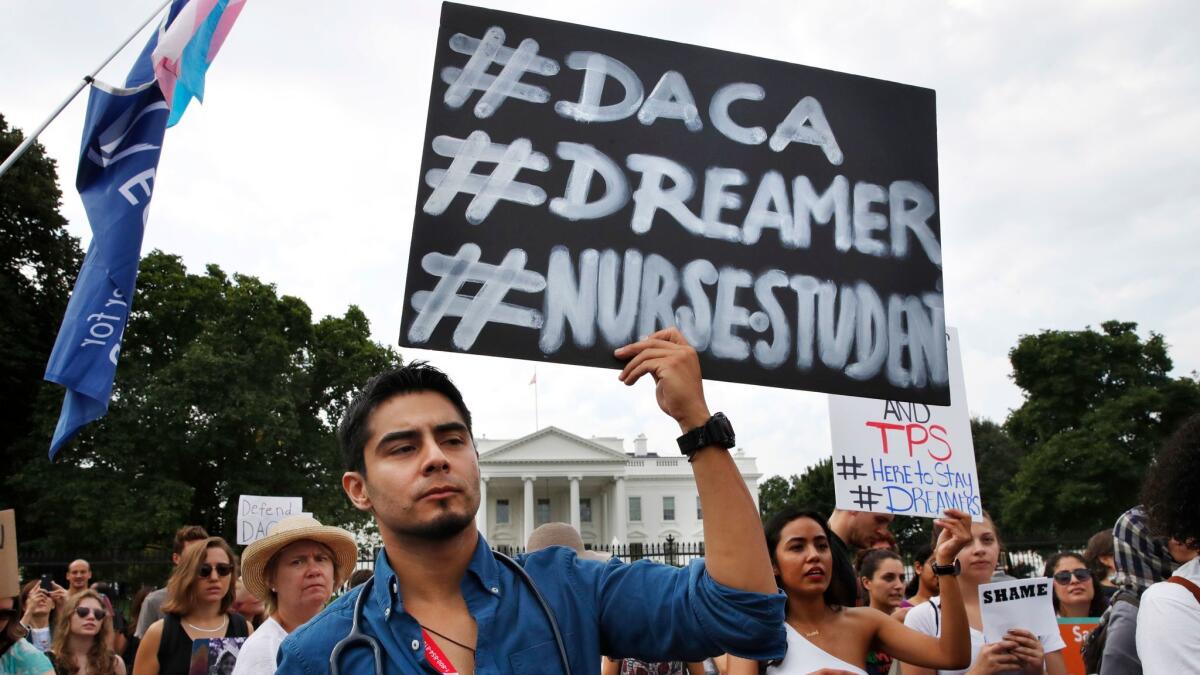 Christopher Plascencia won a promotion last month to personal banker at Wells Fargo & Co.; now he's worried the career advancement might become a hollow gain.
The Compton resident has the job because of DACA, the program that protects from deportation nearly 800,000 undocumented immigrants who arrived as children and allows them to work and attend school. But the Trump administration plans to wind down the program over the next six months.
"I obviously couldn't have done any of this without the work permit we were issued," said Plascencia, 22, who called President Trump's decision "heartbreaking."
"Being able to have that income definitely helped me to provide for myself and to help out my family as well," Plascencia said.
DACA workers and the firms that employ them are faced with uncertainty after the White House said it would end the Deferred Action for Childhood Arrivals program initiated in 2012 by President Obama.
Under the program, participants (so-called Dreamers) who were brought to the United States as children could receive a renewable two-year deportation deferral and work permits if they met certain requirements.
The Trump administration argued that the program was unconstitutional, was never intended to be permanent and that Congress now has six months to change the immigration laws and find a DACA replacement, if it chooses.
No new DACA applications are being considered, and those with permits expiring between now and March 5 have until Oct. 5 to apply for renewal.
A wide swath of the business community, led by major technology firms, is opposed to Trump's move. Even before his decision, more than 300 business leaders — including the chief executives at Apple Inc., Facebook Inc. and Amazon.com — signed a letter urging Trump not to rescind the program.
Wells Fargo Chief Executive Timothy Sloan also signed the letter, which cheered Plascencia. "It gave me a little sense of comfort knowing the company I work for has people like me in mind," Plascencia said.
Denying work authorization to people who grew up and were educated in the United States would have a significant negative impact on employers.
— Mike Aitken, Society for Human Resource Management
Now that Trump has acted, his decision faces court challenges, which could delay or block DACA's termination. Fifteen states and the District of Columbia filed suit Wednesday in New York challenging Trump's plan, and California Atty. Gen. Xavier Becerra said Tuesday his office was prepared to sue as well.
California has the largest population of DACA recipients, nearly 223,000.
There also is the possibility that Congress could pass new immigration legislation in the next six months that would include some type of program to replace DACA.
As a result, employment lawyer Michelle Lee Flores of the law firm Cozen O'Connor said her advice to both businesses and DACA employees would be to "sit tight. Let's just take a pause and see what happens."
"Let's see if this goes through, let's see if something else comes about to replace it," Flores said. "I think we'll know a lot more in a month or two."
She also urged firms and DACA workers to ensure that the paperwork for any work permits still eligible to be renewed is completed by the Oct. 5 deadline.
If the program ends, "denying work authorization to people who grew up and were educated in the United States would have a significant negative impact on employers," Mike Aitken, vice president of government affairs for the Society for Human Resource Management, a trade group for business human-resources managers, said in a statement Tuesday.
San Diego City Unified School Board President Richard Barrera agreed.
Ending the DACA program "absolutely limits our ability to get the best and most committed people into the teaching professions," Barrera said.
Joe Eustice, general manager of the Wyndham San Diego Bayside hotel, said he expects the hospitality industry to feel the effects of the DACA pullback as it tries to fill entry-level jobs such as front-desk clerks and banquet servers.
"We would certainly encourage our national legislators to take a close look at how we can continue to educate these kids," Eustice said.
Siona Vartanian, 30, came to the United States from Denmark with her family when she was 14. Born in Iran, Vartanian graduated from Cal State Northridge in 2011 with a psychology degree. But without the proper documents, she couldn't work.
One year later, Obama introduced the DACA program and Vartanian, a Glendale resident, was accepted. She has worked as a claims manager at a large health insurance company for the last 2½ years.
Vartanian said she hasn't talked to her employer about her work situation since Trump's decision, but said she didn't know where she would be without the DACA program.
"If they were to take this away from me, I think that would be the worst thing ever," Vartanian said.
"It was impossible to find any job" without DACA, she said. "Even if I were to find a job that was under the table, it wouldn't pay me enough to live."
Lori Weisberg and Jennifer Van Grove of the San Diego Union-Tribune contributed to this report.
For more Business news on Twitter: @PeltzLATimes @smasunaga