California adds nearly 47,000 jobs in July; unemployment remains at a record low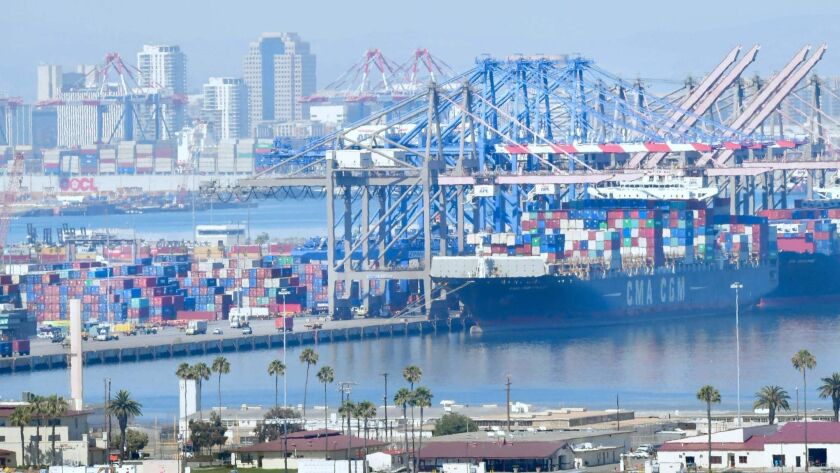 California payrolls grew by 46,700 jobs in July, a significant gain that came as the unemployment rate held at a record low of 4.2%, according to data released Friday by the state's Employment Development Department. But as usual, there was little sign of rising wages for workers.
The positive job growth comes as a relief: June's initial report, which said employers added only 800 jobs to payrolls that month, raised concerns the Golden State's economic engine was pausing after a remarkable run. But June's gains were revised upward Friday to 21,500, and July's job growth came in at more than twice that level.
"It might have been a false alarm," said Lynn Reaser, chief economist of the Fermanian Business and Economic Institute at Point Loma Nazarene University.
In July, nine of the state's 11 industry sectors added jobs. Professional and business services led the way with 15,100 new jobs, followed by trade, transportation and utilities, which saw an increase of 11,200 jobs. Employers in leisure and hospitality boosted payrolls by 9,500.
Also adding jobs were employers in educational and health services, manufacturing, government, mining and logging, information and a category called "other services."
"There is strength across the board," said Michael Bernick, an attorney with Duane Morris and a former director of the Employment Development Department.
Construction and financial activities were the only sectors that lost jobs, with declines of 1,700 and 800, respectively.
Locally, Los Angeles County saw an increase of 7,300 jobs; Orange County, 5,400 jobs; and Riverside and San Bernardino counties, 6,700 jobs. San Diego County lost 2,800 jobs, and Ventura County lost 100.
The statewide unemployment rate held steady at 4.2% even as more people entered the workforce. That is the lowest rate recorded since the unemployment survey started in 1976.
Sung Won Sohn, chief economist with SS Economics in Los Angeles, said the expanding labor force eased some pressure on employers, who say they are having difficulty finding workers. But he said labor shortages are still a problem, noting the number of workers in the labor force peaked last fall. The high cost of housing has been driving some out of state.
"There is no reason to believe that labor shortages in California would lessen anytime soon," Sohn said.
In theory, those shortages should be forcing employers to lift wages to attract workers.
But wage growth remains a stubbornly weak part of the recovery. It's a puzzle, experts say, that could be caused by anything from low productivity growth to declining union power to increased competition from low-wage workers overseas.
In July, wages disappointed again, lagging slightly behind the national inflation rate. Average hourly earnings in California rose only 2.2% from a year earlier, to $30.81, according to the Bureau of Labor Statistics. Consumer prices, minus the volatile food and energy sector, climbed 2.4%. With groceries and gas factored in, the inflation rate was 2.9% nationwide. (The bureau does not track statewide inflation rates).
Locally, wages rose faster, climbing 4.4% in Los Angeles and Orange counties. Price inflation was 3.9%.
Follow me @khouriandrew on Twitter
---
UPDATES:
11:45 a.m.: This article was updated with additional analysis and comment from an economist.
This article was originally published at 10:30 a.m.
---
Your guide to our new economic reality.
Get our free business newsletter for insights and tips for getting by.
You may occasionally receive promotional content from the Los Angeles Times.