California added 14,600 jobs in February as more people returned to the workforce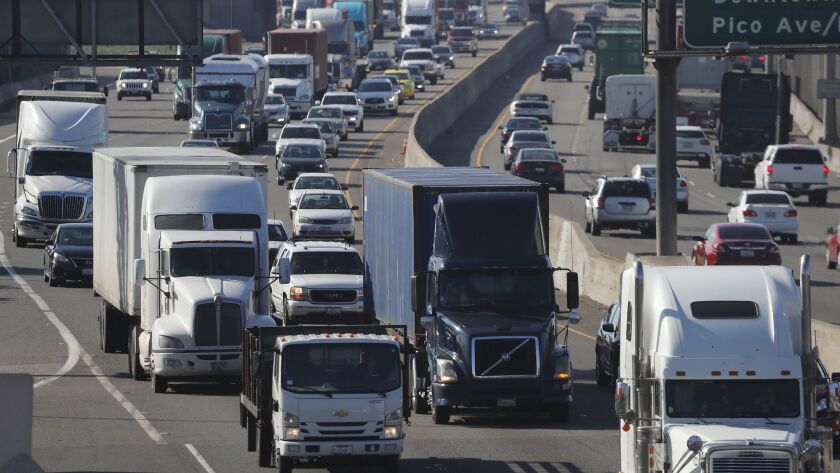 After a slow January, California employers boosted hiring in February as workers moved more rapidly off the sidelines into the job market, expanding the labor force.
Payrolls rose by 14,600 positions, accounting for nearly three-quarters of an unusually low 20,000 jobs added nationwide last month, state employment officials reported. California's January job growth was revised up to 5,900, nearly double the initial 3,000 estimate.
Year-over-year, the state has added 222,500 jobs, the second-largest number after Texas and an increase of 1.3%. That is half of last February's annual pace of 2.6%.
California had an unemployment rate of 4.2% in February, down a notch from 4.3% a year earlier. Statewide, 18,725,100 were counted as employed last month, and 867,600 as unemployed.
The U.S. unemployment rate stood at 3.8%.
"California's labor market is essentially at full employment, and has been for most of the past year," said Robert Kleinhenz, economist at Beacon Economics. "That may account in part for the slower pace of job growth so far this year, but you also have to look at the individual sectors of the economy and their current circumstances."
Construction, which showed large gains last year, has lost jobs in each of the last two months, he noted, as an increase in interest rates late last year led to a temporary chill in real estate sales. Also, this has been one of the wettest and coldest winters in many years.
"This is expected to turn around, "Kleinhenz said. "California building permits in January showed an increase, and the housing market is expected to respond favorably over the next months to lower interest rates and a larger inventory for sale."
Professional and business services accounted for 12,500 of the net gain in February jobs. Other sectors, including leisure and hospitality, trade, transportation and utilities, and educational and health services, added positions too.
Construction lost 7,700 net jobs. Manufacturing lost 5,400 jobs as the possibility of an escalating trade war with China added to uncertainty.
In California's tight labor market, where employers are complaining they can't find enough workers to fill open jobs, the growth in the labor force by 24,500 in February was a positive sign.
The momentum began last year, when the labor force, which includes both job holders and job seekers, jumped during the second half by 148,087, after rising by just 106,758 during the first half of 2018.
"The labor force participation rate remains at the highest level since September 2013," said economist Sung Won Sohn. "If it weren't for the rising labor force, economic and job growth in the state would have been much slower.
"Word has gotten out that there are good and high-paying jobs to be had. Students, mothers and people on disability have returned to the labor market."
But he added, "Unfortunately, this can't go on indefinitely. Going forward, labor shortages will be a major headwind exacerbated by the high cost of housing and doing business in California."
Los Angeles led the way among Southern California counties in February, adding 4,100 jobs. The county's jobless rate was the same as the state's, at 4.2%, with 216,300 people counted as unemployed. Inland counties didn't fare as well; Riverside and San Bernardino lost a combined 2,500 jobs, for instance, and had an unemployment rate of 4.3%.
The job growth figures and jobless rates in other local counties for February:
Ventura: 1,300 jobs lost, 4% unemployment
Orange: 7,600 jobs gained, 3% unemployment
San Diego: 2,800 jobs gained, 3.5% unemployment
Twitter: @margotroosevelt
---
Your guide to our new economic reality.
Get our free business newsletter for insights and tips for getting by.
You may occasionally receive promotional content from the Los Angeles Times.