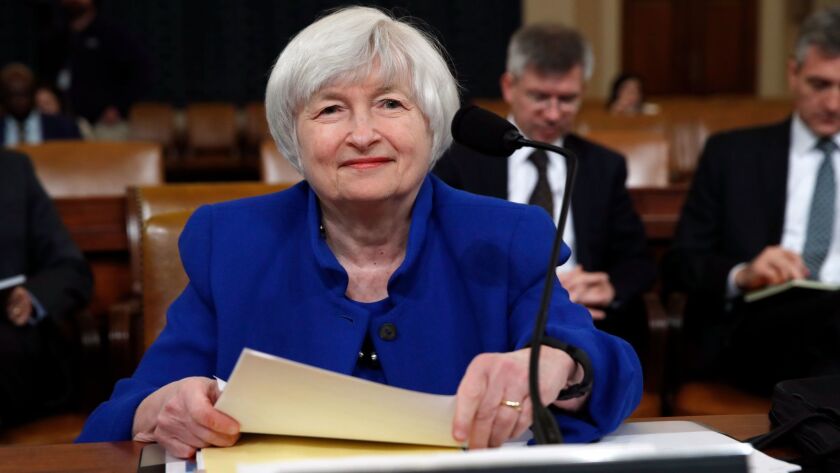 Welcome to California Inc., the weekly newsletter of the L.A. Times Business Section.
I'm Business columnist David Lazarus, and here's a rundown of upcoming stories this week and the highlights of last week.
Trading will kick off Monday following another week of gains capped off by a jobs report that exceeded forecasts. The nation added 228,000 jobs in November, as the unemployment rate held steady at a 17-year low of 4.1%. Manufacturing and construction had a strong month, as did business, professional services and healthcare services. One continuing weak spot: Average wages grew at a mediocre 2.5% annual rate despite a tightening labor market.
LOOKING AHEAD
Movie awards: Hollywood's awards season gets into full swing this morning when nominations for the 75th Golden Globes are announced starting at 5:15 a.m Pacific Time. The awards, handed out in 14 categories, are determined by members of the Hollywood Foreign Press Assn. On Wednesday, nominations for the Screen Actors Guild Awards will be announced at 7 a.m. The Golden Globes will be presented at the Beverly Hilton on Jan. 7, and the SAG Awards will be held Jan. 21.
Blast off: A SpaceX launch delayed from last week is now set for Tuesday at 8:46 a.m. Pacific Time from Cape Canaveral Air Force Station in Florida. This will be the the first time NASA — or any U.S. government agency — will employ one of SpaceX's used rocket boosters. It will also be the first launch from the launch pad that Hawthorne-based SpaceX damaged in a September 2016 explosion. The rocket will carry supplies to the International Space Station.
Interest rate rise?: On Wednesday, Federal Reserve officials are expected to announce another small hike in the central bank's key interest rate. The Fed has raised rates twice this year, in March and June, pushing its benchmark rate to a still-low level of 1% to 1.25%. At three meetings since then, the Fed has left rates unchanged. Wednesday will also be the last news conference by Fed Chair Janet L. Yellen in her current position. Her term ends Feb. 3.
Net neutrality: The Federal Communications Commission is expected to vote Thursday on a proposal to eliminate net neutrality rules that govern online traffic. Republicans, who now have a 3-2 majority on the FCC, oppose the Obama-era regulations. Eliminating the net neutrality rules would allow internet service providers to block access to some websites and charge others for faster delivery of their content to consumers.
Premiere: The highly anticipated "Star Wars: The Last Jedi" debuts Friday, and box office experts predict it will have the biggest movie opening of the year. The Walt Disney Co. film is expected to collect $180 million to $210 million in ticket sales in the U.S. and Canada in its opening weekend. Two years ago, "Star Wars: The Force Awakens," earned a record-breaking $529 million in its first weekend of worldwide release, including $248 million in the U.S. and Canada.
THE AGENDA
Petroleum products still power nearly all cars driving the world's highways, minus the rare alternative-fuel vehicle. But there is something astir and it's called elektrifizierung. That's German for electrification. While big American companies — and to a large extent, the Koreans and the Japanese — have low-key electric efforts, the German Big Three automakers are aggressively pursuing a strategic shift. It was all on display at the recent LA Auto Show.
STORY LINES
Here are some of the other stories that ran in the Times Business section in recent days that we're continuing to follow:
Weinstein suit: Six women are suing Harvey Weinstein and the studio he co-founded, seeking to turn their case into a class-action suit representing what they say are hundreds of women sexually assaulted or harassed by the movie mogul. The federal lawsuit filed in New York against him and Weinstein Co. outlines what the women allege was a massive scheme that facilitated predatory behavior by Weinstein and, they say, enabled him to rape and sexually assault women.
Merger: CVS Health Corp. plans to buy Aetna Inc. for $69 billion in a blockbuster deal that would further consolidate the U.S. healthcare industry by merging the nation's largest pharmacy chain with a major healthcare insurer. The deal, which was approved by both companies' boards of directors, combines the 9,700 drugstores and 1,100 walk-in healthcare clinics operated by CVS with Aetna's 22 million medical members. The deal must still pass regulatory scrutiny.
Disney and Fox: Walt Disney Co. Chief Executive Robert Iger may stay on the job longer than expected if the Burbank entertainment giant buys major assets from 21st Century Fox. Iger, 66, had said he would retire from the company he has steered through a rapid expansion when his contract expires in July 2019. But the Fox deal probably would face a lengthy regulatory review, so the Disney board is expected to extend Iger's contract to allow him to oversee the process, a source said.
Tax reform: Vulnerable California Republicans say they are watching closely as House leaders work on a final tax bill with the Senate, hoping they'll win back some popular deductions that would lower tax bills in their districts. California Republican votes may prove essential to the final tax bill's chances, and some House members have signaled they are willing to vote against it. Meanwhile, GOP leaders are considering a change to the bill that would allow a limited deduction for state and local taxes, an important tax break for Californians.
Bitcoin mania: Once the domain of technologists, libertarians and criminals, bitcoin has crossed into the mainstream, attracting interest from all walks of life with its soaring returns — while reviving memories of the dot-com bubble at the turn of the last century. Bitcoin, a form of digital money unadministered by a central authority, shot past $16,000 apiece Thursday, up from about $1,000 at the start of the year.
WHAT WE'RE READING
And some recent stories from other publications that caught our eye:
Hounded: When debt collectors came after Andrew Therrien for money he didn't owe, he fought back with a vengeance, reports Bloomberg BusinessWeek. Therrien, 33, went after the purveyors of "phantom debt," a fraud that is affecting millions of Americans. "It begins when someone scoops up troves of personal information that are available cheaply online— old loan applications, long-expired obligations, data from hacked accounts — and reformats it to look like a list of debts."
Mate match: After her an ugly break-up with Tinder — the company she co-founded — Whitney Wolfe Herd has launched a fast-rising dating app that puts women in charge, reports Forbes. Herd's new company, Bumble, lets women make the first move in the dating dance. "By giving women control over the initial contact, Bumble feels more polite and walled-off than competitors, avoiding the unsolicited photos — including the occasional male genitalia — that plague online dating."
The trouble with chickens: A small group of residents in a tiny Nebraska town is squaring off with one of the world's largest retailers over a proposed chicken-processing facility, reports New Republic. Despite promises of new jobs and economic growth, the residents of Nickerson, Neb., fear that the giant new plant that Costco wants to build nearby will swamp the town with truck traffic and waste disposal issues, and could poison the area' s water supply.
Opioids: Joline Gutierrez Krueger wrote about opioid addiction for New Mexico's largest newspaper, but she was completely unprepared when the drug took hold in her own family, the Wall Street Journal reports. Her son became hooked on heroin and died from an overdose, an event that is sadly common in that state. "Long before the tide of opioid addiction overtook the blue-collar towns of New England and the Rust Belt, New Mexico had already suffered."
SPARE CHANGE
Last week's Bitcoin mania got me thinking about some past market lunacy — none of which ended well but did provide some Hollywood fodder.
There's the original 17th century tulip bubble, which not only burst but recently bombed in the form of this Weinstein Co. drama. Last decade's housing bubble is much closer to home and still troubling, but at least it inspired 2015's highly lauded "The Big Short."
But for a real taste of the maniacal pursuit of money, look no further than the 1987 classic "Wall Street," which featured Michael Douglas in an Oscar-winning performance as Gordon Gekko. Greed never had it so good.
For the latest money news, go to www.latimes.com/business. Mad props to Scott J. Wilson and Laurence Darmiento for helping put this thing together.
Until next time, I'll see you in the Business section.
---