New owner of historic fashion bastion spending $170 million to woo other creative types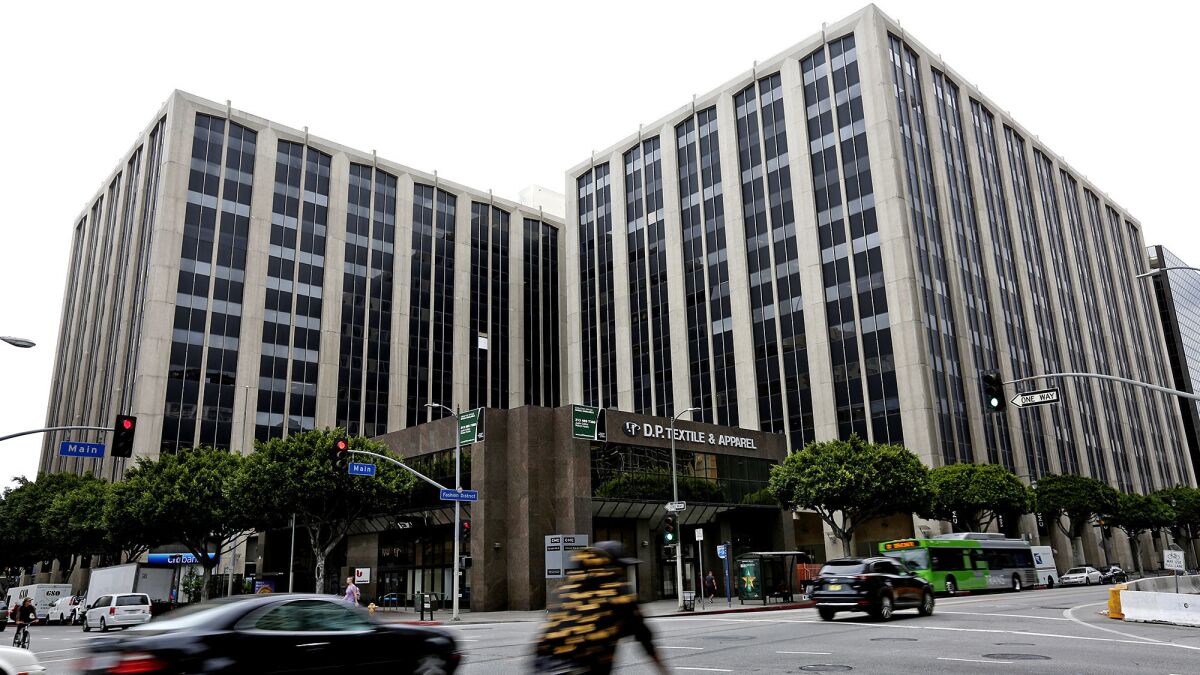 Downtown L.A.'s California Market Center is absolutely enormous and yet oddly invisible to passersby.
It has more space inside than the nearby Wilshire Grand Center, the tallest building in the West at 73 stories, but few outside the fashion industry ever notice it because it's rather homely and decidedly uninviting — which was no accident.
The CMC, as it is known, opened in 1963 to provide more than 1,000 showrooms for the wholesale fashion industry, where buyers from department stores and boutiques from much of the country could appraise samples of dresses, shoes and other apparel they would arrange to buy in bulk.
It was a popular destination for the rag trade and had a waiting list of tenants, but ordinary shoppers weren't invited in, so there no were big, welcoming signs out front. The windows were made small, to help keep sunlight from fading precious sample ware. In sum, the CMC was a members-only citadel that turned its back on the outside world.
For several years, however, demand for showrooms has been shrinking amid changes in the retail end of the business and the CMC has been plagued with empty space.
Now, its new owners are embarking on a $170-million makeover intended to enliven the complex for the fashion industry and open it to other tenants in creative fields such as entertainment and technology.
The challenge will be to modernize its unadorned brutalist-style buildings in a way that extracts some charm from their chilly mid-20th century aesthetic. Adaptive reuse of older office and industrial buildings downtown more commonly involves pre-World War II structures.
"It's a unique historic site," landlord Bert Dezzutti said of the CMC, which he believes offers an opportunity to make it out-of-the-ordinary.
Dezzutti heads the Western region for Brookfield Properties, a publicly held New York real estate company that is the largest owner of big downtown office high-rises, such as the Bank of America Plaza.
Brookfield, which also owns the Figat7th shopping center, acquired a controlling interest in the CMC last year and vowed to make it a destination for creative firms that shy away from its conventional glass towers.
Though downtown's signature high-rises have often struggled to find tenants in recent years, companies such as Warner Music Group, Spotify and Honey have signed substantial leases in historic or unconventional buildings outside the financial district.
The neighborhood around the CMC, which stands at 9th and Main streets, where historic downtown meets the Fashion District, is also on the upswing. Thousands of apartments have recently been built on nearby blocks.
Not far away is the Ace Hotel and theater in a former 1920s office tower that has become a thriving recreation destination since it opened in 2014. Its success helped spur the ongoing development of two other boutique hotels in brick-clad 1920s buildings on Broadway: the Downtown L.A. Proper Hotel and the Hoxton. Both are set to open next year.
Also close by on Broadway is the former home of the Herald Examiner, constructed by newspaper mogul William Randolph Hearst in 1914. It has been closed since the paper went out of business in 1989 but is set to reopen in 2020 as a satellite outpost of Arizona State University.
"The neighborhood continues to change," said real estate broker Kevin Shannon of Newmark Knight Frank, who helped negotiate Brookfield's deal for control of the CMC last year with Jamison Realty Inc., which remains a co-owner.
"More and more tenants are going to downtown L.A.'s creative office product," Shannon said, where rents are rising faster than they are in conventional towers.
Growth in creative offices is linked to a pronounced uptick in millennials moving downtown to live, he said.
The highest increase in millennial population over a five-year period was downtown L.A., which beat out Manhattan and Portland, Ore., in its rate of growth among young adults, according to a recent study by RentCafe.
To boost the CMC's appeal to companies that millennials want to work for, Brookfield and its architecture firm Gensler have some drastic surgery in mind, starting with the demolition of a bank building near the main entrance at 9th and Main streets.
The bank blocks the view of the entrance and its removal will make way for a public space with landscaped pathways, a cafe and outdoor seating. There will be 150,000 square feet of shops and restaurants at ground level.
The 1.85-million-square-foot CMC complex is made up of three interconnected 13-story buildings. Under the new design they will be linked by 30-foot-wide open-air bridges that can be used like outdoor decks. An indoor-outdoor rooftop deck for tenants' use will also be added.
Facades of the buildings will be reclad with floor-to-ceiling windows as part of the attempt to make its concrete-framed brutalism a virtue. Steel pillars and beams will be exposed.
"We're bringing it to its industrial essence, or bones," said Gensler architect Peter Himmelstein.
Though the complex was once packed with fashion tenants, consolidations and bankruptcies in the department store industry starting in the 1980s significantly reduced the number of wholesale buyers that patronized the mart. Today, the fashion industry also faces upheaval from changes wrought by internet clothing sales, and the mart is less than 50% leased.
The remaining fashion tenants and industry events such as trade shows will be consolidated in one tower and the other space will be leased to new tenants. Brookfield said it will complete the renovation by the end of 2020.
Similar changes are taking place at two other large Los Angeles-area industry showroom complexes.
On the southern edge of downtown, the Reef, formerly known as L.A. Mart, proclaims to be open to "all types of creators" as well as the gift, interior design and home furnishing industries it has supported since the 1950s.
At the Pacific Design Center in West Hollywood, two of the three colorful buildings are meant to be leased to creative tenants, while the "Blue Whale" building dating to the 1970s still primarily serves the wholesale decorating and furniture market.
To Brookfield, the Fashion District looked like the next neighborhood to benefit from downtown's revitalization, Dezzutti said, and the vast scale of the California Market Center offered the chance to give the district a boost while profiting from its turnaround.
"We thought we could transform not only the CMC, we thought we could transform a neighborhood," Dezzutti said. "It seemed like a perfect canvas for us to work with."
Twitter: @rogervincent
Sign up for the California Politics newsletter to get exclusive analysis from our reporters.
You may occasionally receive promotional content from the Los Angeles Times.