California pension funds to sue VW over diesel scandal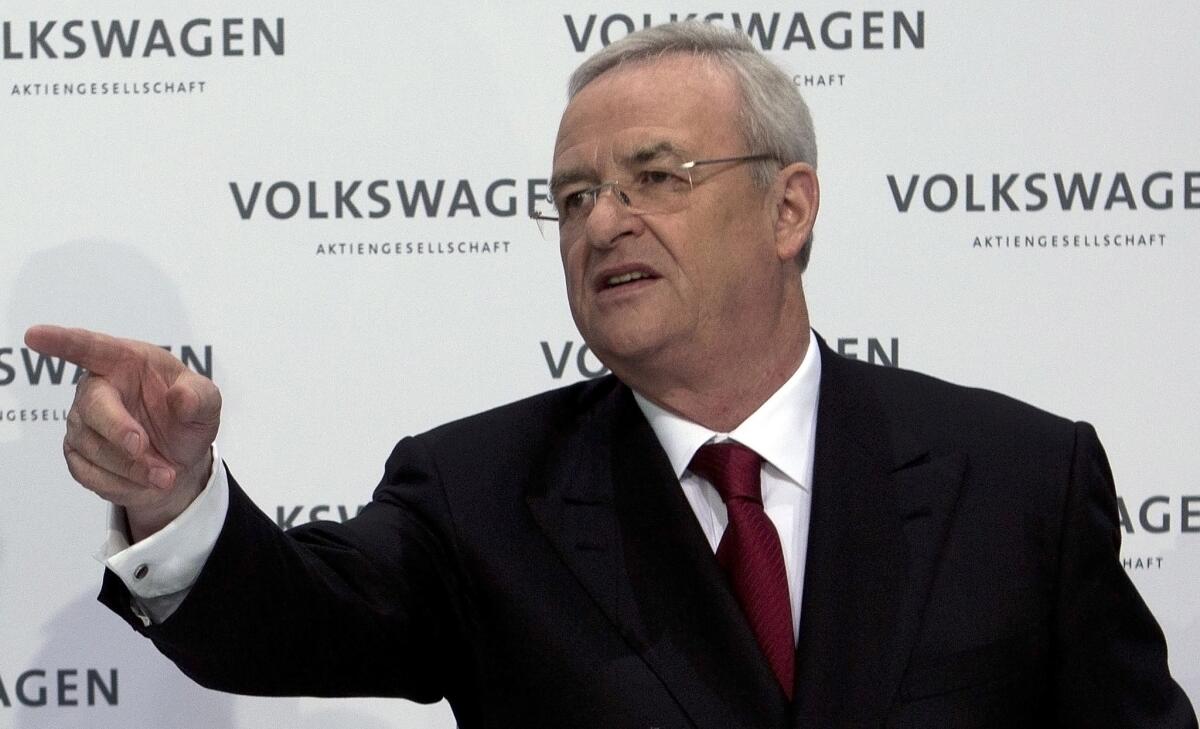 Two giant California pension funds plan to sue Volkswagen in a German court, joining other institutional investors who argue the automaker should pay for losses they experienced since the revelation last year that VW cheated on emissions tests.
The California State Teachers' Retirement System, or CalSTRS, on Friday announced plans to join in a securities case against VW. A spokesman for the California Public Employees' Retirement System, or CalPERS, confirmed that fund is separately pursuing a similar action.
CalSTRS owned about 354,000 common and preferred shares of VW as of Dec. 31. Common shares fell by as much as 37%, and preferreds by as much as 43%, in the first weeks of the mushrooming scandal that began in September. Shares since have recovered somewhat.
CalSTRS said its VW holdings are now worth $52 million, though the pension fund has not said how much it believes it has lost. Its VW investment is a tiny fraction of the fund's roughly $180 billion portfolio.
"The emissions cheating scandal has badly hurt [VW's] value," CalSTRS Chief Executive Jack Ehnes said in a statement Friday. "Volkswagen's actions are particularly heinous since the company marketed itself as a forward-thinking steward of the environment."
Ehnes said the pension fund hopes to recover money, as well as send a message to VW and the auto industry "that we will not tolerate these illegal actions."
CalPERS, the nation's largest pension fund, with assets of $279 billion, also holds VW shares, though it has not publicly reported the number of shares since the summer of 2014. It is not clear whether either pension fund has sold or acquired shares since the emissions scandal.
It's relatively common in the United States for investors to sue public companies following scandal-driven stock slumps, but such suits are less common in Europe, said Bruce Simon, a partner at law firm Pearson Simon & Warshaw, which specializes in class-action and securities litigation.
He said the big question for the pension funds and other U.S. investors in VW is how much they'll be able to recover under German securities law.
"There's lots of precedent in the U.S., but I don't think the precedent is anywhere near as well established in Germany," he said. "It's going to be interesting to watch where this goes."
Ricardo Duran, a CalSTRS spokesman, said the pension fund has rarely, if ever, pursued this type of litigation outside of the United States.
The pension funds' lawsuits add to VW's already large legal woes stemming from the scandal, which involved the company installing software that allowed its diesel engines to emit fewer pollutants during emissions tests than during normal road use.
In the U.S. alone, the company is facing a civil complaint from the Department of Justice filed on behalf of the Environmental Protection Agency that accused VW of violating federal law by installing illegal software on 580,000 cars. Penalties in the case could total in the billions of dollars.
Also, hundreds of class-action lawsuits filed by VW owners and dealers have been consolidated in federal court in San Francisco.
CalSTRS will be represented in the case by law firm Quinn Emanuel. Duran said he expects other plaintiffs to join the case in the next few weeks.
German law firm Nieding + Barth said in January it would bring a case against Volkswagen on behalf of institutional investors in the U.S. and Britain. CalPERS may be one of the investors in that group, though a spokesman would not confirm.
VW did not immediately respond to a request for comment.
Twitter: @jrkoren