Canadian pot company buys New York rival in $3.4-billion bet on U.S. market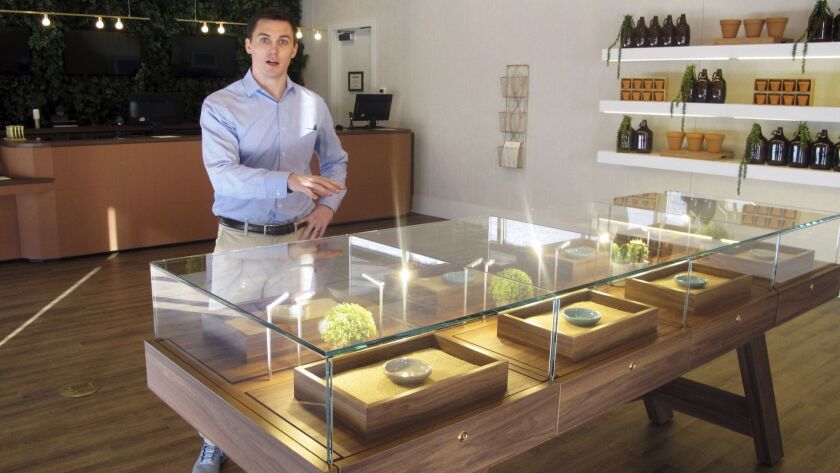 Bloomberg
Canopy Growth Corp., the world's most valuable marijuana company, is making a big bet on the U.S. market.
Canopy, which was sitting on a pile of cash after a high-profile investment last year from alcohol giant Constellation Brands Inc., has agreed to buy New York-based Acreage Holdings Inc. for $3.4 billion in a cross-border deal that may usher in a wave of consolidation in the burgeoning cannabis industry.
But for Canopy, there's one major contingency: The deal by the Canadian firm hinges on the U.S. legalizing weed at the federal level, a thorny political issue that is by no means assured.
So far, Canada has been at the center of banking and merger activity in the marijuana business because the drug is federally legal there. But the U.S. market in legal pot is already bigger than Canada's, despite federal prohibition south of the border. That has put pressure on the Canadian companies to find a way into the American market, according to Ken Shea, an analyst at Bloomberg Intelligence.
"They know the U.S. is the biggest prize of all," he said.
Canopy won't have an active say in Acreage's operations until the U.S. legalizes pot at the federal level.
"Our right to acquire Acreage secures our entrance strategy into the United States as soon as a federally permissible pathway exists," Canopy Chief Executive Bruce Linton said in a statement. "By combining Acreage's management team, licenses and assets with Canopy Growth's intellectual property and brands, there will be tremendous value creation for both companies' shareholders."
Canopy would initially pay $300 million in cash to shareholders of Acreage, the companies said in a release Thursday. Shareholders would receive a further 0.5818 of a share of Canopy stock for each of their Acreage shares when cannabis becomes legal in the U.S., representing a 42% premium over Acreage's 30-day average share price.
Acreage, which boasts former U.S. House Speaker John A. Boehner and former Canadian Prime Minister Brian Mulroney as directors, will also have access to Canopy's pot brands such as Tweed and Tokyo Smoke and other intellectual property.
If weed isn't legalized federally in the U.S. in the next 7½ years, the deal can be terminated, according to the statement. That means that Canopy and Acreage are betting that marijuana prohibition will end across the U.S. by 2027.
Acreage went public on the Canadian Securities Exchange in November and is now among the largest U.S.-based pot firms, with a market value of about $2.6 billion. It has cultivation, processing and dispensing licenses or agreements with holders in 19 states and manages a chain of retail stores called the Botanist.
"Having access to Canopy Growth's deep resources will enable us to innovate, develop and distribute quality cannabis brands across the U.S. and continue expanding our U.S. footprint," Acreage CEO Kevin Murphy said in the statement. He added that "a confluence of factors are making it much more difficult for a multistate operator to achieve its full potential," pointing to the difficulties of doing business in a federally illegal market.
Canopy has been looking for an entry point into the U.S. pot market but is restricted by its listings on the Toronto Stock Exchange and the New York Stock Exchange, both of which prohibit trading by companies that are violating U.S. federal law. Canopy is also restricted by its high-profile investment from Constellation Brands, the Victor, N.Y.-based alcohol giant that makes Corona beer.
Canopy said Thursday it and Constellation will extend the terms of certain warrants and other rights as part of the arrangement. If completed, the Acreage deal would dilute Constellation's roughly 37% ownership stake, but the alcohol giant can now buy Canopy shares on the open market, giving it a path to take majority control if it wants, according to a Constellation spokesman.
Constellation believes legalization is only a matter of time. "We think it's inevitable, but you can't predict the timing," spokesman Michael McGrew said.
Constellation, which also owns Modelo beer and several wine and spirits labels, set off a flurry of financial activity in the burgeoning cannabis industry when it announced in August that it had invested $4 billion in Canopy.
Owram and Giammona write for Bloomberg.
---
Must-read stories from the L.A. Times
Get the day's top news with our Today's Headlines newsletter, sent every weekday morning.
You may occasionally receive promotional content from the Los Angeles Times.