After years of alleged wage theft, a Culver City carwash is ordered to pay $2.4 million
In the largest wage-theft case ever brought by the state of California against a carwash company, Beverly Hills auto dealership mogul Hooman Nissani has been ordered to pay $2.4 million in back wages and penalties. The state says his carwash cheated 64 workers out of minimum wages and overtime over three years.
According to the California labor commissioner, workers at Nissani's Playa Vista Car Wash in Culver City were paid less than the legal minimum wage in some cases. They were denied overtime pay despite working up to 10 hours a day and as many as seven days a week, and time cards were falsified, according to the case, which was announced Wednesday.
For the record:
11:15 a.m. April 17, 2019An earlier version of this article misspelled Rayan Nissani's first name as Ryan.
Nissani and the carwash's general manager, Keyvan Shamshoni, required Playa Vista Car Wash workers to report to an alley near the carwash 30 minutes before the business opened, according to the labor commissioner's citation. It said those not selected to work were sent home without being paid for the waiting time.
Nissani and Shamshoni are jointly liable, along with the carwash company, to pay more than $1.8 million in back wages and $516,000 in civil penalties, according to the labor commissioner. Investigators also ordered them to pay back $19,000 that was deducted from workers' paychecks for towels used at the carwash.
"Individuals acting on behalf of an employer to steal workers' wages cannot hide behind corporate entities to avoid personal liability, all the while profiting at the expense of honest businesses that play by the rules," California Labor Secretary Julie Su said in a statement Wednesday.
Nissani and Shamshoni did not respond to messages left at the carwash and on personal phones. Rayan Nissani, Hooman's brother and business partner, said in a brief phone interview: "My brother is the most honest man I know."
During the time he is accused of cheating workers out of wages, Hooman Nissani described his businesses as flourishing.
In 2016, Hooman Automotive Group, a Nissani company, bought a 9.2-acre site in Playa Vista near Google's offices to build a massive auto mall for Chrysler, Hyundai, Nissan and Acura dealerships he owns. It paid $73 million for the site, according to real estate data provider CoStar.
On a personal website chronicling his career, Nissani wrote, "In 2016 our businesses generated sales of more than one billion dollars." He cited the Playa Vista Car Wash, noting, "It currently is performing far beyond what it had under the previous ownership, but beyond my expectations as well."
Carwashes are among the most flagrant violators of wage laws, according to the labor commissioner's office, along with construction firms, farms, restaurants, residential care homes and janitorial businesses — all sectors with heavily immigrant workforces.
"There is often a language barrier," said Daniel Yu, assistant chief of the commissioner's enforcement bureau. "The workers fear losing their jobs if they file complaints. Bosses commonly threaten immigration retaliation if they don't have [legal] status. But California laws protect all workers regardless of immigration status."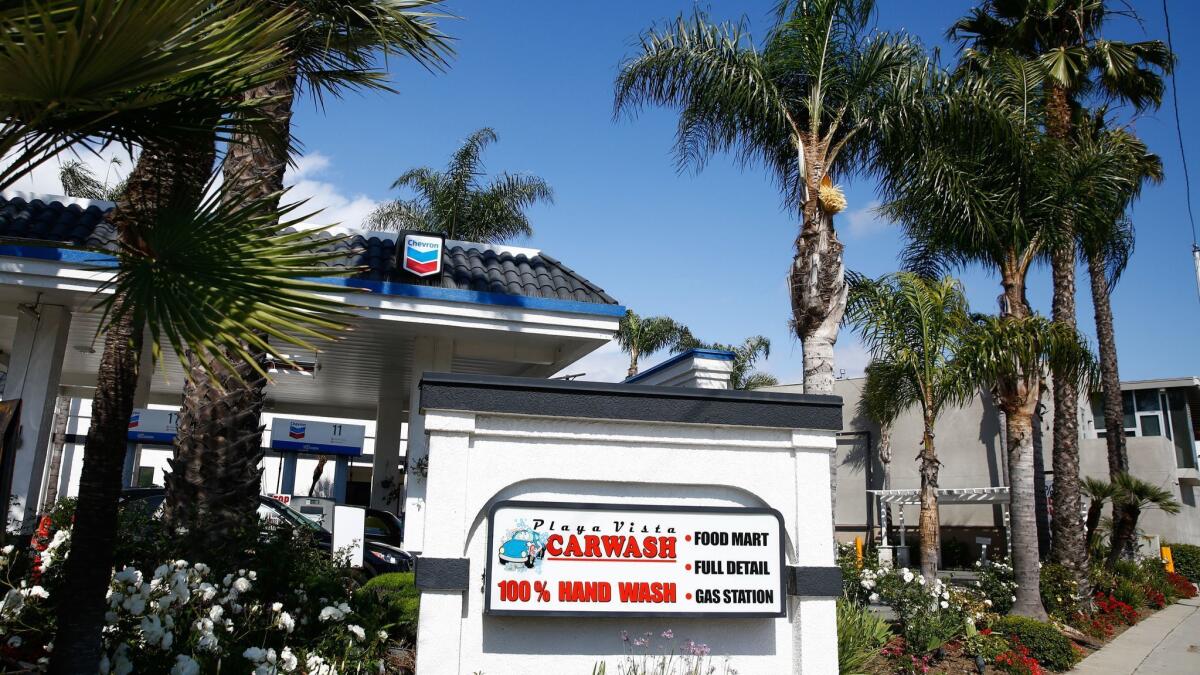 The Playa Vista case comes in the wake of judgments by the labor commissioner against two large carwash businesses in Orange County last month.
The Car Spa in Newport Beach and owner Colin Berger were ordered to pay fines and back wages totaling $1.1 million after they were accused of cheating 23 workers out of minimum wages, overtime, meal and rest breaks over three years.
"We have definitely appealed the citation and are waiting for a hearing," Berger said in an email. "We deny that we cheated anyone."
Commonwealth Car Wash in Fullerton and owner Rola Alquza were ordered to pay fines and back wages totaling $1.5 million after being accused of denying their workers minimum wages, overtime and meal breaks. Alquza did not respond to messages left at his carwash, but the labor commissioner said Alquza has appealed.
Carwash owners also have been pursued by federal authorities. Last year, Vahid David Delrahim, owner of some 100 carwashes and gas stations across Southern California, paid $4.2 million in a wage-theft case involving 800 workers after a two-year court battle with the U.S. Labor Department.
The Playa Vista case was brought to the labor commissioner's attention by the Community Labor Environmental Action Network, or Clean, a small Los Angeles nonprofit that assists carwash workers. Clean introduced the Spanish-speaking workers to investigators and helped them air their grievances.
"Workers are often afraid to talk to government agencies," Yu said. "Community groups can reach out and build trust."
Cases such as the Playa Vista Car Wash one are "not uncommon," said Andrea Gonzalez, Clean's lead organizer. "Employers cheat workers out of their pay in many ways, whether by paying them low daily rates or paying them by piece rates. In some cases, they are only paid through customer tips. We are holding them accountable."
Times staff writer Roger Vincent contributed to this report.
Twitter: @margotroosevelt