Navy plan for carrier-based drones takes flak from lawmakers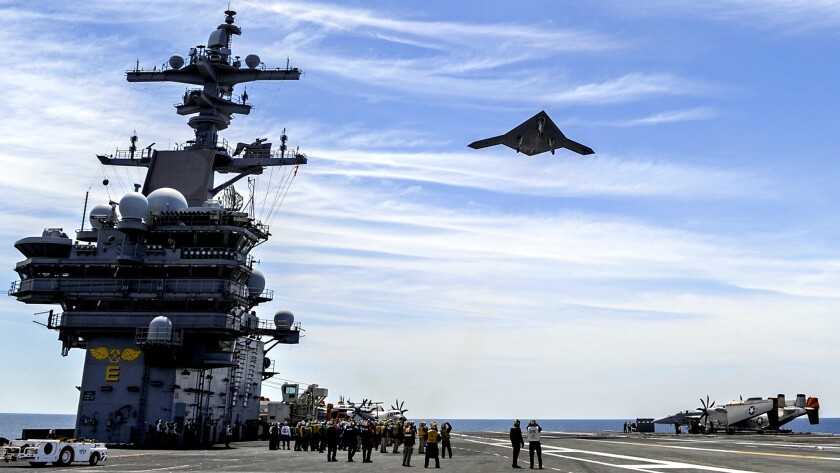 An X-47B Unmanned Combat Air System (UCAS) demonstrator flies over the aircraft carrier George H.W. Bush (CVN 77). George H.W. Bush is the first aircraft carrier to successfully catapult launch an unmanned aircraft from its flight deck.
(Alan Radecki / U.S. Navy)
Sailors move an X-47B Unmanned Combat Air System (UCAS) demonstrator onto an aircraft elevator aboard the aircraft carrier George H.W. Bush (CVN 77). George H.W. Bush is scheduled to be the first aircraft carrier to catapult launch an unmanned aircraft from its flight deck.
(U.S. Navy)
The UCAS-D team moved the X-47B UCAS by elevator from the hangar bay to the flight deck as part of demonstrating the aircraft's compatibility with normal carrier operations.
(Northrop Grumman)
The deck handling trials of the X-47B aboard the Harry S. Truman (CVN-75) in December 2012 gave Navy sailors their first look at how unmanned systems can be integrated with carrier operations.
(Northrop Grumman)
The Boeing Phantom Ray drone sits on the runway in April 2011 at Edwards Air Force Base on the day of its first flight.
(Tony Landis / Boeing)
General Atomics Avenger in mid-flight.
(Chad Slattery / General Atomics)
The Lockheed Martin Unmanned Carrier Launched Airborne Surveillance and Strike (UCLASS) air vehicle concept integrates technologies from F-35C, RQ-170 Sentinel and other operational systems to provide intelligence, surveillance and reconnaissance mission capability.
(Lockheed Martin)
A U.S. Navy plan for aircraft carrier-based drones has launched a dogfight in Washington over the role of the robotic planes in combat.
The Navy has asked contractors for reconnaissance drones — essentially spy planes, with only limited ability to carry out bombing missions behind enemy lines.
But key congressional leaders want cutting-edge warplanes, stealthy drones that can attack key targets in contested areas with little more than a mouse click. If they get their way, the program, which would produce the military's first carrier-based drones, could end aviation as the Navy has known it, observers say.
------------
FOR THE RECORD:
This article lists South Korea as a potential adversary of the United States. It should have said North Korea.
------------
"It could usher in a new era in which major strike missions are turned over to a machine. That will be difficult for many carrier aviators to swallow," said Samuel D. Brannen, senior fellow at the Center for Strategic and International Studies and a former Pentagon strategist.
The Navy's plans to deploy the drones within the next decade came to an abrupt halt this month when key members of Congress said the program is shortsighted. Lawmakers halted all funding until the secretary of Defense can complete a top-to-bottom review.
Four of the nation's largest military weapons makers are waiting to see how the skirmish plays out: Northrop Grumman Corp., Boeing Co., Lockheed Martin Corp. and General Atomics Aeronautical Systems Inc. Much of these companies' drone operations are based in Southern California, and they would welcome the work at a time when defense spending on weapons is expected to shrink.
The controversy heated up when the Navy first sent classified proposals for the drone program to four contractors. The industry was expecting a bold plan to build radar-evading aircraft capable of challenging bombing missions. But it was apparently not what they received.
Upon seeing the Navy's conservative request for spy planes, leaders on the House Armed Services Committee questioned whether the Navy is being too restrictive.
"I feel very strongly that we can't make a mistake on this program," said Rep. J. Randy Forbes (R-Va.), chairman of a subcommittee that oversees Navy programs. "It's going to be critical for decades to come."
He believes Navy brass is hesitant to turn over strategic bombing missions in contested areas of the world — now carried out by seasoned fighter pilots — to drones.
Forbes said the Navy needs a next-generation drone that will overwhelm potential adversaries — such as China, South Korea and Russia — that have made multibillion-dollar investments in advanced missiles and radar detection.
Now, Defense Secretary Chuck Hagel must assess the requirements before funding of the drone program resumes. Under a provision tucked into the annual defense policy bill, Hagel will either sign off on the current plans or force the Navy to move closer to the stealthy, long-range strike drone that many in Congress desire. It's a debate that has raged in Washington since the advent of drone technology: How much responsibility will be taken from pilots and given to machines?
"There's a cultural issue there," Forbes said. "We've had to have these arguments with the Pentagon before."
He recalled having to push the Air Force to buy remotely piloted Predator drones in the 1990s. The Air Force was at first reluctant, but the program was fueled by pressure from local lawmakers, such as Rep. Howard P. "Buck" McKeon (R-Santa Clarita) and now retired Rep. Jerry Lewis (R-Redlands).
The technology is now a centerpiece in the Obama administration's national security strategy.
Although drones have been a major part of Air Force operations for more than a decade, the Navy has yet to experience such a robotic revolution.
Navy spokesman Joe Gradisher said drone aircraft, which probably would be controlled remotely from the carriers, would eventually perform many missions currently performed by manned aircraft, including bombing missions. But drones will have a secondary role.
"Unmanned enhances manned strike aircraft," he said, "but doesn't replace them as the primary strike force as part of the carrier air wing."
The dispute over carrier drones can be traced to an industry demonstration last year of a drone performing crucial maneuvers with pilot-like precision.
The X-47B, a stealthy bat-winged drone built by Northrop Grumman, was catapulted off an aircraft carrier's flight deck and soared above the Atlantic before returning for a landing. The historic feat was compared to the Navy's first catapult of a manned aircraft, which occurred in 1915.
"It isn't very often you get a glimpse of the future," Navy Secretary Ray Mabus said at the time. "The operational unmanned aircraft soon to be developed have the opportunity to radically change the way presence and combat power are delivered from our aircraft carriers."
Now, there are questions about whether the Navy is going to deliver on that promise.
The cost of the program, known as Unmanned Carrier Launched Airborne Surveillance and Strike, is estimated at as much as $5.9 billion through 2020, according to the Government Accountability Office.
Plans for the Navy's drone program come as Congress and the Pentagon are coping with budget uncertainty and expensive weapons systems already in the works.
The Navy has spent more than a decade preparing for its latest generation of manned warplane: the controversial F-35 Joint Strike Fighter. The radar-evading jet, built by Lockheed, is scheduled to be a fixture on carrier decks when it becomes operational in 2019.
It's only about halfway through its development plan and plagued by billions of dollars in cost overruns. There has also been a string of technical problems, including a redesign of its arresting hook, which is essential to landing on a carrier deck.
A deep-penetrating stealthy drone that could fly farther and longer could be seen as a potential challenger to the nearly $400-billion F-35 program. And the program has sweeping congressional support because it provides 127,000 direct and indirect jobs in 47 states and Puerto Rico.
"This could turn into a political food fight," said Robert C. Martinage, formerly acting undersecretary of the Navy and now at the Center for Strategic and Budgetary Assessments. "Drones have disrupted the military's usual way of doing things. And there's a lot of pressure to get this program right."
Twitter: @wjhenn
---
Your guide to our new economic reality.
Get our free business newsletter for insights and tips for getting by.
You may occasionally receive promotional content from the Los Angeles Times.