Judge fines CashCall $10.3 million, a fraction of what was sought by CFPB for lending law violations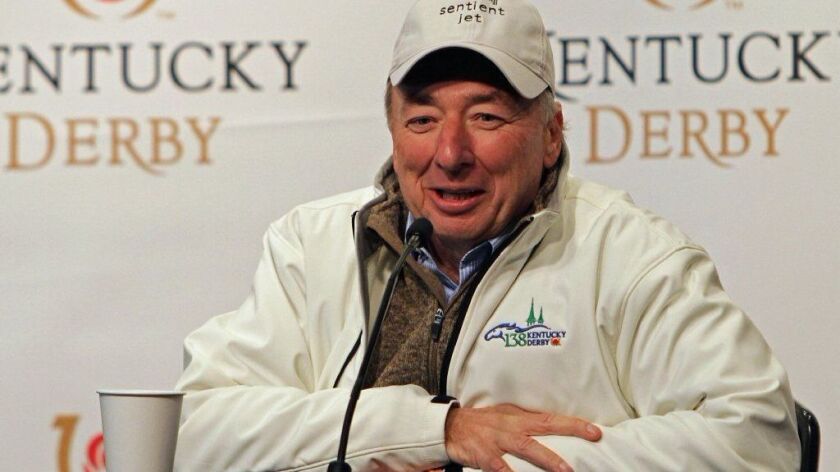 A federal judge in Los Angeles has ordered Orange County lender CashCall and its owner, J. Paul Reddam, to pay $10.3 million for violating consumer protection laws — a fraction of the $287 million in penalties and restitution sought by a federal regulator.
District Judge John Walter in 2016 ruled that CashCall was guilty of unfair, deceptive and abusive acts for making personal loans at interest rates — often topping 100% — that were far higher than allowed in numerous states. That was a victory for the federal Consumer Financial Protection Bureau, which had sued CashCall in 2013.
For the record:
11:50 a.m. Jan. 24, 2018A previous version of this story named CashCall Mortgage as the company guilty of violating consumer protection laws. The actual company is personal lender CashCall, owned by J. Paul Reddam. CashCall Mortgage is a separate entity owned by Irvine firm Impac Mortgage Holdings Inc.
But Walter late last week issued a judgment saying that the CFPB's proposed penalties were too high because the lender did not violate consumer protection laws recklessly or dupe consumers.
Thomas Nolan, an attorney for CashCall, said the company was "gratified" by the order, though he said his client may still decide to appeal the case.
A CFPB spokesman declined to comment, saying the case is still active and the bureau does not comment on pending litigation.
Ed Mierzwinski, consumer program director at the U.S. Public Interest Research Group, called Walter's judgment a bad decision that sought to rationalize abusive behavior.
"The judge is saying that people knew they were being ripped off and decided it was OK to be ripped off," Mierzwinski said. "These high-interest loans are designed to be debt traps. People may have thought they got what they wanted, but they had no idea what they were ending up with."
The key issue in the case was CashCall's relationship with another company, Western Sky Financial, based on the Cheyenne River Sioux Tribe's reservation in South Dakota.
Lenders affiliated with tribes or based on tribal land have argued they are not subject to state laws, including ones that limit the amount of interest lenders can charge.
CashCall issued its loans through Western Sky, thinking the company's location and tribal affiliation would allow it to skirt state usury laws. But the CFPB argued, and Walter agreed, that the relationship was a sham.
Walter ruled in August 2016 that while Western Sky played a role in the business, CashCall was the "true lender" and the loans were therefore subject to state lending laws.
"CashCall, and not Western Sky, placed its money at risk," Walter wrote in the 2016 ruling. "CashCall, and not Western Sky, had the predominant interest in the loans."
The CFPB wanted CashCall to pay $235.6 million in restitution — the total amount of interest and fees paid on the illegal loans — plus a $51.6-million penalty. But Walter said that restitution was not warranted and that the requested penalty was too high.
Walter said restitution is appropriate in cases in which customers are duped by a "snake oil salesman" and might have changed their behavior if they had known the truth. But Walter ruled that's not what happened.
The CFPB, he said, did not show that CashCall or Western Sky made false promises about the loans themselves and did not prove that customers cared which firm was originating them.
"The CFPB did not present testimony from a single consumer that suggests that a borrower would not have entered into a loan transaction if they had known that CashCall — not Western Sky — was the true lender," he wrote.
As for the penalty, the CFPB argued that CashCall knowingly, or at least recklessly, broke consumer protection laws. But Walter ruled that "there was no evidence they decided to create and implement an unlawful scheme to defraud consumers" and reduced the penalty to $10.3 million.
Mierzwinski said he believes it was clear all along that CashCall either knew its tribal dealings were a sham or were immensely risky.
"They knew they were rolling the dice," he said. "They knew the artifice would collapse of its own accord, but they hoped it would make enough money before it collapsed and that they could wriggle their way out of it in court."
Mierzwinski added that the ruling was especially disappointing because he believes the CFPB is unlikely to appeal now that it is being run by White House budget chief Mick Mulvaney. He replaced Democrat Richard Cordray, who had led the bureau since 2012 and had been criticized by Republicans and the financial services industry, accusing the agency of being overly aggressive.
"There's no question this CFPB, unfortunately, may not pursue the case further," Mierzwinski said.
CashCall was founded in 2003 by Reddam, a former Cal State L.A. philosophy professor, four years after he sold online mortgage lender DiTech. He also owns thoroughbreds and has twice won the Kentucky Derby.
Follow me: @jrkoren
---
Your guide to our clean energy future
Get our Boiling Point newsletter for the latest on the power sector, water wars and more — and what they mean for California.
You may occasionally receive promotional content from the Los Angeles Times.