Condos for Those Who Live to Shop?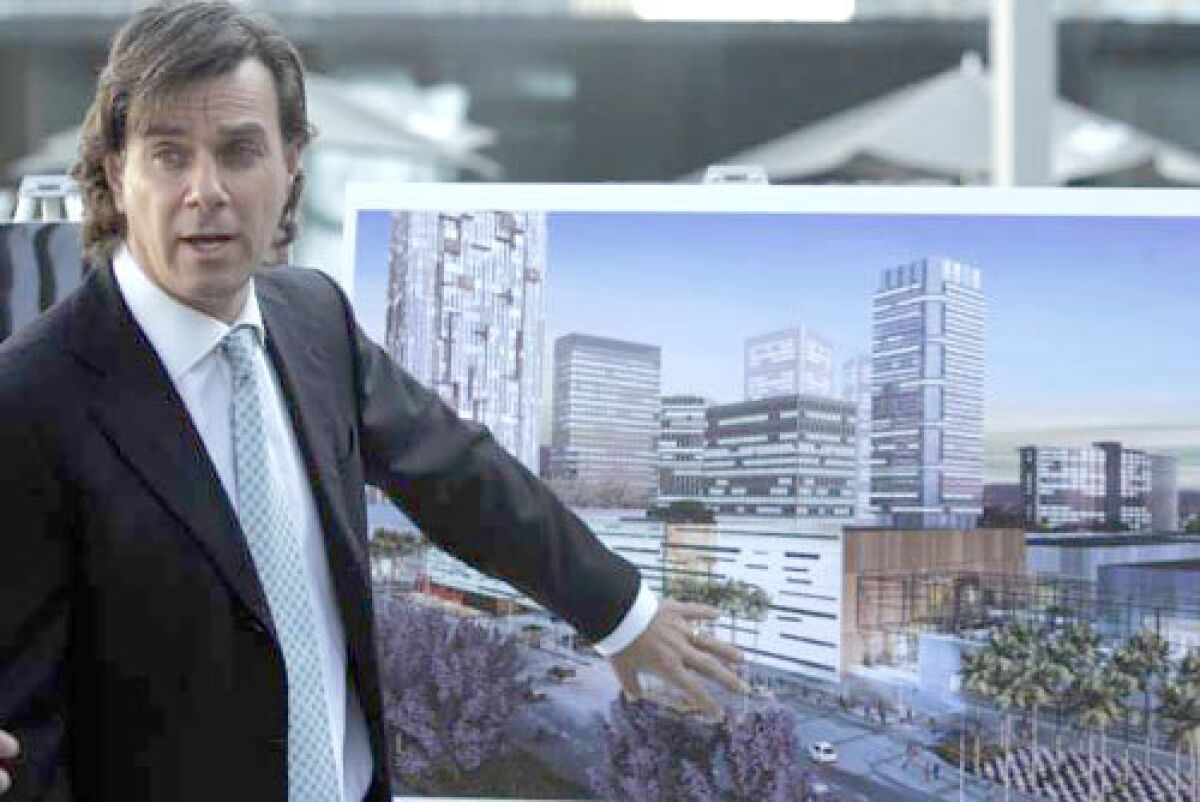 Times Staff Writer
It seems like some people live at the mall. Now, they can.
Shopping center owner Westfield Group announced plans Tuesday to add 260 luxury condominiums at its Century City mall by razing two office buildings to create more space for the condos and new stores.
The $500-million project reflects a trend in which malls are being transformed into self-contained villages. From California to Massachusetts, the largest mall operators are looking for ways to stack housing within their shopping centers.
In Southern California, where housing sites are more scarce than a bargain home, the trend is taking off. Projects have been built in or are planned for Pasadena, Glendale and Playa Vista.
Public officials and planners often support such dense development because it creates urban communities with shopping, housing and entertainment that are alternatives to conventional suburban neighborhoods. Many nearby homeowners fear that the bigger malls would cause traffic congestion and diminish their quality of life.
But Peter Lowy, head of U.S. operations for Westfield, argued Tuesday that by eliminating office space, the Sydney, Australia-based company would reduce the number of car trips people take in and out of workplaces in Century City. Trips created by the housing and shopping would be less likely to take place at peak commuting hours, he said.
Westfield, the largest shopping center owner in California, bought the 42-year-old Century City property in 2002 when it was "a dated outdoor mall," by Lowy's reckoning. The company has completed much of a $150-million makeover that includes new theaters, a new restaurant area and additional stores.
The latest proposal calls for dismantling Gateway West, a 14-story tower completed in 1963 that was one of the first office buildings in Century City. The tower is at the southwest corner of Avenue of the Stars and Santa Monica Boulevard.
It would be replaced with three stories of shops and a 42-story tower that would include three floors of office space and 260 condominiums. Prices for the units wouldn't be set until their projected completion in 2010 or 2011. Current prices for some condos in Century City top $2 million. It will take Westfield at least a year to get the development approved by the city.
A new three-level collection of stores would be created south along Santa Monica Boulevard and elsewhere in the mall, adding 360,000 square feet of shops and increasing the retail space by more than one-third.
Westfield plans to knock down the five-story office building at the northeast corner of Century Park West and Constellation Boulevard built in 1966 and replace it with a five-story parking structure. The project would add a combined 1,760 parking spaces.
"You're re-creating, in effect, a town center," said John McIlwain, a senior fellow at the Urban Land Institute, a land-use think tank in Washington. "I think it's a smart thing to do for the community. L.A. needs as much housing as it can find in appropriate places."
Planners are focusing less on living and working at the same site and more on offering services and entertainment to residents after they come home and park their cars, McIlwain said.
"People change their jobs more than they do their houses now," he said.
Los Angeles City Councilman Jack Weiss, whose district includes Century City, said the project would improve the neighborhood's appeal as a Westside destination and add life to the "sterile" office district that mostly empties out after dark.
"When someone wants to invest a half a billion dollars in the neighborhood, it's a rising tide that lifts everyone," Weiss said.
Shopping center developer Rick Caruso said he wished he had included housing when he built the Grove a few miles away in 2002. Instead, an apartment developer across the street cashed in on the Grove's popularity. Caruso says he plans to include residences in his projects whenever he can.
"It's all driven by demand from consumers," including young professionals and adults whose children have left the nest, Caruso said. "The No. 1 request we get from people at the Grove is whether they can live there."
Caruso intends to build luxury housing in his malls in Glendale, Playa Vista and Albany, Calif. He dropped plans for housing at his planned project in Arcadia after opponents including Westfield said the new residents would strain local schools.
Housing with malls probably wouldn't work in a suburban setting, Caruso said, but Century City would be an attractive place to live. "If Westfield builds a good product, I think they will do well," he said.
Nearby homeowner Stacy Antler is apprehensive, however, about the potential effect of development at the shopping center and other sites in Century City. Two other condominium projects including more than 600 units are in planning stages.
"We are heading toward the status of Manhattan, where everything is completely gridlocked and no one can get in and out anywhere," said Antler, a longtime resident of Cheviot Hills. "How is this manageable? Are they going to give everybody a jet pack?"
Westfield's plan is an example of how traditional malls can prosper and stave off the demise predicted for them because of the mini-mall, department store closures and the rise of outdoor centers like the Grove, said Patrice Duker, a spokeswoman for the International Council of Shopping Centers. "It shows the regional mall is not an antiquated model," she said.
---
Sign up for the California Politics newsletter to get exclusive analysis from our reporters.
You may occasionally receive promotional content from the Los Angeles Times.