Trump's Wells Fargo tweet cited in court hearing as reason to remove Mulvaney as CFPB acting chief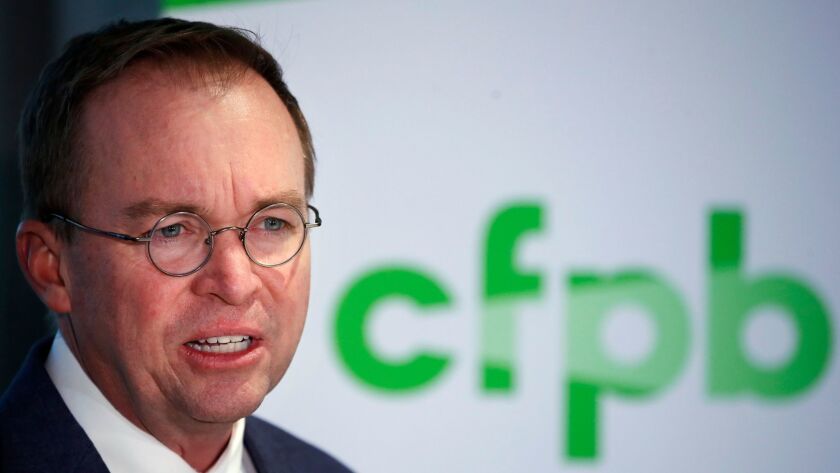 Reporting from Washington —
A recent tweet by President Trump about possible penalties against Wells Fargo & Co. was cited during a court hearing Friday as a reason for removing White House official Mick Mulvaney as acting director of the Consumer Financial Protection Bureau.
The attorney for Leandra English — the bureau's deputy director who has said she is the rightful acting head — said Trump's tweet showed he was trying to exercise improper influence over the independent consumer watchdog.
"I think that [tweet] shows you this isn't just some hypothetical concern," the attorney, Deepak Gupta, told Judge Timothy J. Kelly of the U.S. District Court for the District of Columbia during a nearly two-hour hearing.
In the tweet, Trump appeared to deny a Reuters report that Mulvaney was reviewing whether Wells Fargo should pay tens of millions of dollars in penalties for charging fees to certain homebuyers to secure low mortgage rates.
English is seeking a preliminary injunction to remove Mulvaney and install her as acting director. Last month, Kelly denied a request by English for a temporary restraining order to do just that.
The restraining order decision could not be appealed, so Gupta filed for the injunction, which could be appealed to the U.S. Court of Appeals for the D.C. Circuit if not granted.
On Friday, Kelly listened to arguments from Gupta and Chad A. Readler, an acting assistant attorney general who represented Trump and Mulvaney in the case. Kelly did not indicate when he would rule.
Trump's choice last month of Mulvaney, the White House budget director and an outspoken opponent of the bureau in the past, drew protests from Democrats and consumer advocates.
The dispute began Nov. 24 when Richard Cordray, a Democrat, stepped down as bureau director. He promoted English, his chief of staff, to deputy director and said she would be the acting director under a provision of the 2010 Dodd-Frank Wall Street Reform and Consumer Protection Act that created the bureau.
Within hours of Cordray's resignation announcement, Trump appointed Mulvaney to fill the post under the Federal Vacancies Act of 1998. The administration said that law allowed Trump to appoint an official who already had been confirmed by the Senate in another capacity to also serve as the bureau's acting director.
Mulvaney, director of the White House Office of Management and Budget, has moved quickly to put his stamp on the bureau, which writes rules and enforces consumer protections against banks and other financial institutions.
On Thursday, the bureau announced it was delaying the effective date of new rules on prepaid debit cards that were set to go into effect in April and expected to make changes to the regulations early next year. The rules make fees clearer, limit fraud losses and place restrictions on card issuers when they extend credit to users.
And on Wednesday, the bureau said it planned to reconsider some of the rules in place since 2015 covering mortgage disclosures.
Gupta argued Friday that English was suffering irreparable harm by not being acting director and that harm also extended to Americans because Mulvaney is taking a different approach to consumer protection than she would have.
"You cannot unscramble the egg of having the wrong person running the Consumer Financial Protection Bureau," Gupta told Kelly. "This is not a garden-variety employment case."
Gupta said that Congress established the succession provision in Dodd-Frank to ensure that the bureau would not be subject to presidential influence. Mulvaney should be removed as acting director because he also serves in the White House at the pleasure of the president, Gupta said.
To make his case that Trump might try to use his influence on the bureau, Gupta cited a Dec. 8 tweet about Wells Fargo.
The tweet appears to refer to a possible enforcement action related to an announcement Wells Fargo made in October that it would refund "rate-lock extension" fees to some mortgage borrowers whose delays in completing mortgage applications were primarily the bank's fault. The fees in question were charged from Sept. 16, 2013, through Feb. 28, 2017.
The fees are supposed to be charged only when borrowers fail to finish their paperwork on time and want to retain the interest rate that initially was quoted for the loan.
Wells Fargo spokesman Tom Goyda declined to comment. Spokespeople for Trump and Mulvaney did not respond to email requests for comment.
Readler, the Justice Department attorney, did not address the tweet during the hearing. Afterward, Gupta reiterated that the tweet illustrated the stakes in the case.
"At the very moment that they are saying that there's no threat to the agency's independence, the president is tweeting about a particular enforcement matter involving a particular bank and that demonstrates better than anything else that the threat to independence here is not just hypothetical but real," Gupta told reporters.
Twitter: @JimPuzzanghera
---
UPDATES:
12:05 p.m.: This article was updated to note that a Wells Fargo spokesman had no comment.
11:25 a.m.: This article was updated with details about recent actions by the Consumer Financial Protection Bureau.
This article originally was published at 10:50 a.m.
---
For reporting and exclusive analysis from bureau chief John Myers, get our California Politics newsletter.
You may occasionally receive promotional content from the Los Angeles Times.