Mick Mulvaney gives big pay raises to his hires at Consumer Financial Protection Bureau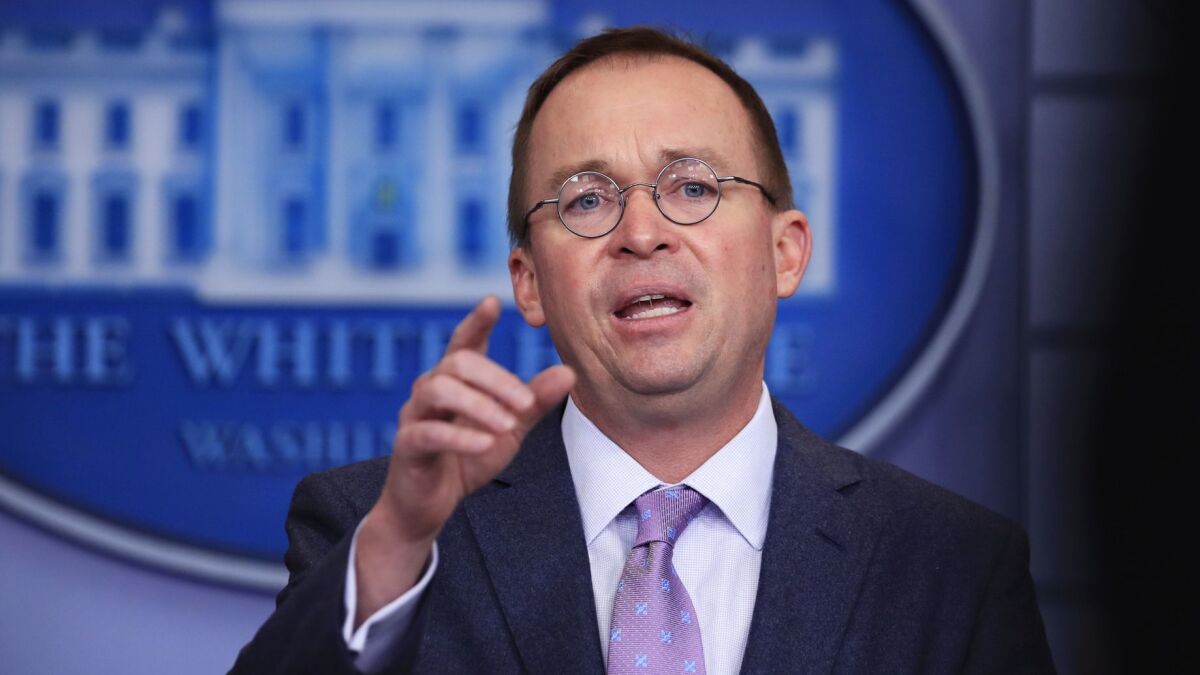 Mick Mulvaney, President Trump's appointee to oversee the Consumer Financial Protection Bureau, has given big pay raises to the deputies he has hired to help him run the agency, according to salary records.
Mulvaney has hired at least eight political appointees since he took over the bureau in late November. Four of them are making $259,500 a year, and one is making $239,595. That is more than the salaries of members of Congress, Cabinet secretaries and nearly all federal judges apart from those who sit on the Supreme Court.
The salary records came as part of a records request submitted by the Associated Press this year.
While most of the federal government follows a universal pay scale, some government agencies and departments have gotten waivers to use their own separate pay scales. One of those agencies is the Federal Reserve, the nation's central bank. Since the CFPB is technically part of the Federal Reserve, its employees get paid at a higher scale than their general government counterparts.
The top salary under the general federal government pay scale is $134,776, not including adjustments for the higher cost of living in areas such as New York City or Washington, D.C., according to the Office of Personnel Management. The top pay bracket for a Federal Reserve employee is $250,000.
Mulvaney, as Trump's budget director, has long railed against government spending. One of his first directives as acting CFPB director was to announce he needed zero dollars in funding to run the agency, pledging to spend down the bureau's surplus fund this quarter before requiring more money from the Fed. (The CFPB is funded by the Fed and not through the traditional congressional budget process.)
In his Jan. 17 letter to the Fed, Mulvaney said he was asking for zero dollars because of the need to be "responsible stewards of taxpayer dollars." But that tight-fisted approach apparently was not used with his staff's salaries.
Kirsten Mork, Mulvaney's chief of staff, got a significant bump in pay for going to work at the CFPB. She made $167,300 in her job working for Rep. Jeb Hensarling on the House Financial Services Committee, according to LegiStorm, a website that tracks congressional salary data. She now makes $259,500 as chief of staff of the CFPB, according to bureau records.
Mork is making more than her predecessor, Leandra English, made while in that position under Obama administration CFPB Director Richard Cordray. English's starting salary in her role as chief of staff under Cordray was $212,324, according to the office of Sen. Ron Johnson of Wisconsin. The New York Times obtained English's salary as chief of staff earlier Thursday.
Another former congressional staffer, Brian Johnson, who also worked for the House Financial Services Committee, made $164,600 in his role there before going to the CFPB, according to LegiStorm. He now makes $239,595 as a "senior advisor" to Mulvaney.
Eric Blankenstein, who oversees supervision, enforcement and fair lending for the bureau, previously was a lawyer for the Office of the U.S. Trade Representative making $153,730, according to federal salary data website FedSmith. He now makes $259,500, according to bureau records. Another Mulvaney appointee, Sheila Greenwood, who used to work in the Department of Housing and Urban Development making $179,700 a year, now makes $259,500.
Anthony Welcher, who worked outside government before becoming a director of external affairs for the bureau, is also making $259,500 a year.
In a statement, a CFPB representative blamed Cordray for the elevated salaries that Mulvaney's appointees are making, saying "non-career staff are being paid on par with the career staff who directly report to them."
The representative also said it is up to Congress to change the bureau's structure and compensation practices.
The Consumer Financial Protection Bureau was created in the wake of the 2008 financial crisis to consolidate financial consumer protection authority that was spread over several banking agencies. Regulators that existed at the time were criticized for making consumer protection concerns, such as subprime mortgages, a lower priority than the profitability of banks and other financial firms they oversaw.
Since opening in 2011, the bureau has provided consumers about $12 billion in refunds and debt relief from financial institutions. It also played a key role in penalizing Wells Fargo & Co. after the bank created of millions of accounts in customers' names without those customers' consent.
Mulvaney, who as a lawmaker called the bureau a "joke ... in a sad, sick kind of way," has been working to remake the agency as its acting director. He has halted some enforcement efforts, changed the bureau's mission statement to emphasize the need to address "outdated, unnecessary or unduly burdensome regulations" and launched a review of its entire operation.
This week, he formally called on Congress to sharply reduce the agency's authority. He suggested that any major new rules the bureau makes should be subject to lawmakers' approval. Another of his proposals was a long-sought Republican goal of ending the bureau's independent funding.
Times staff writer Jim Puzzanghera contributed to this report.
---
Sign up for the California Politics newsletter to get exclusive analysis from our reporters.
You may occasionally receive promotional content from the Los Angeles Times.