California farmers, winemakers kick dirt over Chinese tariffs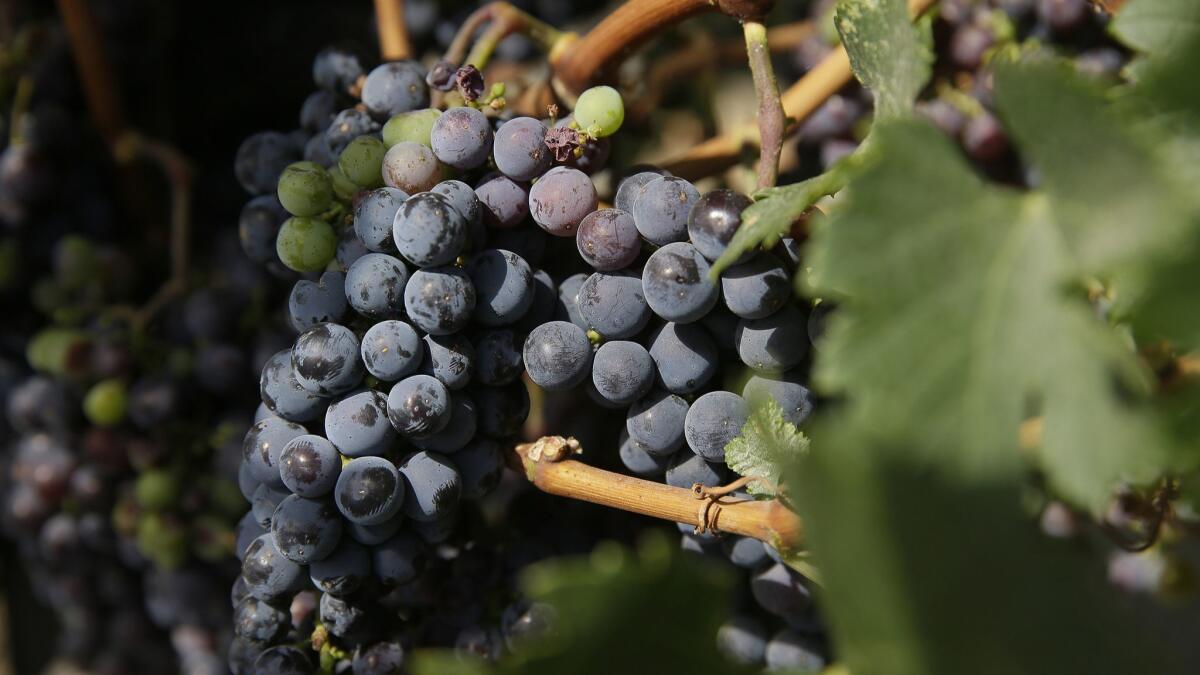 California's vintners and growers fumed Friday at the growing prospect that wine, nuts, fruit and other Golden State exports would become collateral damage in a trade battle between President Trump and China.
The $47-billion industry, which largely backed Trump, has been buffeted repeatedly as the Trump administration has halted or reopened trade talks and proposed punitive tariffs aimed at protecting American jobs.
This time, an executive order imposing tariffs on $50 billion in Chinese imports prompted China to target 128 U.S. products for steeper trade barriers, including many crops and animal products.
China's first action would take aim at $3 billion in U.S. exports by imposing a 15% tariff on products including fresh fruit, dried fruit and nut products, and wine, according to a Chinese Commerce Ministry statement. A second phase of 25% tariffs targets $1.9 billion in U.S. exports including pork — a blow to Midwestern and Plains states.
Soy, by far the biggest agricultural export to China, was left off the list.
The targets and omissions follow a common playbook in trade wars, which aim to create political troubles for adversaries. Food is a favorite quarry because it carries disproportionate political capital — few people riot over the price of tech gadgets, but they've been known to overthrow governments over a food shortage or price spike.
China has to avoid blowback on its own constituencies. It desperately needs foreign soy, which it imports from the U.S. Midwest and Brazil, and animal feed such as hay, an export that earned more than $100 million for California growers in 2016, according to the state Department of Food and Agriculture.
Placing barriers on luxury items such as nuts and wine, however, punishes a much smaller political group while strategically striking political constituencies in the U.S.
California's nut industry — almonds, walnuts and pistachios — sold $1.1 billion in 2016 to China, its third-largest foreign customer, according to the state Department of Food and Agriculture. China also bought more than $220 million in fresh citrus and table grapes from California that year, according to the department's data.
The California wine industry, which has made big inroads to the Chinese market, sold about $197 million of its product there last year, according to the Wine Institute, a California advocacy organization. U.S. wine exports to China and Hong Kong (which often re-exports to the mainland) have more than quadrupled in the last decade and rose 10% last year, according to the institute.
Each of those California sectors stands to lose momentum in a worldwide competition for a share of the rapidly expanding Chinese consumer market.
Where California wine loses, Chilean and Australian vineyards could gain. The Southern Hemisphere also could capture more of the seasonal market share for fresh fruit, while European and Middle Eastern almond and pistachio suppliers, including Iran, could advance against the massive groves of the Central Valley.
Despite growers' strong political affinity for Trump, agricultural workers mostly reside in decidedly blue urban islands such as Fresno, which skewed toward Hillary Clinton in 2016, election data show. Wine country strongly backed Clinton, as did Stockton, the urban center of San Joaquin County, which grows far more wine grapes than Napa and Sonoma.
Wine seems to be a purely symbolic, and all too frequent, target in trade disputes, said Charles Jefferson, vice president of federal and international policy for the Wine Institute.
"Wine is a high-profile and high value-added product," Jefferson said. "Because of that higher profile we tend to rise to the top of these lists. But we don't see the value of dragging a product like this into disputes over other issues."
For all their angst, growers cautioned that Trump and agricultural markets are notoriously unpredictable.
"There's still a month yet before any tariff would take effect, so there's going to be a lot of political posturing," said Richard Matoian, executive director of American Pistachio Growers, which represents more than 800 California growers. "From what we've seen, the Trump administration can be very unpredictable."
Factors other than trade barriers can drive foreign agricultural markets, he cautioned. For example, a drop in the yield of California's pistachios during 2014-2015 allowed Iran to seize more of the Chinese market. Rising yields in 2016 benefited U.S. growers, Matoian said.
And what should have been a victory for U.S. pistachios when India lowered its tariffs turned out to be a win for closer suppliers — Iran and Afghanistan.
"Price and availability have as much to do with where China buys its pistachios," Matoian said.
China's array of targets, for all its breadth, remains largely undefined, said Dave Kranz, spokesman for the California Farm Bureau Federation.
"It's still a vague list," Kranz said. "Fruit? What does that mean? I haven't seen any specifics on what fruit and nuts would be on that list."
In the coming weeks, Kranz said, politics will matter more than economics.
"The Farm Bureau will be looking to members of Congress to ask them what they can do to de-escalate this and to find new export opportunities," Kranz said.
Follow me: @LATgeoffmohan