Chinese investment in U.S. plunged last year, even before Trump threatened tariffs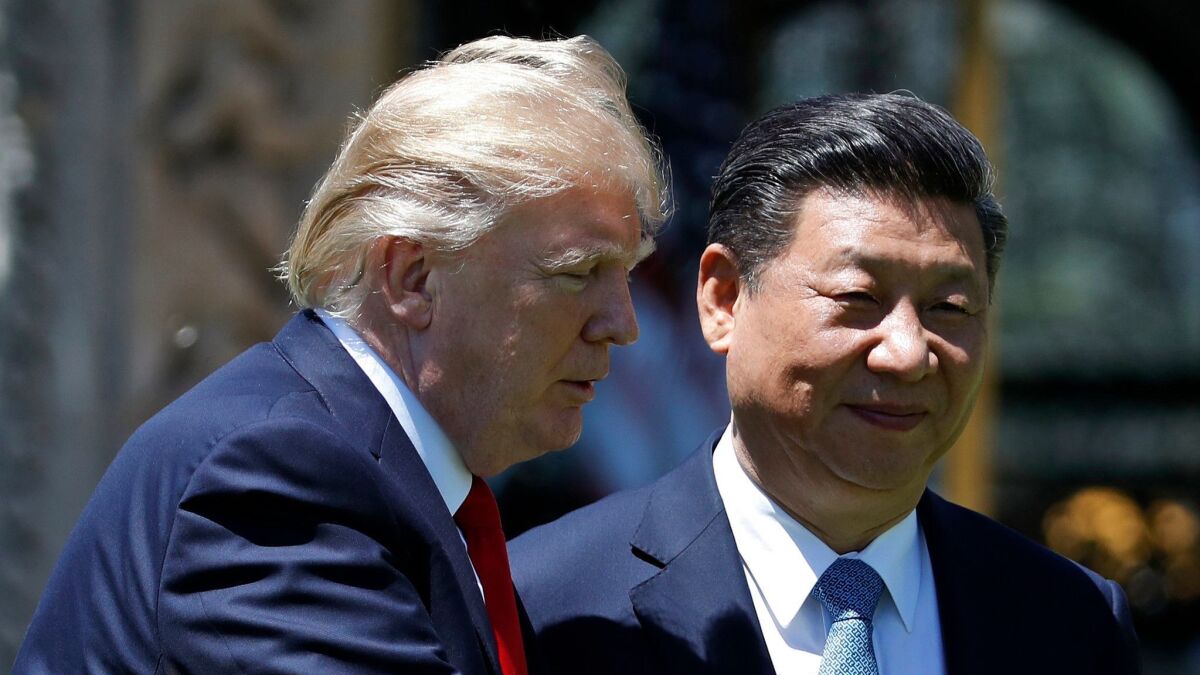 Reporting from Washington —
The signs of a pullback in Chinese investment in Los Angeles and elsewhere have been abundant over the last year.
Beijing-based Dalian Wanda Group was poised to build a $1.2-billion luxury condominium and hotel complex near Beverly Hills, only to turn around and put the project back on the market.
In Hollywood, Paramount Pictures thought it had inked a deal to receive a $1-billion investment in its movies from another Beijing company, but the deal fell apart months later.
It was a sobering turnaround for real estate, entertainment and other interests that thought they had found a new long-term supply of capital.
That drop in investment was quantified in a report released Tuesday by the nonprofit National Committee on U.S.-China Relations and research firm Rhodium Group. It found that total foreign direct investment in the U.S. from China fell to about $29 billion in 2017 from $46 billion the previous year.
The pullback, which reversed nearly a decade of sharp growth, was underway even before President Trump threatened a barrage of tariffs on Chinese goods amid rising economic tensions between the two nations.
In August, China's State Council laid down new regulations on outbound investments to reduce the risk of runaway debt and to blunt capital flight.
The drop would have been steeper if not for $18 billion in Chinese acquisitions in the U.S. that were announced in 2016 but not completed until last year, the report said. The value of newly announced Chinese acquisitions in the U.S. last year plummeted 90% compared with 2016, according to a second report by the organizations that focused on Chinese investment in the U.S. by congressional districts.
Still, last year China invested more than twice as much in the United States as the United States did in China. U.S. investment in China held basically steady in 2017, at $14 billion compared with $13.8 billion the previous year, the report said.
RELATED: Amid Trump's threats, Xi pledges to slash tariffs, open China's markets »
The decline in Chinese investment in the U.S. represents a "new normal," reflecting a "more problematic political environment," the report said.
That not only includes Beijing tightening controls on capital leaving the country to reduce over-leveraged private investment but also tougher scrutiny by Washington — begun during the Obama administration — of the national security implications of Chinese acquisitions of U.S. companies.
"More broadly, the Trump administration is redefining the U.S.-China relationship by declaring China a 'rival power' and taking a more confrontative approach to trade and investment relations," the report said.
"The new U.S. strategy toward China seems to integrate economic interaction ... into the definition of national security more holistically than before. This new approach indicates that more confrontational measures in trade and direct investment are likely," the report said.
Such an approach would seem almost certain to crimp financing for big new real estate developments given how Chinese investors are already withdrawing from some high-profile ventures.
The 8 acres of land that Wanda Group is looking to sell on Wilshire Boulevard is widely regarded as one of the most desirable development sites in the country. The One Beverly Hills project slated for the site was designed by renowned architect Richard Meier.
Another giant Chinese developer, Greenland USA, recently started shopping around two key buildings in its $1-billion Metropolis complex in downtown Los Angeles — the Hotel Indigo and the 56-story Condo Tower 3, which is still under construction. A sale would depend on the strength of offers from potential buyers, Greenland said.
In Hollywood, Paramount Pictures was far from the only company to feel the effects of Beijing's capital controls.
Chinese conglomerate Recon Holding scrapped its bid to acquire a majority stake in Millennium Films for $100 million. Also, Wanda Group canceled its $1-billion acquisition of Dick Clark Productions and abandoned plans to integrate Burbank-based Legendary Entertainment into its publicly traded film company.
Meanwhile, Trump has railed against the large trade deficit the U.S. has with China and accused the Asian superpower of unfair trade practices. In recent weeks, the tensions between the two countries have increased.
Last week, Trump threatened to slap tariffs on $100 billion worth of imported Chinese goods, on top of $50 billion worth of Chinese products announced earlier. China's Commerce Ministry responded with a promise to fight the new tariffs "at any cost" with a full slate of unspecified countermeasures.
In the report's foreword, Stephen A. Orlins, president of the National Committee on U.S.-China Relations, said the findings come as "the past year has seen a ratcheting up of negative attitudes toward investment." The group promotes constructive relations between the two nations, and the report said more than 150,000 U.S. jobs are supported by Chinese investment.
Chinese investment in the U.S. in 2017 focused on coastal states. New York led the way with $11.7 billion in investment, including HNA Group's $10-billion purchase of CIT Group Inc.'s aircraft-leasing business, the report said. Virginia was second with $6.5 billion in direct Chinese investment and California ranked third at $4.7 billion.
California was the top location of U.S. investors pumping money into China, sending about $4.4 billion in direct investment to the nation last year, the report said.
Twitter: @JimPuzzanghera
---
UPDATES:
6:15 p.m.: This article was updated with examples of Chinese investment pullbacks in Hollywood and Los Angeles commercial real estate.
This article was originally published at 7:35 a.m.